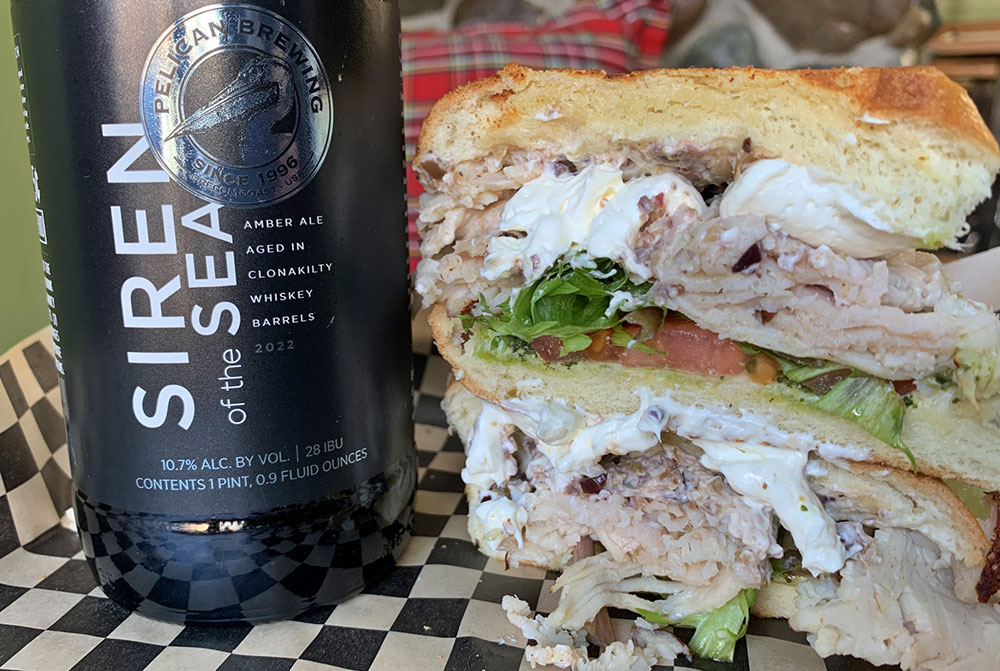 Tacoma Sandwich Special of the Day: Turkey Of The Sea
TUESDAY, FEB. 22 2022: The Peaks & Pints Kitchen whipped up a turkey sandwich special with cream cheese, pesto, olives, tomato, and spring mix on French.
PAIRING: Pelican Brewing Siren Of The Sea
Since it's Twosday 2-22-22, we suggest pairing our sandwich special with Pelican's Siren of the Sea, a true tale of two seas as it's a collaboration with Clonakilty Distillery in County Cork, Ireland. Traveling across the Atlantic, Irish Whiskey Single Grain Bordeaux barrels were used to age Pelican's deep malty, amber ale for more than a year. With her release from the French oak casks, Siren of the Sea has notes of rich malt, fruity berries and wood spice, which will pair with the pesto and olives. The beer's touch of vanilla adds a dessert element.
THING TO DO: Because of COVID, Peaks & Pints isn't fully staffed and has postponed table service. Please you're the QR codes at the tables and order from the bartenders behind the bar. Call ahead at (253) 328-5621 for pick-ups. Cheers!
LINK: Peaks & Pints full menu
LINK: Grab the Siren of the Sea and 850+ other beers and ciders are in the Peaks and Pints cooler
Safety Is Priority Number One
Face masks must be worn when not eating and drinking — especially ordering from the bar or on trips to the restrooms.
One of the most fulfilling aspects of our craft beer and cider bar, bottle shop and restaurant is being a gathering place for the community. It's a role we do not take for granted, and there are many responsibilities that come along with it — the health and safety of our guests and staff being at the top of the list. As a neighborhood restaurant, we take pride in our commitment to providing a clean, safe, and vibrant environment. Please rest assured that Peaks & Pints has built upon these best practices to follow the COVID-19 protocol provided by the CDC.
We're open 11 a.m. to 10 p.m. Sunday-Thursday, 11 a.m. to 10 p.m. Friday and Saturday, but we hope to return to "before times" hours when we're able to seat at full capacity.
Hope to see you soon.
1

Argyle

Pinot Noir

Sonoma, CA

13.5%

Just Tapped

2

Proletariat

Sangiovese

USA

Walla Walla, WA

14%

Just Tapped

3

Washington Cellars

Sauvignon Blanc

13.5%

Just Tapped

4

Belching Beaver

Blackberry & Raspberry

Hard Seltzer Gluten Free

Vista, CA

5.5%

IBU

Just Tapped

5

Bluebeard Coffee Roasters

Nitro Cold Brew Coffee

Cold Brew Coffee

Tacoma, WA

Just Tapped

6

Rainier

Mountain Fresh Rainier Beer

Lager

Seattle, WA

4.73%

IBU

Just Tapped

7

Yonder

House of Yonder

Cider

Seattle, WA

6.7%

Just Tapped

8

Finnriver

Cranberry Rosehip

Cider

Chimacum, WA

6.5%

Just Tapped

9

Swift

Blueberry

Semi-Dry Hard Cider w/ blueberries

Portland, OR

5.6%

Just Tapped

10

Une Année

Le Seul X: Passionfruit Sour

Passionfruit Sour

Niles, IL

6.5%

IBU

Just Tapped

11

Wander

Strawberry Rhubarb Millie

Berliner Weisse

Bellingham, WA

4.4%

IBU

Just Tapped

12

Buoy

Czech Pilsner

Pilsner

Astoria, OR

6.2%

35 IBU

Just Tapped

13

Great Notion

Portal Time

Dry Hopped Lager w/ Phantasm Powder

Portland, OR

6%

IBU

Just Tapped

14

Ayinger

Bräuweisse

German Hefeweizen

Aying, Germany

5.1%

13 IBU

Just Tapped

15

Pure Project

NZed 103

Hazy Pale Ale

San Diego, CA

5%

IBU

Just Tapped

16

Grains of Wrath/Georgetown

Quarterback Punk

IPA

Camas, WA

7%

IBU

Just Tapped

17

Everybody's

Fertile Ground

American IPA

White Salmon, WA

6.5%

70 IBU

Just Tapped

18

Pure Project

Tales From The Deep

Imperial Hazy IPA

San Diego, CA

8.3%

IBU

Just Tapped

19

Grains of Wrath

Electric Funeral

West Coast IPA

Camas, WA

6.8%

65 IBU

Just Tapped

20

Little Beast

Dear Giant

Double IPA

Portland, OR

8%

IBU

Just Tapped

21

Wet Coast

Fixed the Newel Post!

Red IPA

Gig Harbor, WA

7.9%

72 IBU

Just Tapped

22

Ferment

Nitro Dry Stout

Dry Stout

Hood River, OR

4.5%

IBU

Just Tapped

23

AleSmith

BA Vietnamese Speedway Stout

Barrel-Aged Imperial Stout Vietamese coffee

San Diego, CA

14%

IBU

Just Tapped

24

AleSmith

Minister Of The State

Imperial Stout W/ Jamaican Blue Mountain Coffee - Barrel Aged (Bourbon)

San Diego, CA

14.3%

IBU

Just Tapped

25

Great Notion

Double Stack

American Imperial Stout with Maple and Coffee

Portland, OR

11%

IBU

Just Tapped

26

Goose Island

2022 Bourbon County Coffee Stout

Imperial Stout - Barrel Aged (Bourbon)

Chicago, IL

13.2%

IBU

Just Tapped

27

Goose Island

BCBS 2022

Stout

Chicago, IL

%

IBU

Just Tapped

28

Goose Island

Bourbon County Stout (2021)

Imperial Stout - Barrel Aged (Bourbon)

Chicago, IL

14.4%

60 IBU

Just Tapped
---