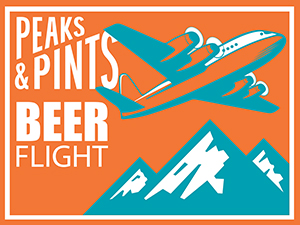 It's freakin' freezing outside. You have bundled up kids in thermal wear, ski socks, turtlenecks, snow pants, parkas, waterproof gloves, hats, and scarves. You cut your hand while trying to climb over bikes in garage to get the deicer bags. You bleed profusely onto your white Bronco. Frighten children, who have fallen on a patch of ice, run back into the house with wet boots and undo the hours of bundling it just took to get them outside for five minutes. You realize that these are hours of your life that you will never get back. You call your spouse to swing by Peaks & Pints and grab our to-go flight, Peaks and Pints Pilot Program: Warming Beers On The Fly. You want to lounge next to your fireplace. You want a drink that you can slow down with and sip contemplatively while you stare and the flames and consider your mortality. Besides being sipping beers, big, dark styles tend to taste delicious whether they are cold or warm. You can let a glass of stout sit in your hand and warm up, and it is often more delicious as it was when you grabbed it out of the fridge. Enjoy!
Peaks and Pints Pilot Program: Warming Beers On The Fly
The Bruery Bakery: Banana Nut Muffin
8.1% ABV
Inspired by the morning treat, The Bruery's Bakery: Banana Nut Muffin imperial pastry stout is brewed with banana, walnut, and vanilla. Expect a full-bodied stout with rich banana character balanced with nutty flavor from the addition of walnuts, finishing with just a touch of sweetness.
Kulshan Echoes In Time
9.9% ABV, 75 IBU
Kulshan Brewing's Echoes In Time is an imperial stout brewed with dark roasted malts and crystal malts imparting layers of sweet, bready, and roasty malt notes. Apollo and Willamette hops provide the bitter to balance out the sweet, along with slight earthy and floral hop notes.
Fremont (2022) Coconut Cacao Barrel Aged Dark Star
13.5% ABV
This year's Fremont Brewing Coconut Cacao Barrel Aged Dark Star is a blend of 24-, 18-, 12-, and 8-month Bourbon Barrel-Aged Dark Star in 7-12-year-old Kentucky bourbon barrels. This special edition adds coconut and cacao to complement the smooth oats for a chocolate, toffee, and vanilla with other sweet aromatics, rich coconut, alongside oak and whiskey nose. On the tongue, expect cocoa, bourbon, and coconut.
Fort George Matryoshka (2022) with Vanilla, Cardamom, Ginger, Cinnamon, & Coffee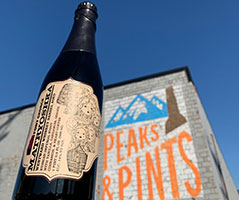 14% ABV
Russian imperial stout style was inspired by British brewers in the 1800s to win over the Russian Czar. High alcohol content, plenty of malt, low carbonation, and lots of roasted and chocolate flavors characterize these beers. They can have none to some to a ton of hops, such as Fort George Brewery's Russian imperial stout, From Astoria With Love. This stout's barrel-aged version is Matryoshka, this year aged in barrels from Westward Whiskey and IJW Whiskey Company. Much like wooden nesting dolls, the Matryoshka series releases in many variations, each one more intricate than the last, including the Vanilla, Cardamom, Ginger, Cinnamon, & Coffee version.
LINK: Peaks & Pints cooler inventory
---