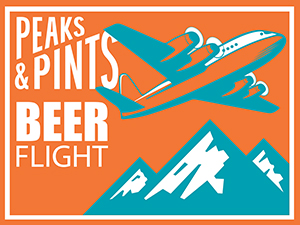 Abbey beers are that family of beers originally brewed by monks dating back to the Middle Ages, Peaks and Pints suspects, but certainly a common feature of monastic brewing from the 19th century forward. Included in that family is the dubbel — a medium-strength amber/brown ale that serves as a great platform for lots of fantastic malt flavors and fermentation characteristics, along with some supporting herbal/earthy hops. Dark fruit, burnt sugar, citrus esters, clove, a touch of banana and more all feature in what ends up being a surprisingly dry beer. It's week four of Merchant du Vin's "Trappist Tuesday" where the beer importer highlights the beers and breweries that are authorized to use the "Authentic Trappist Product" logo meet three criteria: Brewed at a facility within the monastery walls; brewery is owned by the monastery; profits from the brewery go to charity. Peaks & Pints highlights the forementioned Belgian beer styles in this week's Peaks & Pints Trappist Tuesday to-be beer flight, Peaks and Pints Pilot Program: Trappist Tuesday Dubbels.
Peaks and Pints Pilot Program: Trappist Tuesday Dubbels
Chimay Premiere (Red)
7% ABV, 19 IBU
Chimay is brewed in Belgium by Cistercian Trappist monks who apparently have a direct line to God when it comes to the more ethereal matters of the brewers' art. This champagne of beers goes down smooth, follows its creamy head with a silky mouthfeel and fruity aroma, and packs a serious wallop. The Trappist monks are cloistered away in Scourmont Abbey in Belgium (where they also make tasty Chimay cheese) with the operation's profits paying for the monks' pious lifestyle and charitable efforts. Having been around since 1862, Chimay's a relatively new entry in the world of godly beverages with three commercial beers If high school French serves us correctly, "Premiere" also means "First." That's appropriate since the Red was the first beer Chimay produced. This holy Belgian dubbel has a beautiful burnt-sienna color and shows some cloudiness with a decent head. The Red has a warming stonefruit aroma that is pleasantly gamey. The taste is expectantly sweet, fruity, and malty — a whole lot of flavors without being overwhelming. It's an accessible example of the classic Belgian ale, if you will.
Brouwerij der Trappisten van Westmalle Dubbel
7% ABV, 24 IBU
In 1836 the Belgian Westmalle monastery became a Trappist Abbey and began brewing beer shortly thereafter. The holy suds they produced started out as an insider-only deal — a choice beverage to be made and enjoyed by Trappists and Trappists alone, but eventually they decided to expand and opened a public beer hall in the early 1930s. Westmalle Dubbel is a dark, reddish-brown Trappist beer with a secondary fermentation in the bottle. The creamy head has the fragrance of special malt and leaves an attractive lace pattern in the glass. The flavor is rich and complex, herby, and fruity with a fresh-bitter finish. It is a balanced quality beer with a soft feel in the mouth and a long, dry aftertaste.
Abbaye Notre-Dame de Saint-Remy Trappistes Rochefort 6
9.2% ABV, 22 IBU
Abbaye Notre-Dame de Saint-Remy, which sits in a large valley close to Rochefort in the province of Namur, in Belgium, is home to a community of Trappist monks (Cistercians of the Strict Observance). The three brown ales produced by the abbey — Rochefort 6, Rochefort 8, and Rochefort 10 — can be tasted in the nearby town of Rochefort and all over the world. Rochefort Trappist 6 dubbel is named after its original gravity measured in "Belgian degrees" — a brewing scale no longer used today. It was first sold to the public in 1953. Bottle-conditioned for soft natural carbonation, and the oldest of the three Rochefort Trappist beers, Rochefort 6 has the reddish color of autumn leaves, a soft body and an earthy, herbal palate (a hint of Darjeeling tea), which develops into a deep fruitiness. Refined, soft spiciness in the bouquet finishes with a bit caramel.
LINK: Peaks & Pints cooler inventory
---