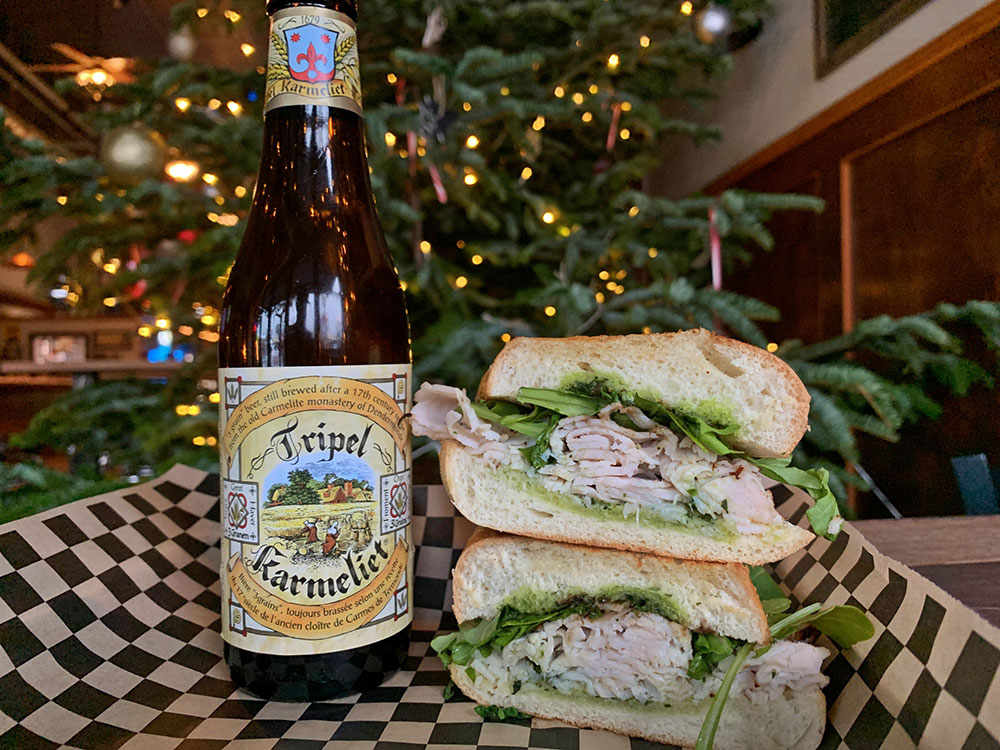 Tacoma Sandwich Special of the Day: Turkey Karmeliet
SUNDAY, JAN. 2 2022: Today's Peaks & Pints sandwich special is turkey, pesto, olive oil, balsamic glaze, and arugula on French bread.
PAIRING: Tripel Karmeliet
Belgian tripel is a style of beer that has the ability to work with a large range of food groups what with its depth in flavor and complex characteristics: spicy hops, herbal notes, sweet malt flavors, honey and caramel tones, and citric notes. Tripel Karmeliet is one of the best.
Belgium's Brouwerij Bosteels utilizes a 340-year-old recipe for Tripel Karmeliet using wheat, barley and oats in the brewing. The result is a smooth and sweet Belgian golden ale that can appeal to both serious beer drinkers and folks looking for something cool to bring to a party. Tripel Karmeliet is still brewed to an authentic beer recipe from 1679 originating in the former Carmelite monastery in Dendermonde. The name Tripel Karmeliet refers both to its origin and its in-bottle refermentation. It benefits greatly from secondary fermentation, giving it some nice carbonation and a creamy head of foam upon pouring. The nose of the beer is redolent of spices and grass. Those spices also dominate on the palate, along with all that sweet oat and wheat malt. A restrained hop bitterness balances flavors of toffee and malt.
THING TO DO: Because of COVID, Peaks & Pints isn't fully staffed and has postponed table service. Please you're the QR codes at the tables and order from the bartenders behind the bar. Call ahead at (253) 328-5621 for pick-ups. Cheers!
LINK: Peaks & Pints full menu
LINK: Tripel Karmeliet is in the Peaks and Pints cooler
Safety Is Priority Number One
Face masks must be worn when not eating and drinking — especially ordering from the bar or on trips to the restrooms.
One of the most fulfilling aspects of our craft beer and cider bar, bottle shop and restaurant is being a gathering place for the community. It's a role we do not take for granted, and there are many responsibilities that come along with it — the health and safety of our guests and staff being at the top of the list. As a neighborhood restaurant, we take pride in our commitment to providing a clean, safe, and vibrant environment. Please rest assured that Peaks & Pints has built upon these best practices to follow the COVID-19 protocol provided by the CDC.
We're open 11 a.m. to 10 p.m. Sunday-Thursday, 11 a.m. to 10 p.m. Friday and Saturday, but we hope to return to "before times" hours when we're abole to seat at full capacity.
Hope to see you soon.
1

Argyle

Pinot Noir, Willamette Valley

13.5%

Just Tapped

2

Proletariat

Sangiovese

USA

Walla Walla, WA

12%

Just Tapped

3

Alexandria Nicole

Sauvignon Blanc

Woodinville, WA

13%

Just Tapped

4

GTs

Gingerade

Kombucha

Beverly Hills, CA

0%

Just Tapped

5

Bluebeard Coffee Roasters

Nitro Cold Brew Coffee

Cold Brew Coffee

Tacoma, WA

Just Tapped

6

Rainier

Mountain Fresh Rainier Beer

Lager

Seattle, WA

4.73%

IBU

Just Tapped

7

Double Mountain

Tossed Apples

Heritage

Hood River, OR

7.3%

Just Tapped

8

Ciderboys

Blackberry Wild

Blackberry Cider

Stevens Point, WI

5%

Just Tapped

9

Finnriver

Solstice Saffron

Cider

Chimacum, WA

6.5%

Just Tapped

10

Tilquin

Quetsche

Lambic

Bierghes, Belgium

5.3%

IBU

Just Tapped

11

Block 15

We All Need To Do Better

Saison Black Currant

Corvallis, OR

7%

IBU

Just Tapped

12

Double Mountain

Westerly

Pilsner

Hood River, OR

5.2%

25 IBU

Just Tapped

13

pFriem

Vienna Lager

Lager Vienna Lager

Hood River, OR

5.3%

20 IBU

Just Tapped

14

Unibroue

Blanche De Chambly

Witbier

Chambly, Quebec

5%

10 IBU

Just Tapped

15

Sierra Nevada

Pale Ale

Pale Ale

Chico, CA

5%

38 IBU

Just Tapped

16

Old Schoolhouse

Between Peaks IPA

IPA

Winthrop, WA

7%

IBU

Just Tapped

17

Ravenna

Flip The Script

Hazy IPA

Seattle, WA

7.8%

IBU

Just Tapped

18

Fort George

Skies of Wonder: Int'l Lover

Double IPA Hazy

Astoria, OR

8.7%

IBU

Just Tapped

19

Stoup

Pistol Fingers

IPA

Seattle, WA

6.9%

75 IBU

Just Tapped

20

Lumberbeard

What Once Was

Double IPA

Spokane, WA

8.3%

IBU

Just Tapped

21

Reuben's

Metamodern

Amber/Red Ale

Seattle, WA

5.5%

IBU

Just Tapped

22

SiG Brewing

Neighbor Nelson's

Milk Stout

Tacoma, WA

6.4%

IBU

Just Tapped

23

Stone

Sublimely Self Righteous

Imperial Black IPA

Escondido, CA

8.7%

90 IBU

Just Tapped

24

Block 15

Specular Reflections

Belgian Dubbel

Corvallis, OR

6.5%

IBU

Just Tapped

25

Pelican

Mother of All Storms

English Style Barleywine - Barrel Aged (Bourbon)

Pacific City, OR

14%

40 IBU

Just Tapped

26

Maritime Pacific

Black Jolly Roger

English Porter

Seattle, WA

6.4%

38 IBU

Just Tapped

27

Belching Beaver/Coronado

SD Besties

Neapolitan Imperial Milk Stout w/ Chocolate, Strawberry & Vanilla

Vista, CA

8.5%

IBU

Just Tapped

28

Lucky Envelope

Peanut Butter

Cream Stout

Seattle, WA

6%

34 IBU

Just Tapped
---