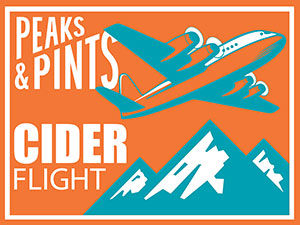 Newtopia Cyder co-founder and cyderist Rick Moreno got his start in the industry as co-owner of beer bar Toronado in Seattle. Cyder, the old English spelling, is co-owned by his wife, Jennifer Hays Moreno, who met Rick while working in the health care industry. The San Diego cidery sources apples and other fruits in nearby Julian and Temecula, and as far away as Santa Cruz, Hood River and Yakima. Rick developed his cider chops in his garage, then apprenticed with Newtopia's "master cyderist," Rusty Figgens, a member of the family that founded Washington's famed Leonetti Cellar, who also knows his way around a distillery. Today, Peaks & Pints suggests you try two Newtopia ciders in our weekly Monday cider flight, which we're calling Peaks and Pints Monday Cider Flight: Newtopia Cyder.
Peaks and Pints Monday Cider Flight: Newtopia Cyder
Newtopia Hip Hop Foray
6% ABV
Dry hopping is the process of adding hops, usually in secondary, to a beer to add more of a hop aroma. The concept of dry hopping cider works on the same principle as dry hopping beer. Hops work well with the sweet apple character of the cider. Newtopia discovered Citra and El Dorado bump up the orange in their creamsicle cider, Hip Hop Foray. Vanilla and lactose seal the deal.
Newtopia Mexican Hot Chocolate Chai Me a River
5.8% ABV
At its most basic, Mexican chocolate is made from coarsely ground cacao, granulated sugar, and cinnamon. Chiles, nuts, and spices can also be worked into the mix, resulting in a complex, intense flavor. Newtopia's cider version is made with chilis, cacao, and vanilla where chai spices and vanilla rule the flavor profile.
LINK: Peaks & Pints cooler inventory
---