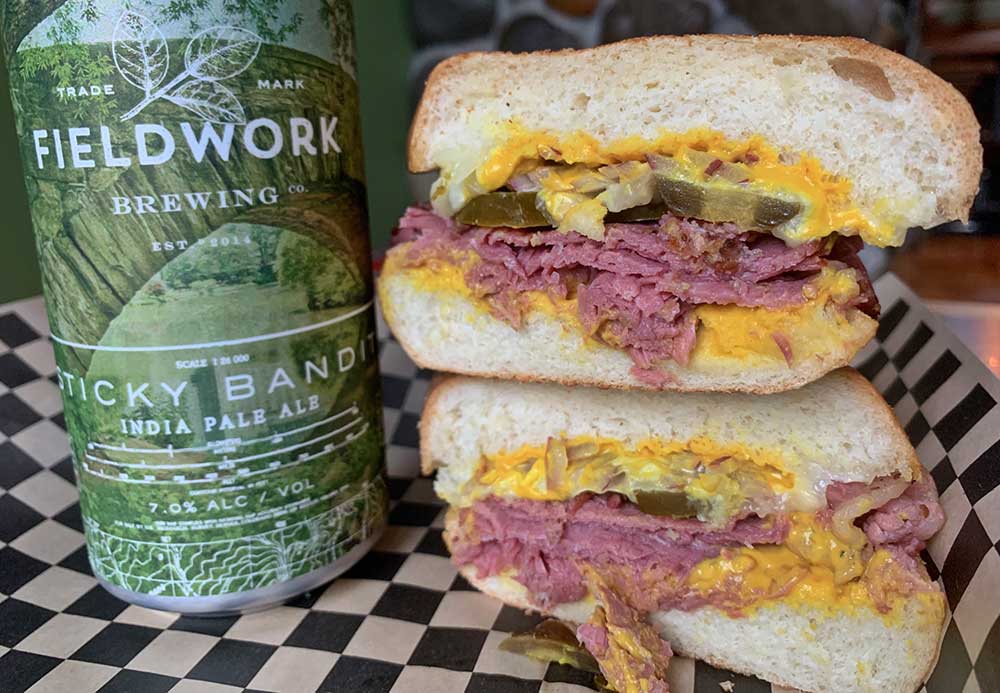 Tacoma Sandwich Special of the Day: The Greer
THURSDAY, JAN. 6 2022: Peaks & Pints Pal Greer Hubbard cleans our beer lines under his company The Funk Busters he owns with his partner, Bethany Carlsen. They also briefly co-owned Mother Fern Brewing — Greer arriving from his head brewing gig at Odd Otter and Bethany running the Pacific Brewing & Malting brewhouse. Anyway, Greer's favorite Peaks & Pints sandwich special is pastrami, jalapeños, provolone, red onion, and yellow mustard on French, which is now known as The Greer, as well as today's special
PAIRING: Fieldwork Brewing Sticky Bandit IPA
Greer loves spicy foods. In fact, he grows his own peppers. It makes sense, at least for Greer, to pair this sandwich with Fieldwork Brewing's Sticky Bandit IPA. The hazy IPA is brewed with Citra and Mosaic hops with notes of orange juice and honeydew melon with sweet dank undertones. This beer will boost the jalapeño heat — just like Greer likes it.
THING TO DO: Because of COVID, Peaks & Pints isn't fully staffed and has postponed table service. Please you're the QR codes at the tables and order from the bartenders behind the bar. Call ahead at (253) 328-5621 for pick-ups. Cheers!
LINK: Peaks & Pints full menu
LINK: Sticky Bandit and 850+ other beers and ciders are in the Peaks and Pints cooler
Safety Is Priority Number One
Face masks must be worn when not eating and drinking — especially ordering from the bar or on trips to the restrooms.
One of the most fulfilling aspects of our craft beer and cider bar, bottle shop and restaurant is being a gathering place for the community. It's a role we do not take for granted, and there are many responsibilities that come along with it — the health and safety of our guests and staff being at the top of the list. As a neighborhood restaurant, we take pride in our commitment to providing a clean, safe, and vibrant environment. Please rest assured that Peaks & Pints has built upon these best practices to follow the COVID-19 protocol provided by the CDC.
We're open 11 a.m. to 10 p.m. Sunday-Thursday, 11 a.m. to 10 p.m. Friday and Saturday, but we hope to return to "before times" hours when we're able to seat at full capacity.
Hope to see you soon.
1

Proletariat

Malbec

USA

Walla Walla, WA

14%

Just Tapped

2

Argyle

Pinot Noir

Sonoma, CA

13.5%

Just Tapped

3

Proletariat

Sauvignon Blanc

USA

Walla Walla, WA

13%

Just Tapped

4

San Juan

Spiked Seltzer Huckleberry

Hard Seltzer

San Juan Islands, WA

4.2%

IBU

Just Tapped

5

Bluebeard Coffee Roasters

Nitro Cold Brew Coffee

Cold Brew Coffee

Tacoma, WA

Just Tapped

6

Rainier

Mountain Fresh Rainier Beer

Lager

Seattle, WA

4.73%

IBU

Just Tapped

7

Double Mountain

Tossed Apples

Heritage

Hood River, OR

7.3%

Just Tapped

8

Yonder

Coulee

Cider w/ Pineapple, Lime & Cardamom

Seattle, WA

6.5%

Just Tapped

9

Channel Marker

Lavender Bergamot

Cider

Seattle, WA

7.8%

Just Tapped

10

Great Notion

Unbalanced Breakfast

Fruited Berliner Weisse Sour With tons of Blueberry puree, Maple Syrup, Milk Sugar, and Bean Coffee

Portland, OR

6.5%

IBU

Just Tapped

11

Blaugies/Hill Farmstead

La Vermontoise

Belgian Saison

Blaugies, Belgium

6%

IBU

Just Tapped

12

Occidental

Fresh Hop Pilsner

Fresh Hop Pilsner

Portland, OR

4.8%

IBU

Just Tapped

13

Boneyard

Oktoberfest

Oktoberfest

Bend, OR

%

IBU

Just Tapped

14

Sierra Nevada

Oktoberfest

Marzen

Chico, CA

5.5%

19 IBU

Just Tapped

15

Narrows

Raspberry Scone Ale

Golden Ale

Tacoma, WA

5.5%

IBU

Just Tapped

16

Old Schoolhouse

Between Peaks IPA

IPA

Winthrop, WA

7%

IBU

Just Tapped

17

Fast Fashion

Feedback Loop

Hazy IPA

Seattle, WA

6.8%

IBU

Just Tapped

18

Fort George

Fields of Green: Wet Hopped

Fresh Hop Hazy IPA

Astoria, OR

7.6%

IBU

Just Tapped

19

Stoup

Bru-1 Fresh Hop

Fresh Hop IPA

Seattle, WA

6.3%

IBU

Just Tapped

20

Great Notion/Other Half

Life Goals

Imperial Hazy IPA

Portland, OR

8.1%

IBU

Just Tapped

21

Double Mountain

Killer Red Fresh Hop

Red Ale Fresh hop

Hood River, OR

7%

78 IBU

Just Tapped

22

Epic

Son of A Baptist (Nitro)

Coffee Stout

Salt Lake CIty, UT

8%

IBU

Just Tapped

23

Rogue

Pumpkin Patch

Pumpkin Ale

Newport, OR

6.1%

25 IBU

Just Tapped

24

Chimay

Cinq Cents

Tripel

Chimay, Belgium

8%

IBU

Just Tapped

25

Old Stove

Castaway

Barrel-Aged Barleywine - Barrel Aged (Bourbon Whiskey Barrels)

Seattle, WA

11%

65 IBU

Just Tapped

26

YaYa

Riverbend

Vanilla Coffee Porter

Spokane Valley, WA

6.3%

IBU

Just Tapped

27

Worthy

Lights Out Stout

*contains lactose* Oatmeal Stout w/ vanilla beans

Bend, OR

7.7%

30 IBU

Just Tapped

28

Alesong

Coconut Rhino Suit

BBA Imperial Milk Stout

Eugene, OR

12.4%

30 IBU

Just Tapped
---