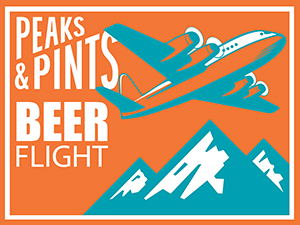 Joel Gregory, homebrewer and electrical engineer, opened Ex Novo Brewing in July 2014 with the mission to contribute profits to its four primary nonprofit partners: Friends of the Children, IJM, Impact NW and MercyCorps. These are organizations that work mainly to build stronger communities for the poor by reducing violence, providing support, and, in the case of Friends of the Children, by working with kids to break the cycles that keep communities in poverty and violence. Gregory initially envisioned the Northwest Portland brewery as a small neighborhood pub and gathering spot. It wasn't long before he realized Ex Novo beer was a thing and the brewery expanded to two more locations, added Browar Polska to distribute its beer and built a mantle to hold all their beer awards. Today, Peaks and Pints presents a to-go flight of Ex Novo beer — a flight we call Peaks and Pints Pilot Program: Ex Novo Brewing On the Fly.
Peaks and Pints Pilot Program: Ex Novo Brewing On the Fly
Ex Novo For Whom The Helles Tolls
4.6% ABV, 23 IBU
Ex Novo's For Whom The Helles Tolls is a German inspired, zero-decoction helles lager brewed with German malts and hops, mashed, and then fermented cold and slow to restrain ester formation. It's lagered for more than a month at as close to freezing temperatures as possible to allow the yeast to finish conditioning and gently fall out of suspension. It's crisp, dry, and tasty.
Ex Novo Decisive Moment
5.2% ABV
The New England pale ale is juicy, with assertive tropical notes of grapefruit, peach, melon and/or tangerine. They are also made with wheat or oats and served unfiltered, which leaves them hazy. Ex Novo's version, Decisive Moment, is a creamy, juicy, hazy pale packed with Mosaic and Simcoe hops for punchy aromatics of citrus and tropical fruits.
Ex Novo Penguin Tuxedo
8% ABV, 39 IBU
When the Penguin Tuxedo turns up you know its winter! The decisions about which big winter brews to try is a little tough this year because there just seem to be so many seasonal beers; there's almost a case of over-supply, if that is possible. But for those who like full-bodied, robust, malty beers, this is a great time of the year, and Ex Novo's Penguin Tuxedo fits the bill. It's a classic well-balanced high-octane winter drinking imperial stout with the right amount of roast, but it doesn't overwhelm letting the chocolate malt take the front stage.
Ex Novo Kill the Sun French Toast
12% ABV
Ex Novo Kill the Sun is an unadulterated barrel-aged imperial stout with rich notes of vanilla, caramel, and dark chocolate. The French Toast variation is aged for one year then undergoes additional conditioning with maple syrup and cinnamon. The maple rules but cinnamon grabs the finish.
Ex Novo Kill the Sun Chocolate, Coconut & Almond
12% ABV
You know the famous candy bar that inspired this treat of a beer, but due to trademark issues Ex Novo will have to let you connect the dots. Aged for one year with their base imperial stout it then undergoes additional conditioning with dark chocolate, house toasted coconut, and house toasted almonds. This beer truly is a joy.
Ex Novo City of Books
6.2% ABV
Three years after Ex Novo opened its Portland brewery, the Oregon Department of Justice advised the company through a review of its entity structure and business model that it would be more appropriate for Ex Novo to operate as a for-profit entity. Ex Novo now gives most of their net profits to their nonprofit organization partners allowing for some flexibility for benevolence to employees and communities who may also have a need, such as independent bookstores. Ex Novo's City of Books West Coast IPA is brewed with Portland's infamous Powells Books to benefit independent bookstores nationally. It's brewed with Citra and experimental hop HBC 586 for notes of tangerine, pineapple, and lychee with a clean and bitter finish.
Ex Novo Imminent Domain
7.2% ABV
This hazy IPA pours a hazy light yellow with a white head that dissipates to the edges and laces. It hits the nose with dank citrus, sweet grains, and light tropical fruits. On the tongue, expect earthy sweet grains and dank citrus with earthy onion and dank tropical fruits supporting.
LINK: Peaks & Pints cooler inventory
---