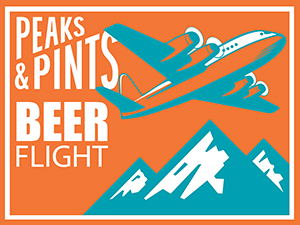 Breweries and cideries support good causes in their communities throughout the year, but at the holidays they also band together to do more. When Douville Home Group approached nine such breweries and ciders to join this year's Hoppy Holiday Food Drive, all nine said "yes" faster than you can say "253," especially when they learned the Emergency Food Network would be, once again, the beneficiary. Indeed, 7 Seas Brewing, Black Fleet Brewing, E9 Brewing, Fierce County Cider, Incline Cider, Narrows Brewing, Odd Otter Brewing, Sig Brewing, and Wet Coast Brewing have been collecting canned goods for a month, with the final food count and celebration party at 6 p.m. inside Peaks & Pints tonight. The nine breweries and ciders will have a beer or cider on tap tonight. Drop by Peaks with non-perishable food, have a pint or two, maybe win some raffles prizes, then take home a local beer flight that we call Peaks and Pints Pilot Program: Hoppy Holiday Food Drive On the Fly.
Peaks and Pints Pilot Program: Hoppy Holiday Food Drive On the Fly
Incline Cranberry
6.5% ABV
Since 2015, the Zehner family has made delicious, crushable Incline Cider ciders, which now pour at their Incline Cider House in Tacoma's Brewery Blocks. When poured in a glass, their Cranberry cider looks like a serving of cranberry juice. And first taste certainly tricks you into thinking you're drinking hard juice — of course, because that's what cider is — but tartness doesn't overwhelm the drink. This is a well-balanced cider made with 100 percent apple juice infused with real cranberry juice and a hint of key lime for a bright and slightly tart cider.
Narrows Pilsner
5.3% ABV, 35 IBU, draft

Founded in July 2013 by a group of friends, Narrows Brewing Co. is a 15-barrel brewhouse built on wood pilings next to Narrows Marina above the Narrows waterway with a glorious view of the Narrow Bridge and active waterfront. Peaks and Pints asks you to skip the view for one day and drink Narrows' Pilsner in our craft beer lodge. Pilsner? Indeed, the brewery has released a crisp, clean German-style pilsner.
E9 Tacoma Brew
5.1% ABV
Columbia Brewing Co. brewed Tacoma Brew in the late 1800s in Tacoma's now Historic Brewery District. Beer made at the facility gained national attention for its flavor and smooth aftertaste in the early 1920s, prompting the brewery to double in size and increase capacity by the mid-1930s. Success at the plant got the attention of another brewery, Heidelberg Brewing Co., which purchased the Columbia plant in 1949 and set out for another round of remodeling. The facility was bought yet again a decade later by Carling Brewery, making it the only West Coast holding of the otherwise East Coast beer company. The brewery is long gone but Tacoma Brew, a Kolsch, is still being brewed. Tacoma's Engine House No. 9, now E9 Brewing located in Tacoma's Historic Brewing District, bought the recipe for the breweries' "Tacoma" brew and still serves it many, many years after the originating brewery held its last call. Tacoma's first beer has a medium body accentuated with crisp Northwest hops.
Black Fleet Porter Starboard
5.2% ABV, 19 IBU, draft
In the summer of 2018, Kyle Maxwell and Caitlyn Byce opened Black Fleet Brewing, a 10,000-square-foot, two-story brewery equipped with a 10-barrel system in Tacoma's Historic Brewery District. Their Porter starboard pours a dark brown with red highlights and an off-white head. The aroma and flavor are of dark chocolate with hints of toffee, rich and smooth with a medium body and a crisp clean finish.
Sig Oak + Age Vanilla From Tacoma To Vladivostok With Love
12.5% ABV

Founded in spring 2020, Duncan Susag, brother Alex Susag and cousin John Samuelson opened Sig Brewing on the edge of Tacoma's Historic Brewery District, along Tacoma Avenue South in the building formerly occupied by Duncan's concrete design firm, Studio Make. Head brewer Jeff Stokes has been cranking out delicious craft beers, including Oak + Age Vanilla From Tacoma To Vladivostok With Love — Sig's first ever imperial stout aged in multiple first use whiskey barrels. Over a year resting, this beer is racked onto mounds of freshly pressed and scraped vanilla beans. A robust body and decadent creamy vanilla compliment, but not overpower the beautiful base beer. With a foreword whiskey note, finishing with chocolate, molasses and of course, scooped vanilla ice-cream.
7 Seas Imperial Hazy IPA
6.2% ABV, 55 IBU
In 2016, 7 Seas Brewing opened a new location spanning two city blocks in Tacoma's historic Brewery District adjacent to the University of Washington campus. Housed in the Heidelberg Brewery's former distribution warehouse, the new facility was a ten-fold increasing in brewing capacity compared to their Gig Harbor location. Their Imperial Hazy IPA is brewed with Magnum, El-Dorado, Mosaic, Amarillo, and Citra hops — plus flaked wheat and oats — for pillowing tropical flavors.
Wet Coast Fixed the Newel Post
8.5% ABV, 70 IBU
The imperial red ale style (sometimes called a double red ale) is medium- to full-bodied and known for strong hop bitterness, aroma, and flavor. While the hoppiness can be intense, the bitterness and underlying malty tones blend with the alcoholic strength of the beer to lend a spicy complexity to the flavor profile. Wet Coast Brewing brews this imperial red ale with Caramel and Crystal Rye malts for sticky-red-sweetness with enough hops for resinous pine and juicy citrus flavors and aromas.
LINK: Peaks & Pints cooler inventory
---
Category:
Beer Line Blog
,
Craft Beer
,
Craft Cider
,
Events and Festivals
,
Houses of Craft
,
In The Cooler
,
Peaks and Pints Lodge Meetings
,
Peaks and Pints Pilot Program
,
Proctor District
,
Shop
,
South Sound
,
Specials
,
Tacoma events
,
Tacoma Strong
,
Taps Takeovers