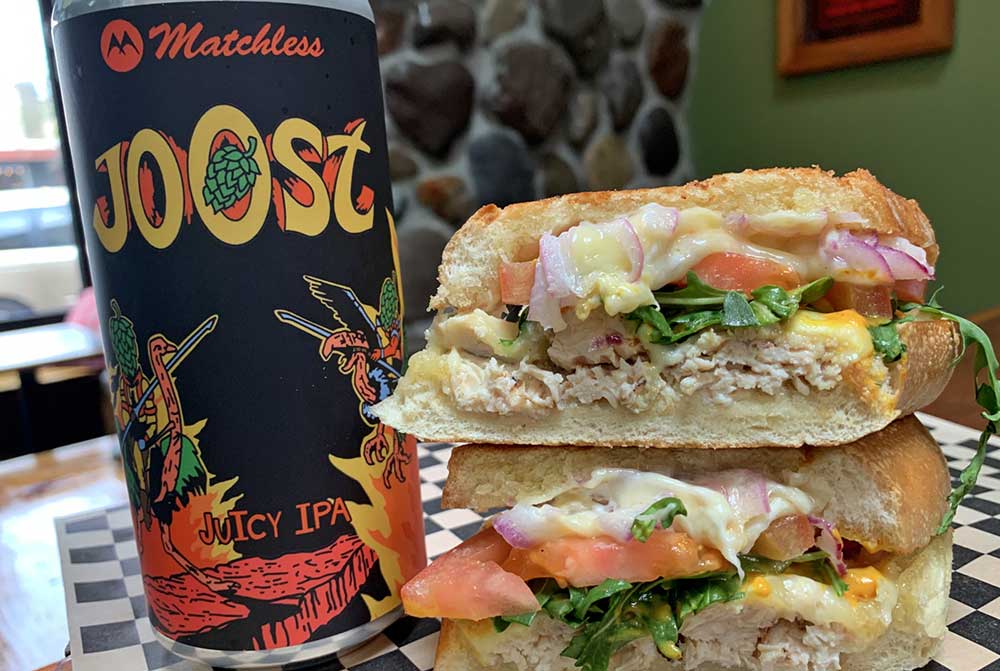 Tacoma Sandwich Special of the Day: Sriracha Joost
MONDAY, FEB. 21 2022: The Peaks & Pints Kitchen jousted over how hot to make the sriracha mustard for today's sandwich special. Capt. Caleb Cook won. Stop by Peaks & Pints for a medium spicy chicken sandwich with Havarti, red onion, mayo, tomato, and arugula on French.
PAIRING: Matchless Brewing Joost
"Alright, Caleb, then I'm suggesting our guests pair the sandwich with Matchless' Joost IPA to temper the spice," replied Aaron Cooks Brooks. Sure enough, the Citra, Azacca and Triumph hops and grain bill of Rahr Premium Pilsner and Skagit Valley Dextrin malts, plus tropical esters of Cosmic Punch Yeast, offers a juicy, smooth, mellow, tropical hazy IPA that will cool the sriracha.
THING TO DO: Because of COVID, Peaks & Pints isn't fully staffed and has postponed table service. Please you're the QR codes at the tables and order from the bartenders behind the bar. Call ahead at (253) 328-5621 for pick-ups. Cheers!
LINK: Peaks & Pints full menu
LINK: Grab the Joost and 850+ other beers and ciders are in the Peaks and Pints cooler
Safety Is Priority Number One
Face masks must be worn when not eating and drinking — especially ordering from the bar or on trips to the restrooms.
One of the most fulfilling aspects of our craft beer and cider bar, bottle shop and restaurant is being a gathering place for the community. It's a role we do not take for granted, and there are many responsibilities that come along with it — the health and safety of our guests and staff being at the top of the list. As a neighborhood restaurant, we take pride in our commitment to providing a clean, safe, and vibrant environment. Please rest assured that Peaks & Pints has built upon these best practices to follow the COVID-19 protocol provided by the CDC.
We're open 11 a.m. to 10 p.m. Sunday-Thursday, 11 a.m. to 10 p.m. Friday and Saturday, but we hope to return to "before times" hours when we're able to seat at full capacity.
Hope to see you soon.
1

Argyle

Pinot Noir

Sonoma, CA

13.5%

Just Tapped

2

Proletariat

Sangiovese

USA

Walla Walla, WA

14%

Just Tapped

3

Joel Gott

Sauvignon Blanc

California

Napa

13.5%

Just Tapped

4

Belching Beaver

Passionfruit & Guava Hard Seltzer

Gluten Free Hard Seltzer with Passionfruit & Guava

Vista, CA

6%

IBU

Just Tapped

5

Bluebeard Coffee Roasters

Nitro Cold Brew Coffee

Cold Brew Coffee

Tacoma, WA

Just Tapped

6

Rainier

Mountain Fresh Rainier Beer

Lager

Seattle, WA

4.73%

IBU

Just Tapped

7

Yonder

House of Yonder

Cider

Seattle, WA

6.7%

Just Tapped

8

Locust

Imperial Oak Aged Vanilla

Oak-Aged Cider Vanilla

Gig Harbor, WA

9%

Just Tapped

9

Seattle Cider

Pumpkin Spice

Semi-Sweet Cider w/ pumpkin & baking spices

Seattle, WA

6.9%

Just Tapped

10

Thunder Island Brewing Co

Dark Berry Sour

Sour Fruit Marionberries, Blackberries

Cascade Locks, OR

6.7%

IBU

Just Tapped

11

Stillwater

Stateside Saison

Saison

Baltimore, MD

6.8%

IBU

Just Tapped

12

Stillwater

Red Sauce

Italian Style Pilsner

Grand Mound, WA

4.6%

IBU

Just Tapped

13

Top Rung

Doppelbock

Doppelbock

Lacey, WA

7%

IBU

Just Tapped

14

Paulaner

HefeWeizen

Weissbier

Munich, Germany

5.5%

14 IBU

Just Tapped

15

Sierra Nevada

Pale Ale

American Pale Ale

Chico, CA

5.6%

38 IBU

Just Tapped

16

Everybody's

Clearly Phantastic

IPA w/Phantasm Powder

White Salmon, WA

7.2%

IBU

Just Tapped

17

Bale Breaker

Frenzgiving

Hazy IPA

Yakima, WA

7.1%

45 IBU

Just Tapped

18

Skookum

Airplane Mode

IPA

Arlington, WA

6.7%

IBU

Just Tapped

19

YaYa

Fluffy Puffy Sunshine

New England IPA

Spokane Valley, WA

6.5%

50 IBU

Just Tapped

20

Mirage

Scrapbooking

Hazy IPA

Seattle, WA

6.2%

IBU

Just Tapped

21

Steeplejack

Alewife

English Dark Mild

Portland, OR

3.8%

IBU

Just Tapped

22

Sullivans

Black Marble Nitro Stout

Irish Dry Stout

Kilkenny, Ireland

5.1%

IBU

Just Tapped

23

Kulshan

Kitten Mittens

Winter Warmer

Bellingham, WA

7.9%

35 IBU

Just Tapped

24

Dubuisson

Scaldis Noel

Belgian Strong Dark Ale

Pipaix, Belgium

12%

IBU

Just Tapped

25

Black Raven

Splinters

Bourbon Barrel Aged Strong Scotch Ale

Redmond, WA

10.8%

24 IBU

Just Tapped

26

Icicle

DARKER Persuasion

German Chocolate Cake Imperial Stout

Leavenworth, WA

8.5%

22 IBU

Just Tapped

27

Fremont

B-Bomb 2022

Winter Ale - Barrel Aged (Bourbon)

Seattle, WA

14%

IBU

Just Tapped

28

Goose Island

BCBS 2022

Stout

Chicago, IL

%

IBU

Just Tapped
---