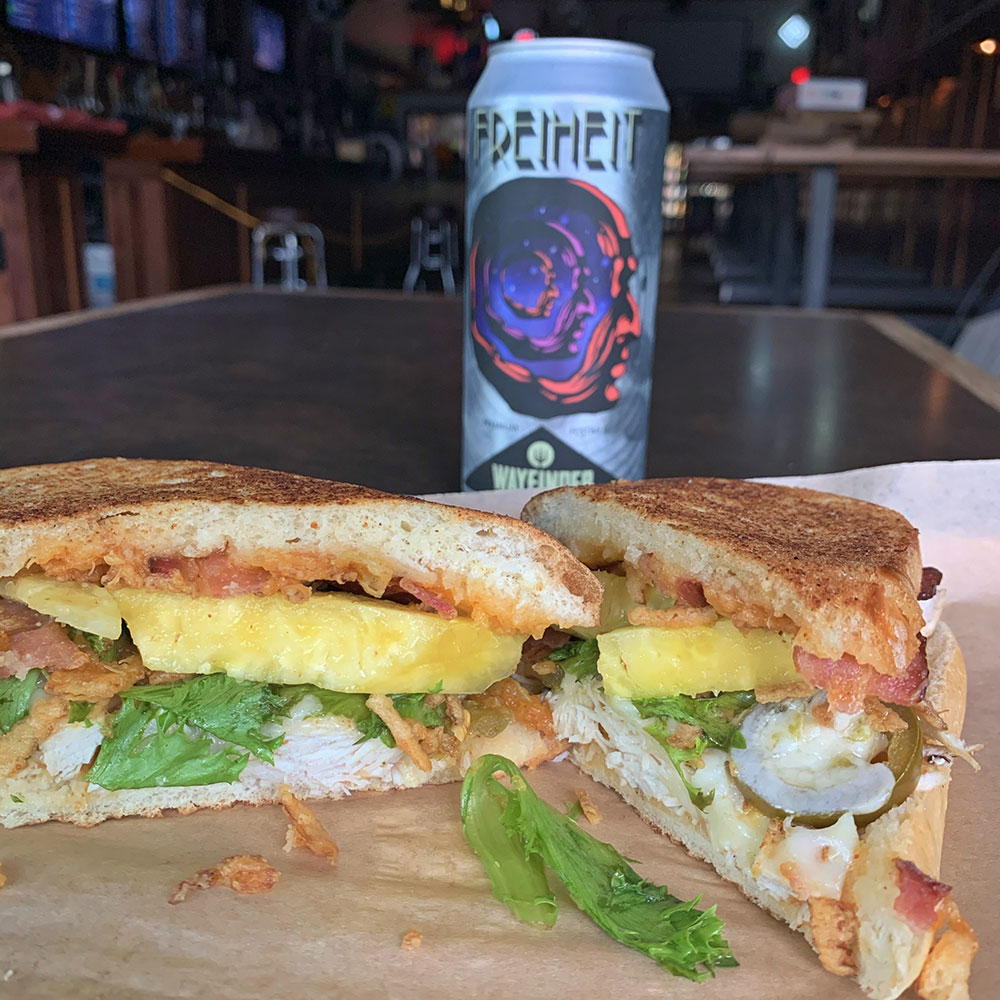 Tacoma Sandwich Special of the Day: Pineapple Express
MONDAY, SEPT. 14 2020: Sinking teeth into today's Peaks & Pints sandwich special releases sweet sweet and spicy pineapple juices into the mouth, filling the flavor cracks between jalapeño heat and the fatty bacon. Fried onions and lettuce add a crunch. Chicken and provolone do their thing.
PAIRING: Now, this wouldn't be a proper Peaks & Pints special posting without a bit about beer! We're thinking Wayfinder Beer's Freiheit! festbier. Freiheit! Means "freedom" in German and is a reference to Münchner Freiheit, the area of Münich where the Allies freed the German people of Nazi rule. It's also an '80s New Wave band that the Portland brewery digs.
Wayfinder Freiheit! is a golden, smooth, malty Oktoberfest Wiesn-style lager. This incredibly sessionable beer is very much alike a strong export helles than a Maerzenbier. It has an excellent body with a strong malt backbone and a bitter, dry bite. Light and easy, this one is perfect for the sandwich, as its flavor doesn't bowl over the special's flavors. The slight bitterness adds an extra dimension of flavor to the spicy/sweet bite.
THING TO DO: Order ahead at (253) 328-5621.
Peaks & Pints craft beer bar, bottle shop and restaurant is open Tuesday-Sunday, 11 a.m. to 8 p.m., with the kitchen closing at 7 p.m.
As a neighborhood restaurant, we take pride in our commitment to providing a clean, safe, and vibrant environment. Please rest assured that Peaks & Pints has built upon these best practices to follow the COVID-19 protocol provided by the CDC.
Thank you all for your support. We'll keep our Proctor neighborhood business going as long as you'll have us. Be well and stay well. Peace to you and yours.
LINK: Peaks & Pints full menu
LINK: Wayfinder Beer Freiheit! is in the Peaks and Pints cooler
---