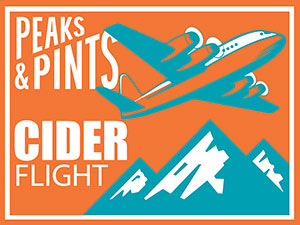 Historians believe that the pineapple originated in Brazil. It was imported to Europe later. It is also believed that Christopher Columbus and his crewmembers were probably the first few people from the European continent to have tasted the fruit. Members of European royal families soon developed a liking for it. It gradually became available to the rich, the noble and the elite. Popular wherever it landed, the pineapple was regarded as an exotic delicacy, even becoming a symbol of hospitality, as only the most generous of hosts presented their guests with a pineapple. James Dole did a lot to popularize the fruit and make it affordable with his pineapple plantations in Hawaii. Pineapple is the focus of our 2020 Washington Cider Week to-go cider flight today, a flight we call cleverly call, Peaks and Pints 2020 Washington Cider Week: Pineapple.
Peaks and Pints 2020 Washington Cider Week: Pineapple
Elemental Pineapple
6% ABV
In December 2014, husband-and-wife team Brian and Christina Callahan, the Woodinville, Washington couple behind the Callahan Cellars winery, launched Elemental Hard Cider, focused on hard ciders made with Northwest apples, cold-fermented with minimal filtering and devoted to expressing the atmospheric components. The pineapple in Elemental's Pineapple cider isn't overwhelming with a nice, smoky dry finish.
Seattle Cider Pineapple Agave
6.5% ABV
Joel VandenBrink, the founder of Two Beers Brewing Co., launched the Seattle Cider Company in August 2013, with the help from his Two Beers sales rep and a former farm hand Eric Willard. Diagnosed with Crohn's disease, which makes beer difficult to digest, VandenBrink launched the cider company with only two products: Semi Sweet and Dry. Today, Seattle Cider has many options, including Pineapple Agave. Ripe and juicy pineapple aroma, soft tartness, and subtle tropical sweetness lead to a clean finish in this perfect vacation sipper.
Schilling Passport Pineapple Passionfruit
6.7% ABV
Schilling uses only 100 percent fresh pressed apples, locally sourced non-GMO ingredients, and individually hand-selected yeast strains with beer yeast rather than wine yeast (Schilling likes beer yeast rather than wine yeast for the malt flavor) as you enjoy this unfiltered cider made with juices of fresh pressed apple, pineapple and passionfruit. The nose arrives with huge pineapple and apple — granny smith and pink lady jump — with some lavender, rose petal, ginger, lemon zest and passionfruit. On the tongue, expect ample apple, passionfruit and pineapple sweetness as well as a touch of citrus and sour bite.
---