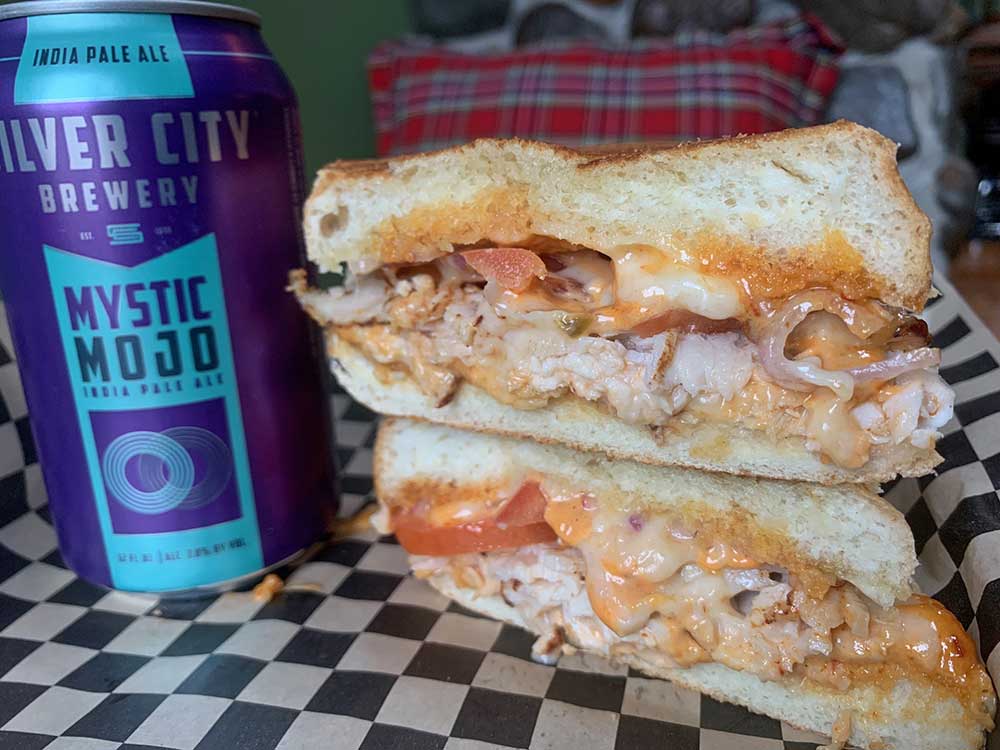 Tacoma Sandwich Special of the Day: Chipotle Mojo
WEDNESDAY JAN. 5 2022: Today's Peaks & Pints sandwich special is turkey bathed in chipotle roasted garlic sauce with Beecher's Aged White Cheddar, onion, and tomato on French.
PAIRING: Silver City Brewery Mystic Mojo
This dynamic, hazy IPA utilizes Citra and Columbus hops that impart a myriad of piney, dank, and citrus fruit hop aromas and flavors that will bump up the chipotle roasted garlic sauce.
THING TO DO: Because of COVID, Peaks & Pints isn't fully staffed and has postponed table service. Please you're the QR codes at the tables and order from the bartenders behind the bar. Call ahead at (253) 328-5621 for pick-ups. Cheers!
LINK: Peaks & Pints full menu
LINK: Silver City Brewery Mystic Mojo and 850+ other beers and ciders are in the Peaks and Pints cooler
We're open 11 a.m. to 10 p.m. Sunday-Thursday, 11 a.m. to 10 p.m. Friday and Saturday, but we hope to return to "before times" hours when we're able to seat at full capacity.
Hope to see you soon.
1

Eola Hills

Pinot Noir

United States

Willamette Valley

Eola-Amity Hills

13.5%

Just Tapped

2

Proletariat

Sangiovese

USA

Walla Walla, WA

14%

Just Tapped

3

Alexandria Nicole

Sauvignon Blanc

Woodinville, WA

13%

Just Tapped

4

Vice Beer

Gym Membership

Hard Seltzer Blueberry Limeade

Vancouver, Wash.

5.5%

Just Tapped

5

Bluebeard Coffee Roasters

Nitro Cold Brew Coffee

Cold Brew Coffee

Tacoma, WA

Just Tapped

6

Rainier

Mountain Fresh Rainier Beer

Lager

Seattle, WA

4.73%

IBU

Just Tapped

7

Yonder

House of Yonder

Cider

Seattle, WA

6.7%

Just Tapped

8

Elemental

"Calcium" Blood Orange

Cider Cask Cider

6%

IBU

Just Tapped

9

2 Towns

Super Bad Apple

Cider

Corvallis, OR

12.5%

Just Tapped

10

Shades

Tequila Sunrise

Sour

Salt Lake City, UT

6.2%

IBU

Just Tapped

11

The Bruery

Frucht: Guava

BA Berliner Weisse w/ Guava

Placentia, CA

4.3%

IBU

Just Tapped

12

Narrows

Invito

Italian Pilsner

Tacoma, WA

4.7%

IBU

Just Tapped

13

Triceratops

Pennsyltucky

Salmon Safe Vienna Lager

Tumwater, WA

4.8%

33 IBU

Just Tapped

14

Wayfinder/Chuckanut

Kristalweizen

Kristallweizen (Filtered Hefeweizen)

Portland, OR

5%

IBU

Just Tapped

15

Double Mountain

Kolsch

Kölsch

Hood River, OR

5.2%

40 IBU

Just Tapped

16

Fort George

Blue Mouse IPA

IPA

Astoria, OR

6.7%

IBU

Just Tapped

17

Ruse

Wolves In The Rain

IPA

Portland, OR

7.3%

IBU

Just Tapped

18

Varietal

Emergency Contact

Juicy Double IPA

Sunnyside, WA

8.4%

IBU

Just Tapped

19

Everybody's

Foggy Goggles

Hazy IPA

White Salmon, WA

6.9%

35 IBU

Just Tapped

20

Boneyard

Lupulin Advisory 4.0

Imp IPA

Bend, OR

8.2%

IBU

Just Tapped

21

New Belgium

Fat Tire

Amber Ale

Fort Collins, CO

5.2%

22 IBU

Just Tapped

22

Sumerian

Coffee Porter

Coffee Porter

Woodinville, WA

6.1%

37 IBU

Just Tapped

23

Rainy Daze

Tay, Need More Cowbell

Chocolate Milk Stout

Poulsbo, WA

5.2%

10 IBU

Just Tapped

24

Great Notion

Double Stack

American Imperial Stout with Maple and Coffee

Portland, OR

11%

IBU

Just Tapped

25

The Bruery

Bakery: Oatmeal Raisin Cookie

Imperial Pastry Stout w/ Cinnamon, Raisins & Vanilla

Placentia, CA

8.3%

IBU

Just Tapped

26

Breakside

My Stars Shine Darkly

Elijah Craig Bourbon Barrel Stout - Barrel Aged (Bourbon, Maple Syrup)

Portland, OR

13.2%

IBU

Just Tapped

27

Stoup

Sticks & Stones

BBA Stout

Seattle, WA

9.9%

52 IBU

Just Tapped

28

AleSmith

Hawaiian Speedway Stout

Imperial Stout w/ Coconut, Vanilla & Ka'u coffee

San Diego, CA

12%

70 IBU

Just Tapped
---