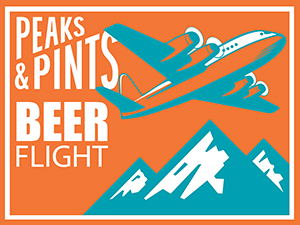 Jerry Seinfeld puts it perfectly in the Seinfeld episode "The Dinner Party." He says, "People love cinnamon. It should be on tables at restaurants along with salt and pepper. Anytime anyone says, 'Oh, this is so good. What's in it?' the answer invariably comes back: cinnamon. Cinnamon. Again, and again." Spiced beers are commonly found during the winter holiday season. They are often made with cinnamon, plus nutmeg, clove, mint, figs and raisins, and other ingredients. These beers are hard to categorize because they take on the character of the add-ons. They come in both ales and lagers. Generally, spiced beers are dark, medium- to full-bodied, with a background of caramel and chocolate malts. They are sometimes strong, with enough alcoholic warmth to accentuate the spices. Today, Peaks & Pints suggests a to-go flight of beer made with cinnamon and other spices — a flight we're calling Peaks and Pints Pilot Program: Spiced Beer On The Fly.
Peaks and Pints Pilot Program: Spiced Beer On The Fly
Prairie Seasick Crocodile
6.3% ABV
Prairie Artisan Ales' Seasick Crocodile is a sour ale brewed with cranberries, ginger, cinnamon, and nutmeg. Nutmeg rules the nose, but we also smell the cinnamon and ginger. It's not overpoweringly sour. Expect balanced spice notes and sweet berry flavors, with the ginger arriving in the aftertaste. It's light-bodied and moderately carbonated with a medium-dry finish
St. Bernardus Christmas Ale
10% ABV, 28 IBU
Brouwerij St Bernardus is famous for both their beers and their heritage. The brewery used to brew the famous Westvleteren beers before the monastery returned all production back to within the abbey's walls.  Their Abt 12 quad represents what Westvleteren 12 used to be before the abbey changed their yeast strain. St. Bernardus' Christmas Ale is brewery's Abt 12 offering, but gussied up with rich malt, dark dried fruit, fig, hints of anise, nutmeg, cinnamon, brown sugar … basically a fruitcake.
Sig Neighbor Nelson's Nitro Milk Stout
6.4% ABV
A collaboration with Tacoma Teas & Herbs, Sig Brewing's Neighbor Nelson's Nitro Milk Stout is conditioned on Tacoma Teas & Herbs' Cinnamon Cardamom Cacao Tea for a winter treat destined for cold weather drinking, and it also just so happens to be the Tacoma brewery's first ever nitro beer. Dosed in chocolate sprinkles, whole pod cardamom, cinnamon sticks, and cocoa husks, this spiced milk stout's nitrogenated base is creamy and decadent, thanks to a bit of lactose too.
Fort George Waves of Silence Embayed
9% ABV
Fort George Brewery has a long-held fascination with stouts. The Astoria, Oregon, brewery's Waves of Silence series allows the brewers to explore the darker recesses of their recipe books. The Embayed imperial stout version is in the Peaks & Pints cooler modeled after that classic the cinnamon roll brewed with cinnamon sticks, Madagascar vanilla beans, and whole cinnamon rolls. The cinnamon isn't overpowering. Expect holiday spices, vanilla, and cocoa powder notes.
Little Beast Maker Series The O.G.
5.9% ABV
A homage to Blue Star Donuts' Orxata Glaze (The O.G.) doughnut, Little Beast Brewing created a base beer using French pale malt, biscuit malt, and toasted rice flakes to mimic the fluffy treat's brioche base. After adding cinnamon to the mash and the boil, the brewers created their own decadently thick Orxata glaze using rice flour, vanilla, and even more cinnamon, and injected it straight into the finished beer for light, dry, cinnamon deliciousness.
Old Schoolhouse Melipona
8.5% ABV, 40 IBU
Lesson: The stingless Melipona bee is the famous vanilla pollinator cultivated by the Mayans more than 3000 years ago. Old Schoolhouse honors its namesake with copious amounts of Mexican vanilla pods, Ceylon cinnamon and Blue Star Coffee Roasters cold brew for a rich and creamy imperial stout with complex notes of chocolate, licorice, vanilla, and a finish that hints of spicy cinnamon. Drink this stout while arguing that Mel Gibson's barbaric Mayan civilization film Apocalypto isn't required for history class.
LINK: Peaks & Pints cooler inventory
---