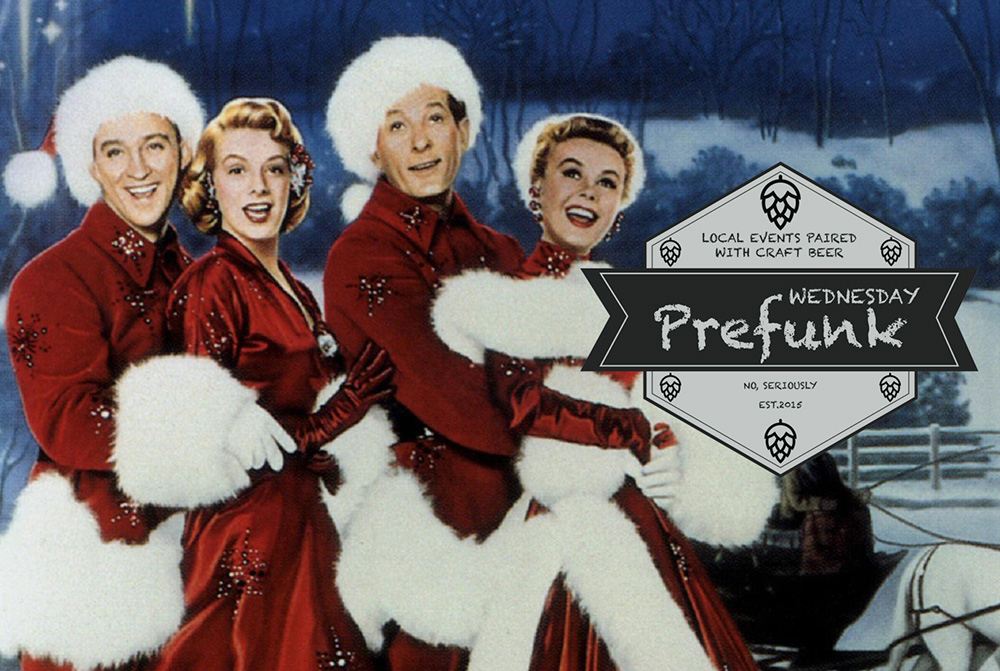 TACOMA PREFUNK WEDNESDAY, DEC. 13 2017: 2 Towns Ciderhouse Nice & Naughty Bourbon Barrel Aged and Sing-Along White Christmas
PREFUNK: First, 2 Towns Ciderhouse Nice & Naughty – Bourbon Barrel Aged is crammed full of whole cinnamon, nutmeg, clove and a touch of honey. Next, it's aged in bourbon barrels. The result is a very complex, subtle and wonderfully executed cider that you might not initially understand, because you're expecting it to be so much more brash. But there's a big difference in how this cider interacts with a wood addition, offering subtle caramel from the bourbon that blends well with the spices and apple. Stop by Peaks and Pints for a tulip full of Nice & Naughty – Bourbon Barrel Aged.
5:30 P.M. SING-ALONG WHITE CHRISTMAS: You know you're already humming "White Christmas" in your head. If you aren't, we are. The Grand Cinema screens the classical musical film White Christmas at 5:30 p.m. But beyond simply watching, you will be immersed in the total "The-Best-Things-Happen-When-You're-Dancing" experience — you will have the chance to sing along. Or at least you can move your lips to the words to pretend like you're singing along. That part is up to you. The beloved 1954 film brings to life the story of song-and-dance men Bob Wallace and Phil Davis (Bing Crosby and Danny Kaye), who, while romancing a sister act (Rosemary Clooney and Vera-Ellen), wind up spending Christmas in a Vermont inn rather than in sunny Florida … aw, heck, you know what it's about. Romantic mix-ups. Tap numbers. Patriotic hugs. And, of course, a lot of singing: "Where the treetops glisten and children listen/Doobie-doobie-doobie-doobie. …" Go in costume and sing!
7:30 P.M.BIG BAND CHRISTMAS DINNER SHOW: If all you want for Christmas is a beautiful, live concert, the Groovin' Higher Orchestra is the answer and they'd prefer not to be wrapped. Rich Wetzel's Groovin' Higher Orchestra is a who's who of big band musicians in the Puget Sound. Some of the musicians have played in the Air Force, Army, Navy bands, respectively, while others have seen the world while playing on cruise ships and with road bands. Yet whatever the past experiences were, they all have one thing in common from recent years: the annual Christmas show. Rich Wetzel's Big Band Christmas Dinner Show will be held at the Temple Theater.
---