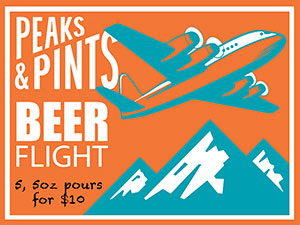 It wouldn't be December without a "Peanuts" special or a gift-wrapped tin of cashews in a Christmas stocking. The holiday season is when nut lovers come out of their shells. Sorry about that. But, seriously. 'Tis the season for "chestnuts roasting on an open fire," even though most people have never actually seen such a thing. Then, there are nutcrackers. Usually dressed like Russian soldiers with white beards, these useless wooden collectibles were like the Pet Rock of the 19th century. Yet the fad endured and migrated to America on the velvet coattails of Tchaikovsky's ballet "The Nutcracker." We've got no beef with ballet or classical music, but someone should tell Tchaikovsky the news: Painted knickknacks are not nearly so good for cracking nuts. In honor of nut season, Peaks and Pints offers a nutty beer flight we call Craft Beer Crosscut 12.13.17: A Flight of Nutcrackers. Because sometimes you feel like a nut.
Wild Ride Nut-Crusher Peanut Butter Porter
6% ABV, 18 IBU
Let's talk love. Peanut Butter. It transports us to a happier, simpler age. It's not a candy thing. It's a comfort thing. Redmond, Oregon's Wild Ride Brewing brings together two favorite flavors, peanut butter and porter, in this liquid chocolate truffle treat with a strong nuttiness. Nut Crusher is a beer that's almost as fun, if not more fun, to sniff for a while before actually drinking it.
Backwoods Pecan Pie Porter
5.9% ABV, 20 IBU
Nestled on the edge of lumber country along the Columbia Gorge, Backwoods Brewing Co.'s Pecan Pie Porter satisfies the sweet tooth. This mahogany-colored porter, brewed with whole pecans, showcases the nut's earthiness in the aroma. Made with five different grains, including chocolate and caramel malt, this seasonal porter gives off subtle chocolate notes, complimented with hints of vanilla and pecan. Makes us want some ice cream to drizzle this on.
Belching Beaver PB&J Blonde
5.5% ABV
Peanut Butter Jelly Time!" The classic sack-lunch sandwich is now Belching Beaver Brewery's newest brewing adventure. Tasty flavors of roasted peanuts blend with fruity grape jelly for a unique and inviting blonde ale that is truly sessionable. It's pure Cap'n Crunch Berries on the aroma. Total fruit cereal. If we didn't already know it was PB&J, we'd assume this was a cereal-modeled beer. Flavor is nutty, with a mixed berry cereal following a big grape jelly. The peanut butter and berry cereal lingers, too. Surprisingly good.
Belching Beaver Nitro Peanut Butter Milk Stout
5.3% ABV, 30 IBU
This San Diego-brewed, 2014 World Beer Championships silver medalist milk stout hits a nostalgic note: Peaks and Pints remembers how good a creamy peanut butter sandwich tastes with a glass of milk. That same luscious, nutty peanut butter flavor flows alongside coffee creamer richness; slight coffee roast and peanut butter on our noses before a lightly roasted, bitter finish. We have this treat on nitro, which adds a silky-smooth mouthfeel.
Ballast Point Peanut Butter Cup Victory At Sea
10% ABV, 68 IBU
Victory at Sea's story begins in 1992, when a homebrewer named Jack White, recognizing the dearth of good supply shops nearby with which to augment his hobby, opened Home Brew Mart near Mission Beach in San Diego. Another homebrewer, Yuseff Cherney, soon joined him, and together the two moved the brews they were making in their back yards to the back of the shop. In 1996, Ballast Point was born. It wasn't until 2007, however, that Victory at Sea imperial porter premiered tasting almost like tiramisu. Bitter medium-roast coffee flavors play at the sides of the tongue while a sweet vanilla and Irish cream character build at the front. The variants followed, including Peanut Butter Cup Victory At Sea, a 10 percent ABV imperial porter brewed with coffee beans sourced from Caffe Calabria, vanilla, chocolate and peanut butter. Creamily cohesive peanut-buttered black chocolate melds with dark-roast coffee. Nutty mocha resilience allows dark toffee, vanilla, espresso and cappuccino illusions to deepen its rich complexity. Hops lend some bitterness to the beer's light roast and alcohol, culminating in a long dry finish with light coffee notes left on the tongue.
---