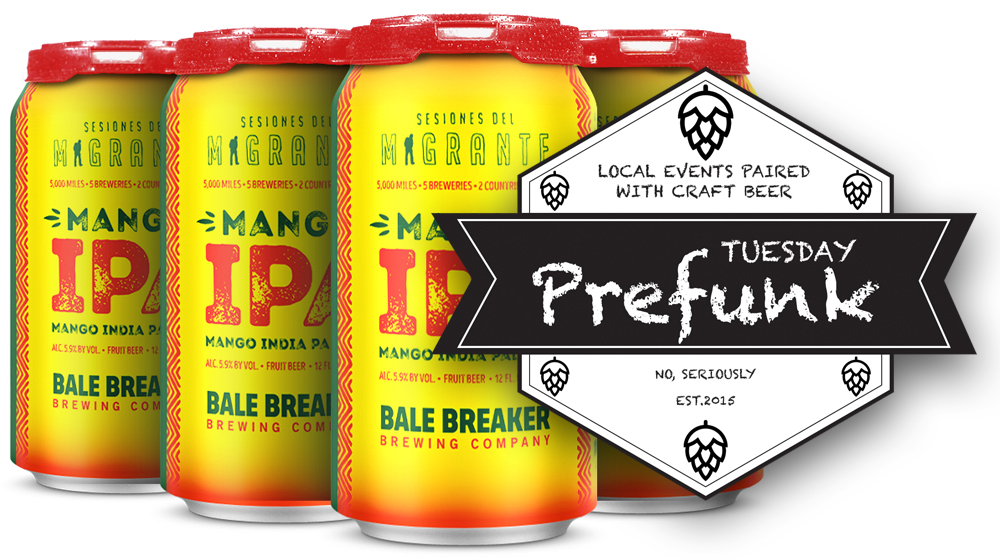 TACOMA PREFUNK TUESDAY, JULY 31 2018: Bale Breaker Sesiones del Migrante Mango IPA and woman directors
PREFUNK: Peaks and Pints tapped Bale Breaker's Sesiones del Migrante Mango IPA. The 5.9-percent IPA has quite the story. In May 2017, two of Bale Breaker's brewer-owners, Kevin Quinn and Kevin Smith, traveled to Mexico to brew beer with California breweries Ronin Fermentation Project from Truckee and SouthNorte from San Diego. At Cerveza Loba brewery in Guadalajara, the brewers concocted Loba Nómada, a New England-style IPA featuring hand-peeled mangoes, a homegrown ingredient. At Cerveceria de Colima in Colima, they brewed Vale Bale, an IPA with local coconuts. In early August 2017, brewers from all four collaborating breweries came to Yakima to brew Bale Breaker's inaugural Sesiones del Migrante Mango IPA featuring the freshest Yakima Valley hops. Sesiones del Migrante Mango IPA is fermented with 20 pounds per barrel of mango puree and dry hopped with Citra, HBC 630, and Ekuanot from YCH Hops. A portion of the proceeds will benefit La Casa Hogar, a Yakima non-profit that connects and educates Latina families.
10 A.M. TO 5 P.M. VIDEO INSTALLATION: Tacoma Art Museum hosts the video installation "To Sing of Beauty" that celebrate Blackness by Northwest artists C. Davida Ingram and Atlanta-based Paul Stephen Benjamin through September.
1:20 AND 6:20 P.M. HALF THE PICTURE: This woman-directed documentary about the dismal number of women directors working in Hollywood uses the current EEOC investigation into discriminatory hiring practices as a framework to talk to successful women directors about their career paths, their struggles, their inspiration and their hopes for the future. See Director Amy Adrion's Half the Picture at The Grand Cinema.
---