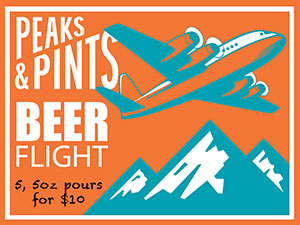 Did you know today is National Raspberry Cake Day? No? You're not alone. Every local baker we contacted was oblivious to the existence of this food holiday. But exist it does. After looking around online, however, the origin of this day is still a mystery to us as well. Even with its dubious history and lack of prominence, National Raspberry Cake Day deserves at least a little attention. Did you know an individual raspberry is made up of about 100 drupelets? Did you know Raspberries contain vitamin B1, vitamin B3, folic acid, magnesium, copper and iron? Peaks and Pints doesn't serve raspberry cake, but we do serve raspberry craft beer. Therefore, enjoy Craft Beer Crosscut 7.31.18: A Flight of Raspberry Beer.
10 Barrel Raspberry Crush
6.5% ABV, 4 IBU
Berliner weisse is a rare thing: a sour beer, intensely flavored and the embodiment of refreshment. Its tartness is generally mild. Its carbonation is high. It's refreshing with soft, wheaty flavor. 10 Barrel R&D brewer Tonya Cornett brewed her cucumber Berliner weisse for the 2013 Portland Fruit Beer Fest. It went on to win a gold medal at the 2014 and 2015 World Beer Cup. Then, she crushed raspberries. Acidulated white wheat, raspberries and an inoculation of Lactobacillus in the fermenter give this sour ale its tart, fruity taste. Low hop levels let the special sour flavors dominate, and rice syrup helps yield a particularly light finish and body.
Kulshan Raspberry Gose
4% ABV
Bright and highly sessionable, Kulshan Brewing's Raspberry Gose pays homage to Northwest Washington's unbeatable long summer days and the hardworking raspberry farmers of Whatcom County. Malted wheat, Pilsner malt` and German Perle hops and fresh raspberries are inoculated for a hazy pink-ish summer sipper. Expect mild sour aroma with berry notes, some body, light malt base and slight tartness.
Samuel Smith Organic Raspberry Fruit Beer
5.1% ABV, 16 IBU
One of the oldest operating breweries in the world, Samuel Smith's Old Brewery has been brewing with the same derivative yeast strain in the same stone vats for the last 255 years. They even keep a small team of Shire horses — a breed that traditionally pulled brewery wagons — to deliver beer around its hometown of Tadcaster. But for all this tradition, Samuel Smith is remarkably modern. All but one of its beers are vegan and the brewery has an entire line of organic ales, including its Raspberry Fruit Beer. According to Samuel Smith's, it's brewed at All Saints Brewery in Stamford, England using all manually operated equipment. Barley and wheat are combined to make an ale, fermented and aged for an extended period, then taken to Samuel Smith's brewery in Tadcaster, England. It is at this stage where they blend in pure raspberry juice to create a fruit-forward ale with malt and some bittering hops on the back.
Abita Purple Haze
4.2% ABV, 13 IBU
Located 30 miles north of New Orleans, Abita Brewing fired up the mash tun in 1986, making it the oldest craft brewery in the southeastern United States. Abita's Purple Haze is an American wheat ale with fresh raspberries added during secondary fermentation. The result pours a hazy beige with just the faintest hint of lavender. It's a lively combination of soft wheat and sweet raspberry on the nose. Smooth and creamy, it offers bright raspberry flavors up front, backed by grain-laced malt and just the right hint of hops. 'Scuse us while we kiss the sky!
Pelican Raspberried At Sea
9% ABV, 25 IBU
Some of the most delicious and plentiful berries from the Pacific Northwest are red raspberries. Pelican Brewing concocted a beer to highlight this glorious fruit with light malt and Mt. Hood hops to let the raspberries shine. Raspberried at Sea starts with a base beer inspired by the tripels of Belgium, then layers on color and flavor with immense amounts of raspberries and carefully selected Abbey-type ale yeast. With a light color topped by pink-hued foam, and an aroma and flavor that layers bright raspberry flavor with Abbey yeast and light malt flavor, Raspberried at Sea brings to mind a sparkling rosé.
---