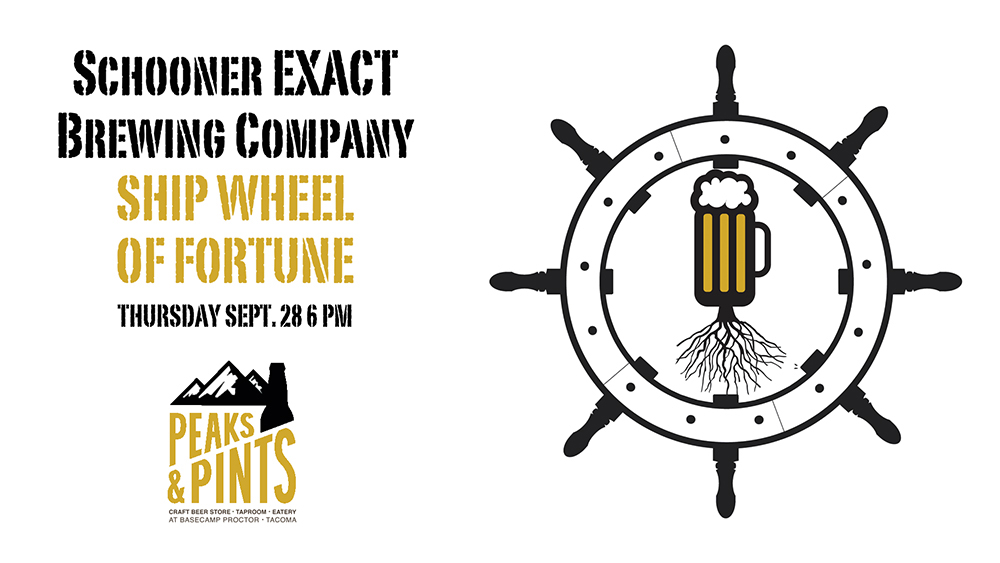 TACOMA PREFUNK THURSDAY, SEPT. 28 2017: Schooner EXACT Ship Wheel of Fortune and Michael Sullivan
PREFUNK: They say that in life, you have to risk it all to get it all. During Ship Wheel of Fortune, you have to spin it to win it all. Now, people are going to get to experience the thrill of the wheel when Schooner EXACT Brewing Company brings its Ship Wheel of Fortune to Peaks and Pints bottle shop, taproom and restaurant in Tacoma's Proctor District TONIGHT. The Ship Wheel of Fortune will be one of the highlights when Peaks and Pints calls to order its Lodge Meeting with the South Seattle brewery as its host. Schooner EXACT Fresh Hop IPA, Grinderface barleywine, Amarillo Saison and King Street Brown will flow from our Western red cedar tap log as screams of joy burst around the Ship Wheel of Fortune.
5:30-8:30 P.M. GREEN FLASH/ALPINE BREWERS NIGHT: Zog's on Fox Island hosts Green Flash Brewing Co. and Alpine Beer Co. for a joint brewers night featuring Tangerine Soul Style IPA, GFB Blonde Ale, Spanish Trampoline and Windows Up IPA, among others.
6:30 P.M. CONVERSATIONS RE:TACOMA: Historic preservationist Michael Sullivan will speak about immigration's influence on the shape of Tacoma as part of the community lecture series Conversations re: Tacoma at the University of Washington-Tacoma Carwein Auditorium.
Save
---