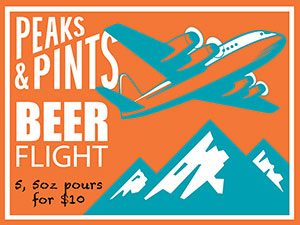 Most of us can't function without our morning cup, whether it's black, loaded with sugar and cream, or one of those $10 fancy-pants 20-ounce jobs. It's part of our morning routine. It's a ritual. It warms our souls and gets us moving. It's a social custom and a hangover remedy. Not only do we love coffee, but coffee also loves us. Today is National Coffee Day. Of course, at Peaks and Pints International Headquarters, every day is coffee beer day. We salute National Coffee Day in the only way we know how — with a flight of coffee beer we call Craft Beer Crosscut 9.29.17: A Flight of National Coffee Day.
Top Rung/Wet Coast Runnin' All Night
5.6% ABV, 25 IBU
What happens when Thurston County firefighters hang out with West Pierce Fire and Rescue firefighters? Runnin' All Night Coffee Blonde Stout. Thurston County firefighters and Top Rung Brewing Co. founders Jason Stoltz and Casey Sobol invited West Pierce Fire and Rescue firefighters and Wet Coast Brewing Co. founders Bryan Copeland and Aaron Johnson to their Lacey, Washington brewery to trade stories and brew a beer. Stoltz and Copeland designed the recipe that includes Golden Promise malt, Golden Naked oats and a touch of lactose. Wet Coast's friends at Tacoma's Bluebeard Coffee Roasters provided the Celinga Village coffee for beautiful notes of roasted coffee, dark chocolate and subtle fruitiness. Everyone tossed in the Golding hops. These firefighters know a little about "runnin' all night," and this coffee blonde stout with its lively carbonation, subtle coffee and light hops hits the spot.
Modern Times Black House Nitro Stout With Coffee, Coconut & Cocoa
5.8% ABV, 40 IBU
Basically, this is Modern Times' Black House — the brewery's year-round oatmeal coffee stout, brewed with Ethiopian Hambela and Sumatran coffee — nitrogenated and packed to the gills with coconut and cocoa nibs. This special January 2017 is a decadent symphony of chocolate and coffee laced with luscious notes of coconut and a mouthfeel so luxurious it's like drinking a velvet painting. The flavors are very well-balanced, smooth and harmonize perfectly together, with an excellent body and finish. Seriously, it's crushable.
Stone Neapolitan Dynamite
8.5% ABV
Each year Stone Brewing partners with the American Homebrewers Association to host a member rally and homebrew competition, which, for years has yielded a beer worthy of the national stage. Judged by Stone co-founders Greg Koch and Steve Wagner (and members of the Stone team), this year's champions are Paul Bischeri and Patrick Martinez and their champion creation, Neapolitan Dynamite. For the additional collaborator, Stone enlisted noted Stout Master Derek Gallanosa from Abnormal Beer Company to bring this ice cream sundae of a beer to life in full scale. The result is a rich, decadent beer, with the sweetness of the strawberry and vanilla balanced out by dark chocolate and coffee.
Ballast Point Coconut Victory At Sea
10% ABV, 60 IBU
Based out of San Diego, Ballast Point started when a few guys with a love for good beer and good fishing decided to open up shop and sell their own brews. Victory at Sea looks like breakfast — an abundantly black liquid fills the glass while a powerful-looking head the color of brown sugar and the consistency of pancake batter slowly retreats to a thin but stubborn blanket. Bitter medium-roast coffee flavors play at the sides of the tongue while a sweet coconut character build at the front. Toast and molasses make appearances as well, and alcohol heat rolls down the throat, noticeable but not overpowering. As the drink warms, coconut becomes more pronounced, lending a sweet finish to counteract the bitterness of the coffee beans.
Rogue Cold Brew IPA
7.5% ABV, 82 IBU
The coffee IPA isn't a new phenomenon, but Rogue Ales' Cold Brew IPA is one of the best. It provides enough coffee to wake up a dead guy, while simultaneously offering plenty of old-fashioned West Coast hops to please any hophead. Cold Brew IPA employs Stumptown's Cold Brew Coffee, which has been cold-brewed for over 12 hours and double filtered. The coffee arrives immediately, but doesn't dominate. The same can be said for the blend of Rogue Farms Rebel, Freedom and Liberty hops — as well as an additional amount of outside Simcoe. There's a smooth transition from ingredient to ingredient with pine resin, grain, grapefruit and orange all making an appearance. For 82 IBU, Cold Brew IPA isn't overly biting, but still packs a solid punch.
Save
---