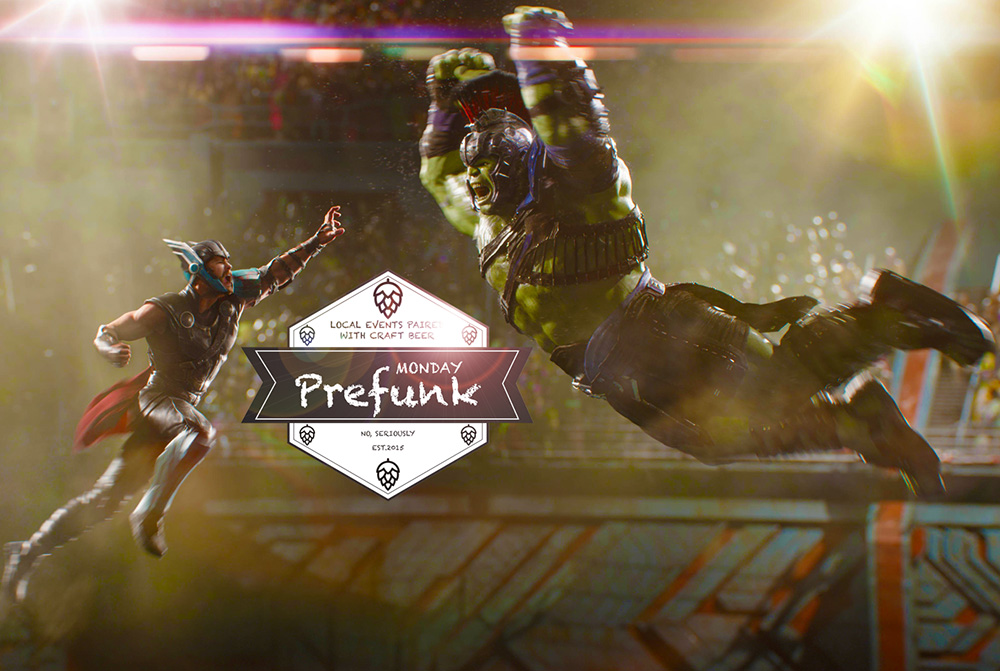 TACOMA PREFUNK MONDAY, JAN. 29 2018: Pike Octopus Ink and Thor
PREFUNK: The black IPA goes by many names: American black ale, India black ale and Cascadian dark ale (when most of the hops are American-grown Cascades). Hops are at the forefront, but the style can also have a modest malt signature because of the amount of black malts that are used to give it its rich black color. Pike Brewing's Octopus Ink wraps itself around the hoppier side of the black IPA style. Dry hopped twice with Citra, Amarillo and Simcoe provides a toasted pine needle aroma and a woody, spicy pine and resiny edge to the bitterness. Bitter black roasted grains and coffee attach to the tongue but not the burnt flavor that can be associated with dark malts. All that malt lends balance and depth, complementing but not allowing the hops to completely take over the beer. This isn't an in-your-face hop monster, just solidly hopped beer with a firm malty core on at Peaks and Pints.
5 P.M. PARKWAY RANDALL: There a buzz of excitement at Narrows Brewing Co. Young buck brewer Matt Rhodes — formerly with Stone Distributing and King Harbor Brewing out of Redondo Beach, California — is letting his freak flag fly, injecting new recipes into the brewery on pilings along the Narrows Waterway. First, his delicious Porter turned heads. Now, his Bridge to Tomorrow IPA is popping heads clean off. The Parkway Tavern runs the latest version of Bridge to Tomorrow through an infusion tube full of fresh ingredients.
7 P.M. THOR — RAGNAROK: Disney and Marvel finally figured out that comic relief was the biggest contribution Thor and the Hulk had made to their cinematic universe thus far. Because Thor — Ragnarok, by all reports, plays up the potential for big-time yuks that's inherent when a Norse himbo has to do gladiatorial battle against a grouchy green behemoth who likes to toss him around like a Beanie Baby. (Hey, remember Beanie Babies?). Other highlights to look forward to while watching the flick at the Blue Mouse Theatre include Cate Blanchett as Hela, goddess of death, arriving from the comics with her Jack Kirby-designed spiked headpiece intact and the franchise debut of the intrepid Valkyrie, now no longer a Scandinavian's idea of Becky With the Good Hair but an actual, honest-to-goodness person of color.
---