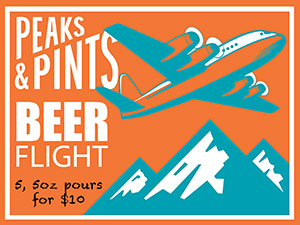 Originating in 2005 and held every year during January, Strange Brewfest Port Townsend is a showcase in deviance from any archetypical extreme beer festival. Where most thematic beer fests involve high alcohol and barrel-aged brews, Strange Brew delineates itself with a truly outré melange of beers that simultaneously capture the imagination and leave you scratching your head — pho beer, old fashion beer, pickle beer, baked beans beer and on an don. The 14th version was held this past weekend, melding a Western theme with wacky beers. It was "Home, Home On The Strange" with 60 strange brews and temperatures well below 60. Peaks and Pints presents our Strange Brewfest in the form of today's daily beer flight: Craft Beer Crosscut 1.29.18: A Flight of Strange Brew.
Harmon Skyline Trail Wildflower Sour
5% ABV
In August 2016, Harmon Brewing Head Brewer Jeff Carlson, Production Manager Bill Lundeen and Director of Brewery Operations Jesse Holder as well as Peaks and Pints staff collected yeast from wildflowers blooming along the Skyline Trail at approximately 5,400 feet on the south slope of Mount Rainier. The yeast was added to a sour blonde base, inoculated with Saccharomyces and aged for a year. In September 2017, it was blended with a blonde base that was aged two years in a foeder. It's a funky, tart, pale amber-colored ale that's light in body and exhibits aromas of stone fruit, oak and spice.
Atwood Ales Dark Harbor
5% ABV
Located just 18 miles north of the burgeoning Bellingham brewery scene, on the outskirts of a scenic seaside town, is Blaine, Washington's first, and oldest, brewery — Atwood Ales. The unique setting provided by a 100 year old farmhouse and barn and the surrounding acreage is not only visually compelling, but also provides countless opportunities to directly incorporate estate and locally grown agricultural and natural ingredients into Atwood's small batch beers. It's a family-operated farm and brewery. Josh brews the beer. Monica takes care of sales, marketing and distribution. Josh's parents, Stephen and Leslee Smith, co-own the brewery, and Monica's parents (Steve and Nancy) are involved as well. In the fall and winter, major low tides occur at night, leaving Blaine local oyster farmers to brave the "Dark Harbor" to work the tide flats and harvest their bounty. Atwood's "black ale with bivalves" is a collaboration with Drayton Harbor Oyster Company, whose oyster beds lie just 2 miles directly west of the brewery. A subtle, underlying, caramel wave carries a slight brininess all the way to the roasty shores of barley town.
Wingman P-51 Peanut Butter Cup Porter
8% ABV
Wingman Brewers introduced a peanut butter and coconut porter to the Port Townsend Strange Brewfest several years ago. At its 2014 Porterpalooza festival, the Tacoma brewery dropped the coconut and added chocolate. It was a huge hit. It re-appeared for Porterpalooza 2015, this time in 22-ounce bottles as a seasonal. Peanut Butter Cup Porter tastes like a Reese's Peanut Butter Cup full of rich peanut, chocolate, some light roasted notes and a decent amount of sweetness.
Stillwater Fear Of Ghosts
6% ABV, 45 IBU
You can fear ghosts. Who doesn't? But, don't feature the smoked sour ale. Stillwater Artisanal's Fear of Ghosts is a smoked, sour farmhouse wheat ale. That's all that needs to be said. OK, it tastes of big tart lemon, lime, green apple, pear, pineapple, pear, melon, white wine, orange zest, peppercorn, hay, straw, grass, sea salt, wheat, cracker, light leathery funk/wood smoke and herbal/yeast earthiness. Seriously, expect an around nice complexity, robustness and balance of fruity/funky/spicy/acidic yeast and light-moderate pale/smoked malt flavors.
Breakside The Pathfinder
7% ABV
Breakside Brewery has brewed a gin and tonic. The Portland brewery aged its India Golden Ale for six months in Old Tom Gin barrels from Ransom Spirits before being blended with some fresh hoppy beer and dry hopped for renewed intensity in the aroma. Flavor is a wonderful balance of intense gin barrels and citrus hops. The hops are not muted from the barrel aging and the gin isn't too abrasive. Fun beer to try, and well executed.
---