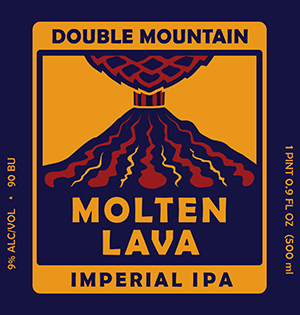 MORNING FOAM FOR WEDNESDAY, OCT. 18 2017: A seven-taster flight of craft beer news, from the fluffy head all the way to the feud with Big Beer. …
The Washington Beer Commission will host its 4th Annual South Sound Craft Beer Festival Saturday, Oct. 28, at the Tacoma Dome Exhibition Hall. Expect a Halloween-themed haven of at least 120 delicious craft beers, many IPAs, served up by the 40 Washington breweries.
The Commons, Portland, Oregon's beloved farmhouse brewery, will pour its last pint Saturday, Nov. 11. The Commons Brewery will vacate their building at 630 SE Belmont making way for San Diego's Modern Times Beer. For now, The Commons will shorten their regular hours at the end of October for their last twelve days and details of a closing night party are imminent.
Hood River's Double Mountain has released its popular Molten Lava Imperial IPA on draft and in bottles along with its Dry Cider now available in bottles for the first time.
Nov. 4, the American Homebrewers Association celebrates the 19th annual Learn to Homebrew Day, an opportunity for homebrewers to draft their non-brewer friends and family to learn how to make beer at home. Hundreds of fun, educational events are held at homes, breweries, shops and clubs worldwide. Over 300 local celebrations and more than 4,000 participants are expected for this year's celebration both in the U.S. and abroad.
A primer on extreme homebrewing, Project Extreme Brewing: An Enthusiast's Guide to Extreme Brewing at Home, is available for pre-sale at Amazon.com and will be officially released on Nov. 14 at independent book stores or your favorite retailer. Sam Calagione, CEO and founder of Dogfish Head Craft Brewery, one of the nation's most recognized indie craft breweries, teamed up with Todd and Jason Alström, brothers and founders of BeerAdvocate, a global, grassroots network powered by an independent community of craft beer enthusiasts, to create Project Extreme Brewing.
Looking to bring attention to Anheuser-Busch's acquisitions of craft brewers, the Brewers Association has launched a tongue-in-cheek campaign aiming to buy the corporation for $213 billion.
MillerCoors has come out swinging against an anti-big beer campaign launched Monday by a craft brewers organization that accuses top brewers of squashing craft beer culture by buying up smaller brands. The campaign by the Brewers Association specifically targets Anheuser-Busch InBev — which has acquired 10 craft brewers since 2011 — but MillerCoors is also implicated because it has four craft brand acquisitions under its wing.
---