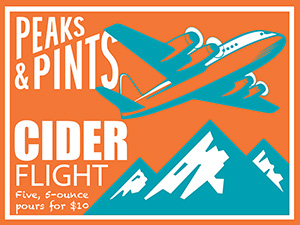 In Europe, cider (or cidre, or sidre) is shorthand for an alcoholic beverage of fermented apples. In Britain it's dry as the humor. France likes a dash of sweet, while Spanish versions run stringent and musty. In America, George Washington's troops received rations of it. John Adams reportedly drank a tankard of it for breakfast each morning. Cider apples and their fermented juice were prevalent on American homesteads. Then Americans departed farms for cities, German immigrants introduced beer culture and ultimately Prohibition took a collective axe to cider orchards across the country. It's not surprising that craft cider has taken root in Washington state — a region of wine and craft beer enthusiasts. Washington is the second largest wine producer and has the second highest number of craft breweries in the country. But when it comes to cider, Washington is fourth in the nation with 63 cideries. Meet five Washington state ciders in what we call Peaks and Pints Monday Cider Flight 6.4.18: Washington State.
Schilling Grapefruit and Chill
6% ABV
In 1881, Colin Schilling's great-great-grandfather, August, founded the Schilling Spice Company in San Francisco, with a goal of bringing pure, natural spices to everyone at a fair price. Today, at Schilling Cider, August's core values are carried forward and paired with innovative cider-making techniques to produce quality and complex hard ciders that, according to media hype, is the number on selling craft cider with three taprooms — Auburn, Seattle and a 50-tap cider house in Portland — and retail in 20 states. Think about all that plus the fact that Schilling uses only 100 percent fresh pressed apples, locally sourced non-GMO ingredients, and individually hand-selected yeast strains with beer yeast rather than wine yeast (Schilling likes beer yeast rather than wine yeast for the malt flavor) as you enjoy this light, semi-sweet, smooth cider made with fresh-pressed apple juice, Non-GMO sugar and essential oils of lime, grapefruit, citric acid and hibiscus.
One Tree Ginger Pomegranate
6% ABV
Grant Barnes and Neal Hennessy started making cider as a hobby, and it turned into a vocation. One Tree Hard Cider started in Barnes' Spokane Valley garage, with exactly one recipe: a relatively straightforward semi-sweet apple cider. They went pro in the summer of 2014. Ginger definitely wins the battle in One Tree's new spring release, Ginger Pomegranate, with pomegranate taking the back seat. That said, the pomegranate sweetness mellows out the ginger so as not to be a ginger bomb.
Tieton Cider Lavender Honey
6.5% ABV
In 2008, Craig Campbell and his wife, Sharon, began experimenting with making cider from dessert apples grown in their 400-acre commercial fruit orchards. Despite naysayers who warned that cider apples required a maritime climate, Craig also planted a two-acre test orchard with 25 varieties of cider apples. Today, their two-acre experiment expanded into Cider View, a 30-acre "high-density" cider orchard. In their commercial cidery, Tieton Cider Works, they blend American heritage, English and French cider varietals with dessert apples to capture the best of what each variety brings to the bottle: sweetness, acidity, tannin and aroma. Their spring-seasonal, Lavender Honey Cider, is a first in a series of selections that will be part of Tieton Cider Works' seasonal draft offerings. Lavender Honey is made with locally sourced honey and whole lavender buds. The lavender in this cider is slight but it's there and the honey gives it a great mouthfeel and balance.
Ole Swede Blend of 9
6.8% ABV
About a 1,000 people live in Tonasket, a city in Okanogan County, Washington. Lucky them to have Ole Swede Cider in their backyard. Tonasket native Casey Oberg launched Ole Swede Cider on his family farm in 2014. Blend of 9 is just that — a blend of nine apples: Kingston Black, Storks Red, Harry Masters Jersey, Dabinett, Rome Beauty, Granny Smith, Honey Crisp, Golden Delicious and Pink Lady apples. Expect notes of honey and citrus, low apple flavor, oak and complexity.
Seattle Cider Berry Rose
6.9% ABV
Joel VandenBrink, the founder of Two Beers Brewing Co., launched the Seattle Cider Company in August 2013, with the help from his Two Beers sales rep and a former farm hand Eric Willard. Diagnosed with Crohn's disease, which makes beer difficult to digest, VandenBrink launched the cider company with only two products: Semi Sweet and Dry. Today, Seattle Cider has many options, including Berry Rose. Fermented on fresh Washington blueberry, raspberry, and blackberry juices and white wine yeast, Berry Rosé is a crisp, dry and tart take on rosé.
---