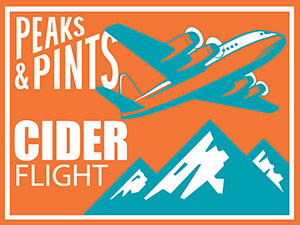 Pour a glass of cider and see a good book tonight. The Grand Cinema continues to run their Virtual Screening Room, which is a way to support The Grand by buying virtual tickets and streaming movies from home that would otherwise be playing on the big screen right now. The Booksellers is one such movie, which takes you inside a small but fascinating world populated by an assortment of obsessives, intellects, eccentrics and dreamers. Bookstores, as you may know, have had a rough couple of decades. In New York City alone, there used to be over 300 bookstores, and now there's less than a third of that. The Booksellers is a documentary that takes a look at famed New York book houses, like The Strand, the careers of rare book dealers, and the up-and-coming generation of booksellers incorporating modernity into their business. We've curated three ciders to pair with this movie — a cider flight we call Peaks & Pints Cider Flight and a Movie: The Booksellers.
Peaks & Pints Cider Flight and a Movie: The Booksellers
One Tree Staycation
5.6% ABV
Grant Barnes and Neal Hennessy started making cider as a hobby, and it turned into a vocation. One Tree Hard Cider started in Barnes' Spokane Valley garage, with exactly one recipe: a relatively straightforward semi-sweet apple cider. They went pro in the summer of 2014. Their Staycation pineapple cider hits the nose with mostly apple plus vague hints of the pineapple and mango. The taste is really sweet and lightly tart. The pineapple and mango come through more in flavor.
Lost Giants Elderberry Cider
7.3% ABV
In 2018, Chris Noskoff, Abraham Ebert and Brad Wilske founded Lost Giants Cider Company in Bellingham, Washington, focusing on handcrafted modern and traditional ciders that showcase the agricultural abundance in the state. Their Elderberry Cider is ruby red, semi-dry cider made with regional Elderberries and a blend of traditional dessert and cider apples. The tartness of the elderberry is balanced with sweet Washington apples giving us a subtle sharpness, delicate mouthfeel and a semi-dry finish. Aroma brings out fresh elderberries upfront, with light apple acidity. On the tongue, expect fresh elderberry character upfront, with tart fruit skins, and crisp apple acidity. It's nicely balanced, with a good expression on the berries.
Eaglemount Log Cabin
8% ABV
Fourteen years ago, Jim and Trudy Davis founded Eaglemount Winery & Cidery on an original 1883 homestead in the town of Eaglemount on the Olympic Peninsula. Part winery, part cidery, Eaglemount continues the tradition of the original homesteaders by making hard cider with heirloom apple varieties such as Gravenstein, Winesap, White Pippin, Roxbury Russet, and Twenty Ounce, although they also source heirloom varieties from other old homestead orchards on the Peninsula. Log Cabin is just that — a semi-sweet cider crafted from heirloom apple varieties and rhubarb grown on their farm and other local farms. Expect a rhubarb twang and just the right sweetness.
---