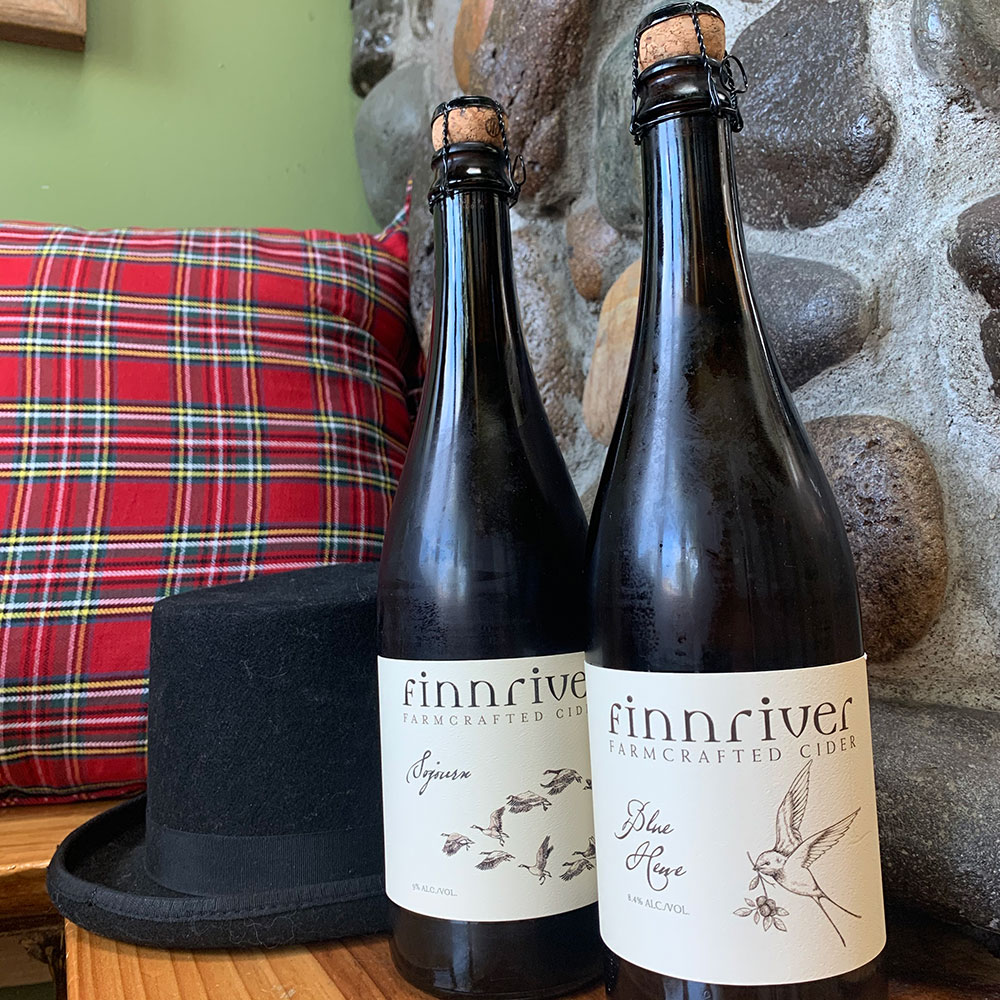 Fancy Pants Sunday: Finnriver Blue Hewe and Sojourn
On the northeast corner of the Olympic Peninsula is an extension of land called the Quimper Peninsula, named after Manuel Quimper, a Spanish Peruvian explorer, cartographer, naval officer, and colonial official. The narrow peninsula became the home of towns Port Townsend, Chimacum, Glen Cove and Fort Worden, just to name a few. Today, Quimper Peninsula is home to some of the best cideries in Washington state, including Finnriver Farm & Cidery in Chimacum.
When one of Washington's earliest cidermakers, Drew Zimmerman, retired, Finnriver owners Keith and Crystie Kisler, and CFO Eric Jorgensen, transplanted 1,000 of his trees from Mount Vernon to their Chimacum farm, a heartwarming, if labor-intensive transition from old guard to new. A working farm, Finnriver houses rows of espaliered apple trees, fields of flowers, working geese, and on weekend nights, bands add to the merriment.
Andrew Byers, a botanist, wordsmith and Le Cordon Bleu chef turned cidermaker, has been managing microbial populations at Finnriver Farm & Cidery for almost four years; before that he helped produce estate-grown sparkling cider in cider orchards of upstate New York.  He brings an academic emphasis in fungal ecology and systems thinking/design to the forefront of home cider production, as well as a deep knowledge of tree fruit. Bring your dictionary on Byers-led tours of the farm.
That's all fine and dandy, but this is Fancy Pants Sunday, a weekly look and complex, fancy craft beer and cider, and, as you can guess, Peaks and Pints shines the spotlight on Finnriver this week — actually two spotlights: Finnriver's Blue Hewe (9.5%) and Sojourn 750ml bottles.
Made with Finnriver's estate organic Hewe's Virginia Crab and William's Pride apples, as well as estate organic blueberries, Blue Hewe 2018 hits the nose with leather and tart fruit, hay bales and wine. Roving acids carry notes of sweet pear and caramel. Expect a strikingly sharp, creamy texture and a long finish.
The Sojourn (9%) recipe includes a traditional cider apples Ellis Bitter, Amere de Berthcort, and Reine des Pommes grown 15 miles south of Finnriver at Vista Ridge Orchard in Quilcene. With indigenous yeast naturally present in the fruit, and a bottle conditioned bubble, Sojourn offers a deep sense of leather and apple, with flavors of baking spice and warm fruit, plus a mouth-filling tannic chewiness that finishes dry.
You fancy Finnriver Blue Hewe and Sojourn.
---