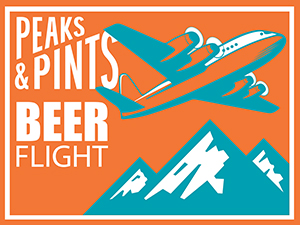 On this date in history: 2000, Prince Rogers Nelson, better known as Prince, celebrated reclaiming his name of "Prince" after a seven-year battle with Warner Brothers, who refused to let him record under that name. In protest of his sour dealings with the record company, Prince changed his name to an unpronounceable symbol (later trademarked as "Love Symbol #2") and was referred to as "The Artist Formerly Known as Prince," which was shortened to "The Artist." Shortly after signing a new deal with Arista in 1999, Prince became Prince again on this date in history, though the symbol is still incorporated into much of his album artwork and is the model for some of his custom-made guitars. In celebration, Peaks and Pints presents a to-go flight of beers and breweries that changed their names, a flight we call Peaks and Pints Pilot Program: Prince Parallelism On The Fly.
Peaks and Pints Pilot Program: Prince Parallelism On The Fly
No-Li Big Juicy
6.15% ABV, 35 IBU
In 2012, Northern Lights Brewing Co. changed its name after it found itself in a trademark dispute with Starr Hill Brewing Co., which had a beer called the Northern Lights IPA. Starr Hill also had a big, national distribution deal with Anheuser-Busch. Northern Lights founders Mark Irvin and John Bryant decided to take the high road. Spokane-based brewery Northern Lights was re-invented as No-Li Brewhouse. Speaking of re-invention, No-Li's Big Juicy has undergone a couple recipe changes, and a package rebranding. Today, it goes big with a bright citrus and tropical fruit hop aroma, followed by a hop blend of Citra, El Dorado, Belma, and Azacca for tropical and citrus flavors. Mellow bitterness balances the fruity notes in this hop-forward, golden-colored IPA.
Uinta Hazy Nosh IPA
5% ABV, 45 IBU
Uinta Brewing change the name of their Hop Notch, the Salt Lake City brewery's flagship beer, following a request from Massachusetts-based Notch Brewing, which owns trademark for the word "Notch" as it relates to beer and breweries. Notch Brewing claimed that Hop Notch was creating marketplace confusion. Uinta changed their flagship's name to Hop Nosh. We have the hazy version in our cooler. With big, juicy hop aromas of mango, orange and pineapple juice, Hazy Nosh features low bitterness with a soft mouthfeel and a velvety, opaque appearance.
Crux Cast Out India Pale Ale
7.6% ABV, 60 IBU
In 2012, Crux Fermentation Project released its flagship IPA, Outcast. Four years later, the Bend, Oregon brewery was forced to change its name to Cast Out IPA after running into a trademark issue with a California winery and was forced to change the name. Crus chose Cast Out because the IPA is mainly brewed with Galaxy hops from Australia, a country famously populated by England's cast out convicts. Cast Out IPA employs these hops aggressively from hop back to dry hopping stages. Yet the result is a balanced and bronzy ale, with medium hop bitterness complemented by moderate maltiness, showcasing aromas and flavors reminiscent of passionfruit.
10 Barrel Apocalypse
6.8% ABV. 70 IBU
10 Barrel Brewing Company dates back to 2006 when twin brothers Chris and Jeremy Cox moved from Portland to Bend to escape their corporate jobs and take a shot at buying and running a bar — Lucy's Place, which they renamed JC's Bar & Grill. Their love for craft beer resulted in their small startup called Wildfire Brewing in 2006. The brothers and partner Garret Wales focused on selling their beers to local bars and restaurants. In 2009, Wildfire restaurants, a chain of eateries with locations in Illinois, Minnesota, Virginia and Georgia, forced the trio to change their brewery name — which they changed to 10 Barrel Brewing Company after their small craft brewing system. West Coast style IPA Apocalypse is 10 Barrel's flagship beer. Fruity and citrusy hop aroma shines, with hints of pine resin. The four-hop flavor dominates, re-enforcing the aroma with more citrus, fruity and piney notes. The malt character is clean and smooth with a unique toasted flavor, all held together by a firm bitterness. Apocalypse has a medium-bodied mouth feel, finishing crisp and dry.
---