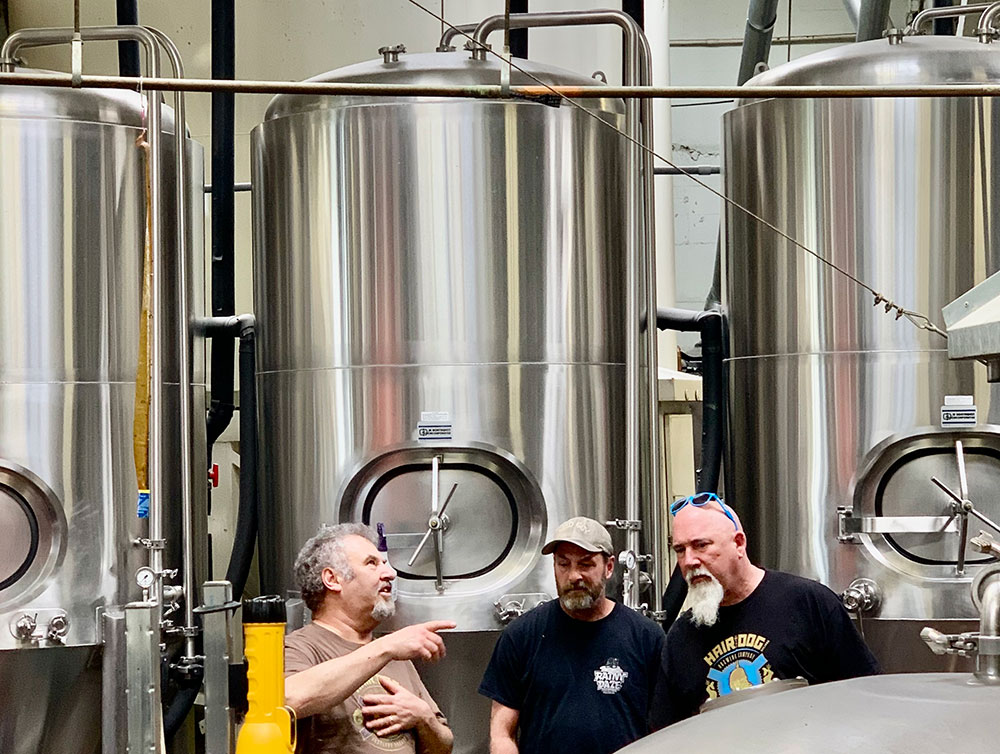 Peaks & Pints announces Tacoma Beer Week 2022 events
Remember Tacoma Beer Week? A social activity of the beforetimes in which drinkers gathered at greater Tacoma breweries, taprooms, and bottle shops clamoring for tastes of — well, whatever they were in line for. This year, the Tacoma Beer Week committee has doubled in size with a new website, official program, and plenty of beer buzz. Tacoma Beer Week, or TBW, kicks off with multiple prefunk parties Friday, Aug. 5 and finishes with The Red Hot's Anniversary Party Sunday, Aug. 14. In the meantime, Peaks & Pints announces Tacoma Beer Week 2022 events. …
Tacoma Beer Week Prefunk
5-9 p.m., Friday, Aug. 5
Peaks & Pints, Tacoma
E9 Brewing and Wet Coast Brewing collaborated on the official pale ale of Brew Five Three: Beer & Music Festival, which consumes Broadway Street in downtown Tacoma Saturday, Aug. 6. Many beer-forward establishments will tape the pale 5-9 p.m. Friday, Aug. 5, including Peaks & Pints.
Proctor Arts Festival
10 a.m. to 5 p.m., Saturday, Aug. 6
Proctor District, 26th and Proctor Street, Tacoma
The Proctor Arts Fest is a hyper-local arts and crafts street fair packed with dozens of showcases and attractions in Tacoma's beloved Proctor District. The one-day engagement features 60 juried artists displaying their one-of-a-kind works, 100 crafters selling their unique pieces, three stages of live musical performances, a dog show and parade, poster contest, book sale and a family area — all outside of Peaks & Pints' front door.
Beauty and the Beer
6 p.m., Monday, Aug. 8
Peaks & Pints, Tacoma
Peaks & Pints will host Beauty and the Beer, a fundraiser for Hunt Middle School Theater Department as part of Tacoma Beer Week. Peaks & Pints will donate a percentage of draft sales that night so the theater kids can present one of the most magical tales of all time, "Beauty and the Beast." As a bonus, local middle school instructors and musicians Rafe Wadleigh and Erina McLaren will perform Disney songs live while craft beer enthusiasts shed tears of joy into their beers.
Spread The Jam
6-11 p.m., Wednesday, Aug. 10
Peaks & Pints, Tacoma
Peaks & Pints will combine a local jam maker, pFriem Family Brewers fruited sours, and jam music into one glorious night during Tacoma Beer Week. Tumwater jam maker Ila's Foods will be in the house with their jams and jellies, including a selection to pair with beer. Our Western red cedar tap log will be consumed by notable fruit beers and fruited sours from the Hood River brewery. Last, our jukebox will be loaded with bands that will stretch the minds of Spread the Jam participants — or, as Bob Weir of the Grateful Dead might say, the jukebox will take a song "for a walk in the woods" while craft beer and jam enthusiasts will finish their fruit beers and jammy sandwiches before each jam song finishes.
Tacoma Beer Week Bus Tour 2022
4-9 p.m., Thursday, Aug. 11
Peaks & Pints, Parkway Tavern, Rainier Growlers
Sean Jackson, Ben Chase, and Ron Swarner donned the biggest smiles as they gently stirred hops in a steam-powered kettle while Alan Sprints watched. They were brewing the last batch of beer at the famed Hair of the Dog Brewery in Portland, Oregon, before founder Sprints would close his brewhouse. It was an honor to brew on the same 4-barrel system where Sprints created Fred, Adam, and other historic beers. Their smiles enlarged when their kettle session produced the Tacoma Beer Week Bus 2022 idea — a bus tour between the Parkway Tavern, Rainier Growlers, and Peaks & Pints, their beer jobs, respectively, featuring "Alan" on tap, as well as draft options from Stemma Brewing and Moonraker Brewing. Yes, even though Sprints humbly argued against the name, they appropriately named the hoppy Belgian style strong ale after the man who brewed big, bold, barrel-aged beers before the Pacific Northwest knew it wanted them. They can tell you'll want "Alan" when you ride the bus Thursday, Aug. 11 during Tacoma Beer Week. More details on the bus route will arrive soon.
Bombastic Top Hat Party
6 p.m., Friday, Aug. 12
Peaks & Pints, Tacoma
There are two reasons why a person might wear a top hat in the middle of summer. The first reason, perhaps he or she is partying with Bombastic Brewing at Peaks & Pints during Tacoma Beer Week! That ought to do for now. The Peaks and Pints Bombastic Top Hat Party will be held Friday, Aug. 12. Founded in 2016, Bombastic Brewing is known for its adventuresome and nontraditional craft brews — plus a top hat gentleman on their logo.
LINK: Peaks & Pints cooler inventory
---
Category:
Beer Line Blog
,
Craft Beer
,
Events and Festivals
,
News and Updates
,
Peaks and Pints Lodge Meetings
,
Proctor District
,
South Sound
,
Specials
,
Tacoma events
,
Tacoma Strong
,
Taps Takeovers