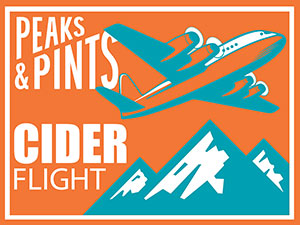 Prickly pear is a member of a cactus family that is native to the United States, Mexico, and South America, although it flourishes in many parts of the world. They're low maintenance, and in late spring produce gorgeous flowers in almost every color except blue. They make a great landscaping plant for hot, dry weather and sandy, rocky ground — they'll thrive in that with little water. Prickly pear cactus (Opuntia species) grows an edible seed capsule called tuna. The drying seed pods perched atop cacti pads resemble a group of spiny candelabra. Prickly pear hard cider blends a tart dessert apple base with prickly pear juice, which can sport a pink color so intense you think it's fake. Since it's Monday, and Peaks & Pints presents a to-go cider flight every Monday, stop by our craft beer and cider lodge in Tacoma's proctor District and grab Peaks and Pints Monday Cider Flight: Prickly Pear.
Peaks and Pints Monday Cider Flight: Prickly Pear
2 Towns Prickly Pearadise
5.3% ABV
Southwest meets Northwest in 2 Towns Ciderhouse's Prickly Paradise. Fresh-pressed prickly pear cactus fruit has a radiant pink hue and a rich, earthy, melon-like profile. Combined with a medley of fresh-pressed Northwest apples, the resulting cider is crisp and sweet with a little tartness.
Portland Cider Prickly Punch
6% ABV
The brilliant pink fruit of the prickly pear cactus lends a smooth, sweet, melon-like flavor that pairs beautifully with the Northwest-grown apples, while layers of orange, guava and strawberry add bright, tropical notes in Portland Cider's Pickly Punch. This blend results in a juicy, tangy cider that's reminiscent of gummy bears. The combined fruit juices lend the cider a deep, vibrant jewel color.
Incline Prickly Pear
6.9% ABV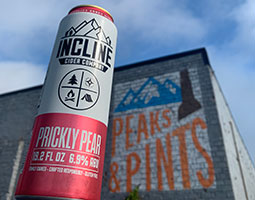 Prickly pears are the fruit of the nopalito cactus, whose paddle-shaped stems are also eaten in the form of nopales. These cacti are found throughout the Southwestern U.S. and Mexico. While they're quite unpleasant to bare skin with their protective spines, this cactus fruit yields mild, sweet, and refreshing juice. Incline Cider's Prickly Pear offers tropical aromas and a vibrant fuchsia color accent the unique characteristics of the cactus fruit. It's earthy, bright, and semi-dry.
LINK: Peaks & Pints cooler inventory
---