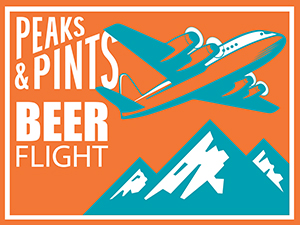 Did you know today is National Raspberry Cake Day? No? You're not alone. Every local baker we contacted was oblivious to the existence of this food holiday. But exist it does. After looking around online, however, the origin of this day is still a mystery to us as well. Even with its dubious history and lack of prominence, National Raspberry Cake Day deserves at least a little attention. Did you know an individual raspberry is made up of about 100 drupelets? Did you know Raspberries contain vitamin B1, vitamin B3, folic acid, magnesium, copper, and iron? Peaks and Pints doesn't serve raspberry cake, but we do serve raspberry craft beer. Therefore, enjoy today's to-go flight, Peaks and Pints Pilot Program: Raspberry Beer Flight.
Peaks and Pints Pilot Program: Raspberry Beer Flight
Lindemans Framboise
2.5% ABV, 12 IBU
For those that love tart sweets, Lindemans has you covered with their Framboise. This raspberry lambic pours bright red and offers more fizz than froth. This super sweet beer also offers an amazing raspberry aroma. There is a sugary sweet here that overpowers the inherit sourness of a good lambic. Sounds like a bad thing, right? Put it in your mouth and see if you feel the same way.
Kulshan Raspberry Gose
4% ABV
Bright and highly sessionable, Kulshan Brewing's Raspberry Gose pays homage to Northwest Washington's unbeatable long summer days and the hardworking raspberry farmers of Whatcom County. Malted wheat, Pilsner malt` and German Perle hops, and fresh raspberries are inoculated for a hazy pink-ish summer sipper. Expect mild sour aroma with berry notes, some body, light malt base and slight tartness.
Anderson Valley Framboise Rose Gose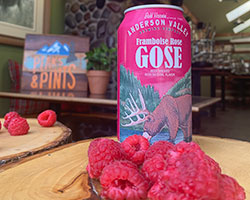 4.2% ABV, 12 IBU
Developed as their take on a rosé in beer form, the brewers at Anderson Valley Brewing brought Framboise Rose Gose to life by adding rose hips to the boil and fresh raspberry puree at the end of fermentation.  These additions result in a light ruby hued kettle-soured beer highlighted by subtle raspberry fruit notes that greet the nose and fall soft on the palate; tangy, hibiscus-like flavors that mingle with the salty tartness of gose to create a uniquely complex and refreshing drinking experience.
Brewing Projekt Puff Tart MegaBerryz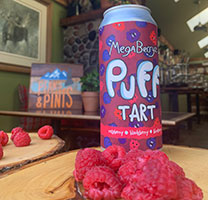 4.57% ABV
In May 2013, brewer Will Glass went to war. He fought the government shutdown. He fought the TTB. He fought the state of Wisconsin. He fought his landlord. Finally, in April 2015, Glass won the right to open The Brewing Projekt in Eau Claire, Wisconsin. The Glass became more than half full of hoppy IPAs, then hazy IPAs, then milkshake IPAs, and now smoothie and fruited sours, such as Puff Tart MegaBerryz fruited sour ale with milk sugar, raspberry, blackberry, blueberry, and vanilla.
Urban South Beaming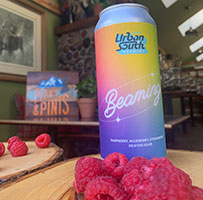 4.81% ABV
Urban South Brewery was founded in New Orleans in 2016 where it earned the title of largest craft brewery in New Orleans in just three years. Recognizing the deep connection between the cities of New Orleans and Houston, Urban South chose Houston as the destination for its first satellite location and opened Urban South – HTX in early 2020. Their Beaming fruited sour is conditioned on blueberry, strawberry, and raspberry.
Samuel Smith Organic Raspberry Fruit Beer
5.1% ABV, 16 IBU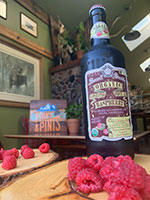 One of the oldest operating breweries in the world, Samuel Smith Old Brewery has been brewing with the same derivative yeast strain in the same stone vats for the last 255 years. They even keep a small team of Shire horses — a breed that traditionally pulled brewery wagons — to deliver beer around its hometown of Tadcaster. But for all this tradition, Samuel Smith is remarkably modern. All but one of its beers are vegan and the brewery has an entire line of organic ales, including its Raspberry Fruit Beer. According to Samuel Smith's, it's brewed at All Saints Brewery in Stamford, England using all manually operated equipment. Barley and wheat are combined to make an ale, fermented, and aged for an extended period, then taken to Samuel Smith's brewery in Tadcaster, England. It is at this stage where they blend in pure raspberry juice to create a fruit-forward ale with malt and some bittering hops on the back.
pFriem Frambozen
5.7% ABV
Pfriem Family Brewers brews their Frambozen with a malt bill of Gambrinus Canadian Pilsner malt, Rahr unmalted wheat, and Rahr red wheat under aged whole leaf noble hops. With a lactic bacterial culture and Brett, plus red raspberries from Hoffman Farms in Sherwood, Oregon, then aged in French oak barrels, Frambozen arrives a deep fuchsia, pink foam-topped nectar with perfumy aromas of fresh fruit, and flavors of fresh jam, plus a tart, prickly finish.
Avery Barrel-Aged Raspberry Sour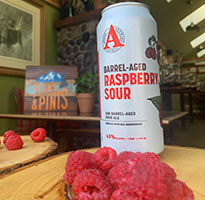 6.5% ABV
Avery Brewing took luscious ripe red raspberries and intertwined them with a bountiful amount of lactic acidity and delicate barrel nuances to cultivate this stunning sour ale. The nose is bursts with raspberry, sourness, and Brettanomyces character. This sour's flavor has a similarly prominent raspberry flavor but is squashed by a palate-wrenching sourness from start to finish. Pro tip: When this beer warms, the aroma takes on a boozy, wood-aged character and the finish becomes sharper.
Une Annee Framboise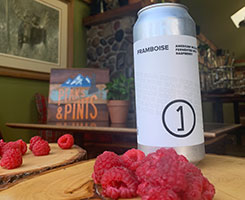 6.5% ABV
In 2013, on the near west side of Chicago (near Hubbard's Cave), with the quest of making fine Belgian and French inspired ales for all beer lovers, Jerry Nelson launched Une Annee. Nelson has since expanded his Une Annee offerings to include fruited and unfruited American wild ales. In 2017, the brewery moved to neighboring Chicago suburb, Niles, IL, and expanded to include a taproom. Their Framboise is an American wild ale with fresh raspberries for slight tartness, balanced acidity and bright finish.
LINK: Peaks & Pints cooler inventory
---