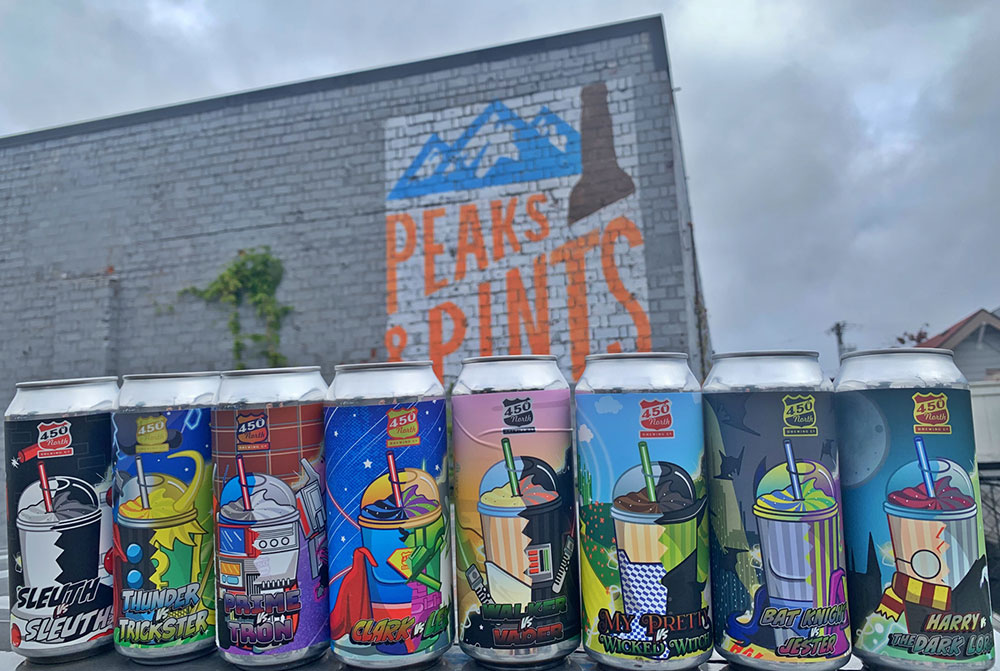 Peaks and Pints welcomes 450 North Arch Enemies
People often wonder: what "makes" a nerd? Thick rimmed glasses? Lack of vitamin D? How about the desire to drink smoothie sours named after famous American culture arch enemies? Oh, that's not really your kind of thing? Just walk away, jock. For everyone else, 450 North Brewing dropped a load of smoothie sours — wait for it — named after famous comic culture arch enemies. As you know by now, 450 North's smoothie sours are brewed with so much fruit puree that they look less like beer than a thick smoothie. These beers can clobber you with sugar. They can tread on beer's natural spirit with aggressive lactose, with a storm of unusual ingredients. But they can also be beautiful. Peaks and Pints welcomes 450 North arch enemies smoothie sours.
450 North Harry Vs. the Dark Lord Slushy XXXL
5.3% ABV
Harry Potter versus Voldemort fruited sour conditioned on triple raspberry, black currant, black cherry, banana, and sweet cherry.
450 North Sleuth Vs. Sleuth Slushy XXL
% ABV NA      
Spy versus Spy fruited sour on blackberry, sweet cherry, graham cracker, white chocolate, and marshmallow.
450 North Walker Vs. Vader Slushy XXL
5.3% ABV
Luke Skywalker versus Darth Vader Slushy XXL boysenberry cobbler pastry sour.
450 North Bat Knight Vs. Jester Slushy XXL
% ABV NA
Batman versus The Joker smoothie sour conditioned on blackberry, blueberry, passionfruit, and blood orange.
450 North Thunder Vs. Trickster Slushy XL
5.3% ABV
Thor versus Loki fruited sour conditioned on double passionfruit, mango, tangerine, and vanilla ice cream. h
450 North Prime Vs. Tron Slushy XL
% ABV NA
Optimus Prime versus Megatron fruited sour conditioned on raspberry, mango, guava, and grapefruit.
450 North My Pretty Vs. Wicked Witch Slushy XL
5.3% ABV
Dorothy versus the Wicked Witch fruited sour conditioned on double red prickly pear, pineapple, and coconut.
450 North Clark Vs. Lex Slushy XL
% ABV NA
Superman versus Lex Luthor fruited sour conditioned on double cherry, double watermelon, and cherry ice cream.
LINK: Peaks & Pints beer and cider cooler inventory
---