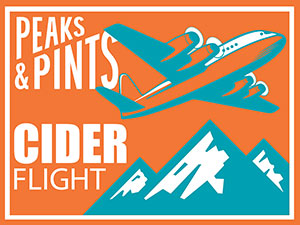 Traditional perry is not the same as pear cider, which is often apple cider that has pear flavoring added to it, and may be what comes to mind for most people when they hear about perry. A true perry is made from pears alone and has a light, refreshing sweetness. Perry pears are smaller than culinary or dessert pears. As with apple cider, the fruit is picked, crushed and pressed to extract juice, which is then fermented. However, unlike apples, all pears contain a sugar alcohol called sorbitol that yeasts cannot metabolize. A completely fermented perry, therefore, has a residual sweetness missing from a dry apple cider. That's all fine and dandy, but today marks Peaks & Pints' second 2021 Washington Cider Week to-go cider flight, and, as might have guessed, it's all about the pear. Enjoy Peaks and Pints Washington Cider Week 2021: Pear.
Peaks and Pints Washington Cider Week 2021: Pear
Locust Honey Pear
6% ABV
Tired of beer and coffee, brothers Jason and Patrick Spears started Locust Cider in 2015 with traditional bottle-conditioned and farmhouse funky French styles cider in the plans. Today, Locust offers a broad range of ciders: from funky single-varietal heirloom vintages to simpler types spiked with secondary flavors Thai ginger and vanilla bean. Locust's Honey Pear cider is a blend of Washington apples and pears with real wildflower honey. It's a multiple award-winning cider including several medals from Northwest Sip magazine.
Finnriver Pear Cider
6.5% ABV
Finnriver Farm & Cidery's small batch Pear Cider features cider fermented on the farm using 100 percent organic apple juice pressed from Washington apples. Finnriver ferments the apple juice, then sweetens it with organic pear for additional depth, sweetness and flavor, although apples rule the nose here. There's a certain bitterness grounding the pear flavor, pulling it out of the realm of single-note sweetness.
Yonder Rosé Rosé
6.9% ABV
Yonder Cider Rosé Rosé is a limited edition collaboration with Bottlehouse in Seattle's Madrona neighborhood. A take on everyone's favorite warm weather wine, this single varietal cider highlights the beauty of red fleshed apples and the unique land they come from — the Wenatchee Valley. Featuring a beautiful golden-pink hue, this lovely rosé cider is dry and crisp with notes of strawberry and ripe pear. Lively acidy is highlighted by a tart finish and just a touch of sweetness, making for a deliciously drinkable cider.
LINK: Peaks & Pints cooler inventory
---