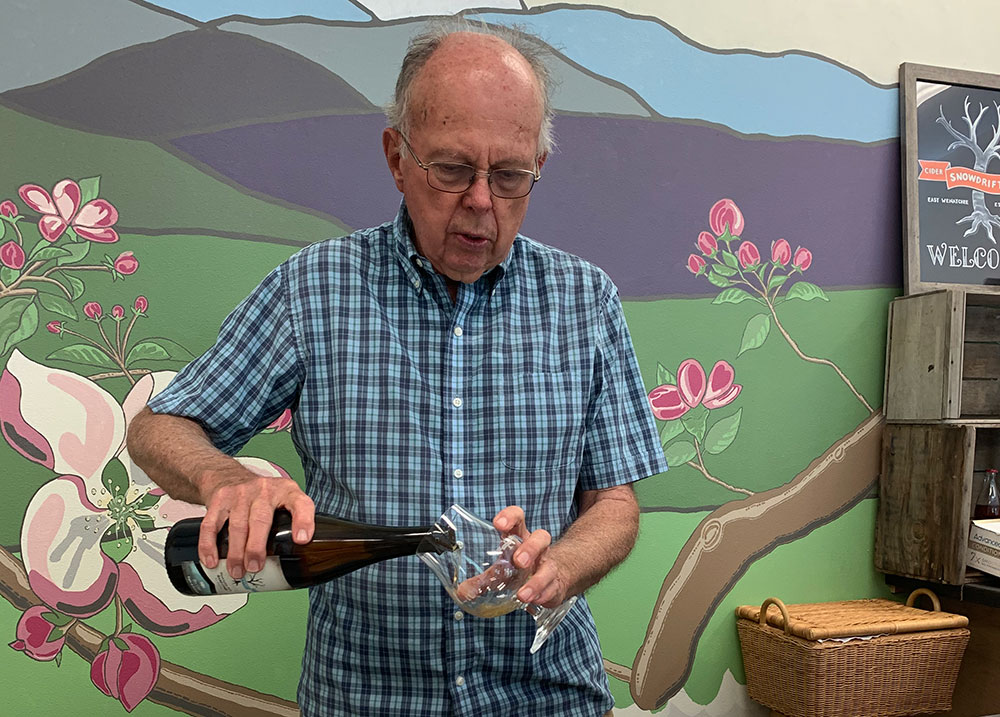 Washington Cider Week 2021: Peter Ringsrud
Peaks & Pints Apple Press: Cider News, Reviews, and Interviews
This year's celebration of taking apples and pears and making them alcoholic and drinkable is still called "Washington Cider Week," but for the fruit-flavored purposes of this sprawling festival, "week" has been redefined to encompass 11 days, with a smattering of events across the state due to virus precautions. Peaks & Pints continues our coverage of Northwest Cider Association's 2021 Washington Cider Week with Snowdrift founder Peter Ringsrud, cider event suggestions and a swig of Liberty Sixpenny. Cheers!
Press Play
>>> In July, the annual Cider Summit Seattle — the region's largest hard cider tasting festival – announced its return after a pause due to the pandemic. Unfortunately, after careful consideration based on feedback from vendors, staff, volunteers and concerned consumers, festival directors decided to cancel this year's live festival. Cider Summit is taking a second bite of the apple with new to-go tasting kits in lieu of an in-person festival. Unfortunately, again, the participation deadline has passed, but the event guide is online, as well as cidermaker short videos on YouTube.
>>> Union Hill Cider hosts the Wenatchee-based classic rock/country band No Promises in the cidery's private amphitheatre with onsite barbecue tonight.
[Union Hill Cider, Friday, Sept. 10, 6:30-9:30 p.m., 988 S Union Ave, East Wenatchee, 509.679.7192, no cover]
>>> Peaks & Pints presents an all-day, to-go flight of ciders with pear notes made in Washington state. Click here for more details.
[Peaks & Pints, Friday, Sept. 10, 11 a.m. to 11 p.m., 3816 N. 26th St., Basecamp Proctor, Tacoma, 253.328.5621, no cover]
Cider(ific)
Liberty Sixpenny: In 2013, Rick Hastings and Austin Dickey opened the first cidery in downtown Spokane, Liberty Ciderworks. From renovated downtown warehouse on Washington Street near the railroad tracks, they had a simple mission: To use apples from local farms and fields to create unique, wonderful ciders, and to share their ciders with friends and neighbors across the great Pacific Northwest. Named for the per-tree price charged by John Chapman (a.k.a. Johnny Appleseed), Liberty's Sixpenny offers notes of bold fruitiness of apple and stone fruit that is tannic, lightly bitter, and crisp, 8.5%. Although the cost is more than six pennies, Liberty's Sixpenny awaits in the Peaks & Pints cooler.
5-ounce Interview
The Ringsrud family has grown apples, pears, cherries, and grapes in the Wenatchee Valley since the 1940s. Fredrick Ringsrud rode the freight trains from North Dakota to Cashmere to work in the orchards, eventually bringing his mother out west with him. He met his wife, Norma, while working in the orchard, and they raised their children on a small plot in Cashmere, eventually planting their main orchard in East Wenatchee in the 1960s. One of the Ringsrud kids, Peter, and his wife, Ann, began farming the family orchard in 1974. Between discovering a new world of "lost" apple varieties and some coaching from Peter Mitchell, one of the United Kingdom's premier cidermakers, the Ruingsruds found their way into the world of artisan cider apples: Roxbury Russet, Dabinet, Yarlington Mill, Ashmead's Kernel, Foxwhelp, Golden Russet, Brown's, Wickson Crab, and Calville Blanc d'Hiver. In 2008, Peter spent the winter converting part of his shop into a Snowdrift Cider Co. We caught up with Peter Ringsrud for a quick chat over 5-ounces of Snowdrift ciders.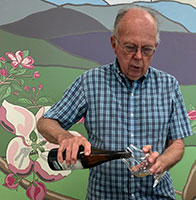 PEAKS & PINTS: Your family has grown fruit for more than 100 years in the Wenatchee Valley. You are testing 35 different apple trees in your giant orchard, constantly grafting new trees. And it's still a family business — you, Ann, and your three children. How do you keep track of it all?
PETER RINGSRUD: A lot of it is just in my head. I've been farming our orchards for close to 50 years, so you learn a thing or two. For instance, our Michelin apple trees will drop their apples on the ground ripe before its ripe. It will go from just a few apples on the ground to all of the apples on the ground in 23 hours. We're at the mercy of the apple.
PEAKS & PINTS: Your Reserved Perry is amazing. What's your secret?
RINGSRUD: We age it two- to two-and-a-half years in stainless before we begin the fermentation. I learned several fermentation secrets from Tom Oliver, one of three of the top perry experts in the United Kingdom. He uses several different Champagne methods, including ancestral methods. In fact, it was Tom who campaigned for a reappraisal of perry in the 1990s, resulting in the resurrection, and replanting, of perry pear trees across the west of England.
PEAKS & PINTS: What makes you most proud at Snowdrift?
RINGSRUD: I'd have to say our Reserve products make me the happiest. But our Dry Cider was awarded International Champion at the 2015 Royal Bath and West Show in the UK. I think that was a first for U.S. ciders. It was a pretty good day.
PEAKS & PINTS: Indeed. It'll also be a good day when you stop by Peaks & Pints and enjoy Snowdrift Dry Fly Whiskey Barrel Aged Cornice on tap or grab the cidery's Cap O' Liberty, Red and Cliffbreaks in our cooler.
[Snowdrift Cider Co., taproom open noon to 5 p.m. Friday, 273 Ward St., East Wenatchee, 509.630.3507]
---