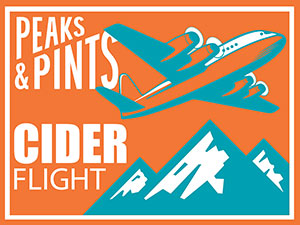 As a rule, good apples for cider production tend not to be the most aesthetically pleasing of fruits. Cider apples are often small and bumpy, hardly the proverbial apple of our proverbial eye. And hundreds if not thousands of varieties have been lost forever, largely to the encroachment of suburban sprawl. But thanks to the efforts of Northwest Cider Association's Washington Cider Week, the apple lives on. The 11-day craft cider celebration kicks off today with a much smaller footprint than years past due to Covid virus precautions. In addition to covering the special homegown cider week, Peaks & Pints will offer daily Washington cider to-go flights through Sept. 19 — the last day for gluten-shy people to experience a different Washington state cider daily. Peaks & Pints kicks off the week with a to-go flight of hazy Washington-made ciders — a flight we're calling Peaks and Pints Washington Cider Week 2021: Hazy.
Peaks and Pints Washington Cider Week 2021: Hazy
Schilling Chaider Spiced Chai
6.5% ABV
The name "chai" is actually the Hindi word for "tea," which was derived from "cha," the Chinese word for "tea." The Hindi term chai means a mix of spices steeped into a tea-like beverage. Recipes for chai vary across continents, cultures, towns and families. But the traditional ingredients of a spiced tea blend usually include black tea mixed with strong spices, like cinnamon, cardamom, cloves, ginger and black peppercorns. The spiced tea mixture is typically brewed strong with milk and sweetened with sugar or honey. For Chaider, Seattle's Schilling Hard Cider collaborates with Dragonfly Chai, Portland's organic tea microbrewery, mixing Organic Dragonfly Chai Mix with fresh pressed apple juice and yeast. The appearance is hazy — a muted dark yellow. The nose is intense chai spices. The flavor is also fairly dominated by chai spices, however there's a mix of vanilla, and sweet apples in there.
Tieton Hazy Strawberry
6.9% ABV
Unfiltered, cloudy-looking ciders are much like the hazy-style IPAs that have been taking the beverage scene by storm. When the step of the cidermaking process that filters these sediments out is yielded, it results in the clouded appearance of an unfiltered cider, fuller mouthfeel, and a richer flavor. Tieton Cider Works in the Yakima Valley naturally unfilters this strawberry cider with a ruby blush color. Sweet strawberry blends with fresh pressed tart cider for a balanced summer sipper.
Union Hill Hopped & Hazy
7.8% ABV
Andrew and Katja Handley left Union Avenue, drove down the hill, waved goodbye to East Wentachee and delivered their Union Hill Cider Company goods to Peaks & Pints. The Handleys have been making cider on their family orchard since 2012, but recently have been spreading the good word in Western Washington. Peaks and Pints is thrilled to have their family business in our lodge, especially their Hopped & Hazy, an off-dry cider hopped by heating the cider and adding the hops to extract more flavor. With the addition of the dry hopping process, the floral and fruity notes pair wonderfully with the bitterness that the hopping process adds to this hazy cider.
Incline Imperial Hazy Honeycrisp
8.5% ABV
Since 2015, the Zehner family has made delicious, crushable cider, many from a dry-hopped apple base to pull out citrus aromas. Their Tacoma-based Incline Cider use 100 percent fresh pressed apples, no added sugar, no carbonated water, and the result are ciders that are balanced, not too sweet and super flavorful. Their Imperial Hazy Honeycrisp is full of apple character and more reminiscent of a traditional cider. The crisp and light hazy cider sports a mild sweetness from the Honeycrisp apples.
LINK: Peaks & Pints cooler inventory
---