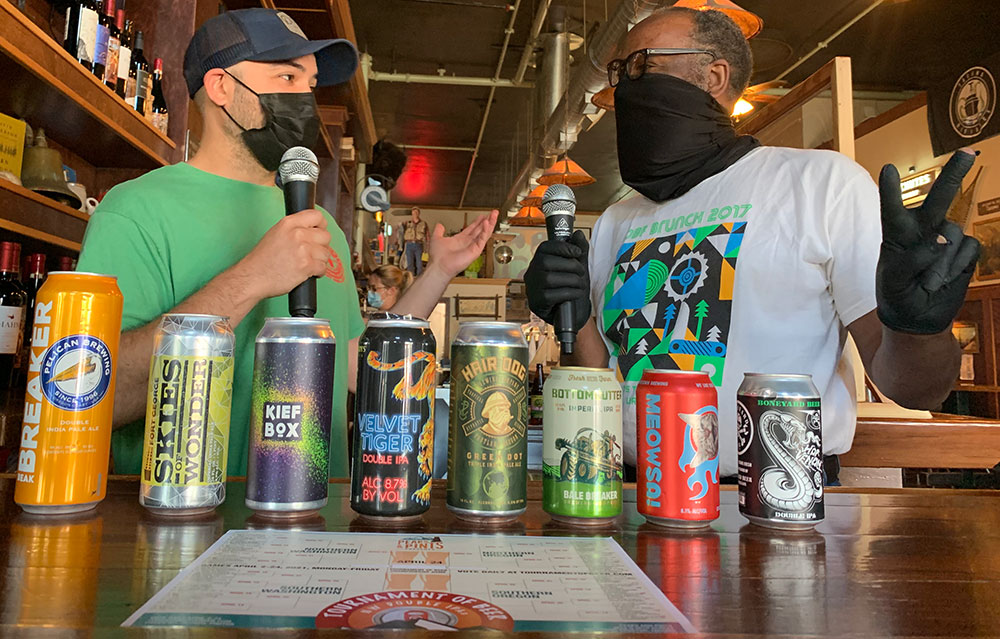 Peaks and Pints Tournament of Beer: NW Double IPAs April 21
BARRY: There's an annual debate at Peaks & Pints about what constitutes the perfect beer tournament. The night staff says you have to have at least one Cinderella playing its way to the Final Four. The day staff contends it's all about the buzzer-beaters, regardless of who's making them. Today, we're halfway through the Sweet 16. And, for the first time in Tournament of Beer history, there are more top seeded beers remaining. All four top seed double IPAs made it into the Sweet 16. Two of the four number 2 seeds entered. In fact, 11th seed Old Schoolhouse Kief Box and 13th seed Everybody's Brewing Velvet Tiger are the only public nominated, low seeded beers in the Sweet 16. Regardless of how the rest of the week plays out, it's virtually impossible that 2021 will fail to produce the best Final Four in terms of seedings. Hello, everyone, I'm Peaks bartender Barry and this is the Peaks and Pints Tournament of Beer: NW Double IPAs April 21.
SHAYNE: Hello, I'm Peaks bartender Shayne, and I completely agree Barry. In fact, all the remaining double IPAs are names the average craft beer drinker would be able to recognize and associate with success. The more important matter when it comes to this week is that the quality of play should be of the highest degree possible.
BARRY: After weeks of feverish voting, we at Peaks and Pints have watched you, beloved voters, narrow down the Northwest's best double IPAs from 64 to the very best 16, the hop of the crop. Yesterday, the first eight double IPAs in the Sweet 16 did battle. Today, the remaining eight go at it.
SHAYNE: Without further ado, let's take a gander at yesterday's results, and then preview today's matches. …
Tuesday, April 20, Sweet 16 NW Double IPAs Games Results
GAME 1, NORTHERN WASHINGTON REGION
Holy Mountain Astral Projection (#1 seed) vs. Structures Double IPA (#4 seed)
BARRY: At 8 p.m. last night, this game was tied. Astral Projection trailed all day until Holy Mountain founder Mike Murphy shouted, "Holy Mountain!" — which meant initiate the Triangle Offense that was popularized by Phil Jackson and his Chicago Bulls. Also named after the Holy Mountain's triangular logo, Murphy, the "Triangle whisperer," had his English porter, Witherer, run the offense allowing Astral Projection to grab votes from different angles. The complex offense broke down Structures' structure and grabbed 51.46 percent of the votes at the final buzzer. Holy Mountain Astral Projection enters the Great Eight.
SHAYNE: Brilliant!
GAME 2, SOUTHERN WASHINGTON REGION
Wet Coast Two Flights Up (#6 seed) vs. 7 Seas Double IPA (#2 seed)
BARRY: Brewed by Fireman Bryan Copeland and named after a Prohibition speakeasy term, Wet Coast Two Flights Up proved to be a tough match-up for their fellow Peirce County brewery, 7 Seas. Two Flights Up seemed to keep a two-flights-up lead all day, thanks to fancy footwork by its sales rep, Paul Whitcomb, who pounded social media wearing a sea captain hat. Whitcomb met up with 7 Seas rep David Maravilla for a happy hour beer at Peaks & Pints. Was that a ploy, or did he just want to show Maravilla how sweet his mustache looks.
SHAYNE: Whatever the case, Two Flights Up won by the largest margin on the day, 81 percent of the votes, and Maravilla now must chug the Wet Coast beer online, which will take him all of one second. Seriously.
GAME 3, NORTHERN OREGON REGION
Great Notion Juice Box (#1 seed) vs. pFriem Double IPA (#4 seed)
BARRY: Seattle native Josh Pfriem began homebrewing while at Western Washington University in his early 20s then moved to Utah to become a ski bum. He worked at Utah Brewers Cooperative for a few years before moving back to his old college town of Bellingham to brew at Chuckanut Brewery, where he helped win the Great American Beer Festival Small Brewpub of the Year in 2009. He moved to Hood River, Oregon, to work at Full Sail but left to open pFriem Family Brewing — across the highway from Full Sail along the banks of the Columbia River — in August 2012. Yes, pFriem Double IPA is damn delicious, but you can't ignore Josh's pedigree.
SHAYNE: Whether it was pFriem's Double IPA recipe or Josh's coaching ability, the Hood River double IPA pLucked 64.81 percent of the vote off the Internets to beat Great Notion's Juice Box, a juicy, hazy double many had winning the whole thing. Again, Josh Pfriem.
GAME 4, SOUTHERN OREGON REGION
Barley Brown's Forklift (#6 seed) vs. Block 15 Sticky Hands (#2 seed)
BARRY: Despite a late push from Baker City's heralded Barley Brown's Forklift double IPA, Block 15 Sticky Hands and its large, devoted, strongly Oregon State Beavers following proved too powerful in yesterday's action, catapulting the Corvallis-brewed double IPA into the Great Eight with a resounding victory. Block 15 keeps their Sticky Hands recipe a secret, but 110 IBUs seems to be thrown around between beer bloggers. Strangely, that's close to how many votes Sticky beat Forklift by yesterday. Weird. Sticky Hands enters the Great Eight.
SHAYNE: Let's weed through the hops. The following are advancing to the Great Eight:
Holy Mountain Astral Projection
Wet Coast Two Flights Up
pFriem Double IPA
Block 15 Sticky Hands
BARRY: Yikes! A one seed and two seed dropped. I'm sticking with my opening statement, though. This is a quality beer tournament. OK, let's dive into today's Sweet 16 double IPA battles. Please vote for one beer per game. Voting for today's double IPA battles ends at 11:45 p.m. The winners will be announced tomorrow morning around 10 a.m., followed by the Great Eight games.
SHAYNE: Ladies and gentlemen, please join in the singing of our national anthem.
BARRY: Thank you Alana Springsteen! OK, let's get to voting!
Wednesday, April 21, Sweet 16 NW Double IPA Games
GAME 1, NORTHERN WASHINGTON REGION
Old Schoolhouse Kief Box (#11 seed) vs. #7 Georgetown Meowsa (#7 seed)
SHAYNE: Our fascination with felines is hardly new. Cave paintings of cats date back 10,000 years, and ancient Egyptians considered the animals to be sacred, even mummifying some felines just like humans. However, with the advent of Internet, we suddenly had a much easier way to share cat content … and Georgetown Meowsa takes advantage. Pumped up by all the keyboard cats on the Internet, and a loyal following of lolcats, Georgetown Meowsa could prove a tough match-up for the Winthrop, Washington competition. Kief Box, however, has shown a lot of fight defeating the likes of Reuben's Bitsier & Bobsier and Sumerian Hopruption.
BARRY: If Meowsa can leave the brewers' hydrometers alone and concentrate, and if Kief Box did the right thing and didn't participate in yesterday's festivities, this game could be one for the books. Vote now!
SCROLL DOWN TO VOTE >>>>>>>>>>>>>>>>>>>>>>>>>>>>>>>>>>>>>>>>>>>>>>>>>>>>>>>>>>>>>>>>>>>>>>>>>>>>>>
GAME 2: SOUTHERN WASHINGTON REGION
Bale Breaker Bottomcutter (#1 seed) vs. Everybody's Velvet Tiger (#13 seed)
SHAYNE: Bottomcutter has had an easy time dispatching the competition up to this point. But this battle for the birth to the Great Eight may prove more of a challenge. Velvet Tiger freakin' beat Trap Door Juiced Up AND Single Hill Public Knowledge. And, lo and behold, Velvet Tiger glows under black lights.
BARRY: Does Bale Breaker worry Everybody's could secure votes from everyone who went to high school in the 1970s? If so, Bale Breaker will just grow another brewing ingredient on their farm. That's what they do.
SCROLL DOWN TO VOTE >>>>>>>>>>>>>>>>>>>>>>>>>>>>>>>>>>>>>>>>>>>>>>>>>>>>>>>>>>>>>>>>>>>>>>>>>>>>>>
GAME 3, NORTHERN OREGON REGION
Fort George Skies of Wonder (#3 seed) vs. Hair of the Dog Green Dot (#7 seed)
SHAYNE: Both double IPAs crushed the malt of all their competitors. Fort George has the giant brewing facilities and is impervious to tornadoes. Hair of the Dog has history and the ghost of beer writer and historian Fred Eckhardt.
BARRY: Let's get ready to Rrrrruuuuumble!
SCROLL DOWN TO VOTE >>>>>>>>>>>>>>>>>>>>>>>>>>>>>>>>>>>>>>>>>>>>>>>>>>>>>>>>>>>>>>>>>>>>>>>>>>>>>>
GAME 4, SOUTHERN OREGON REGION
Boneyard Hop Venom (#1 seed) vs. Pelican Beak Breaker (#5 seed)
SHAYNE: Boneyard is making a strong run for the Great Eight as most predicted. They have a junkyard theme, a cult following thanks to their hoppy beers, and Deschutes money. However, they must first get by multiple award-winning, beachfront brewing, and incredible vote generating Pelican Brewing.
BARRY: If there is still show and ice on Santiam Pass between these two breweries, it's sure to melt today.
VOTE BELOW >>>>>>>>>>>>>>>>>>>>>>>>>>>>>>>>>>>>>>>>>>>>>>>>>>>>>>>>>>>>>>>>>>>>>>>>>>>>>>>>>>>>>>

LINK: Peaks and Pinks Tournament of Beer: NW Double IPAs previous games
LINK: Tournament of Beers: NW Double IPAs explanation
LINK: Hot Damn! Yes, I want to subscribe to Peaks & Pints 6-Pack of Things To Do newsletter and be hip to local happenings!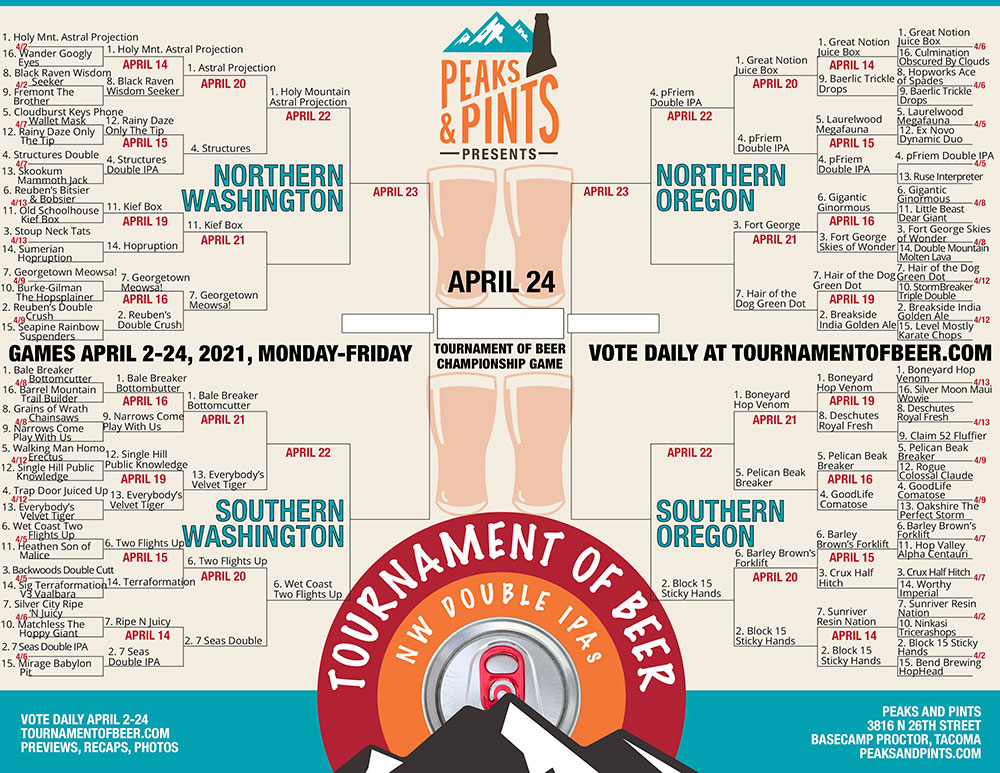 ---