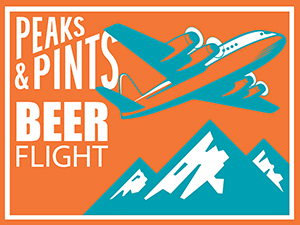 When Bavarians immigrated to the U.S in the mid-1800s, they brought lagers with them, revolutionizing the American drinking scene, which was littered with poorly made ales and rotgut whiskey. Lager is clean, crisp, and transparent. And with a low ABV, workers could drink it throughout the day without falling down drunk halfway through forging a plow. When the country began the march toward Prohibition, many brewers tried to position their lagers as healthy substitutes to demon gin and whiskey. Ban the spirits, but don't ban the beer. It didn't work. Prohibition became federal law in 1920 (1907 in Boulder), but that's another story entirely. Anyway, a few lagers arrived to the Peaks & Pints cooler this week. Naturally, we created a to-go beer flight — a flight we call Peaks and Pints Pilot Program: Lager On the Fly.
Peaks and Pints Pilot Program: Lager On the Fly
Rainy Daze Lucha Libre
4.9% ABV, 12 IBU
Modern Mexican lagers find their origin in the late 19th century when German and Austrian immigrants began brewing the beers of their homeland in Mexico. When Austria's Maximilian I declared himself emperor of Mexico in 1864, he brought his nation's newly beloved Vienna lager with him. The beer proved more popular in Mexico than Maximilian, who was executed just a few years later. The Vienna lager became the dominant beer in Mexico entering the 20th century. From the moment you shove your nose in a pour of Rainy Daze Lucha Libre Mexican Lager, you're immediately greeted with all the notes you'd expect from a traditional Mexican beer — grain husks, dried maize and a strong whiff of sulfur. This lager is crisp with light malt notes, slight corn sweetness and, of course, low bitterness.
Reuben's Southsun
4.8% ABV
For the most part, Mexican-style lagers are relatively clean, have practically zero bitterness, but also aren't cloyingly sweet. Part of their magic is the addition of flaked corn, which typically dries the beer out slightly, adds a subtle crispiness, and protein-induced haziness is reduced and thus clarity is boosted. Reuben's Brews thirst-quenching, Mexican light lager is brewed with flaked corn, as well as Vienna and Pilsner malts, for a light, smooth body, and delicate Saaz hops pack just the right crisp flavor.
Icicle Dirtyface Amber Lager
5% ABV, 21 IBU
The amber lager is in a group of loosely defined copper-colored lagered beers. They are distinguished by their deep amber to reddish-copper color, along with solid caramel-maltiness and a light but firm biscuit aroma. It's not an overly malty-sweet beer; rather, it's clean and well-balanced, with low hoppiness. They are closely related to the Vienna (or red) lager style that emerged in the mid-1800s. Icicle Brewing's version, Dirtyface Amber Lager, and a smooth, medium body, rich toasted malt aroma, malty sweetness and a clean, fresh finish.
Matchless Bonswa
4.5% ABV
In the world of American agriculture, Azacca — formerly known as #483 (a way lamer name) by developer American Dwarf Hop Association in Washington state — is a hop with big citrus and tropical fruit tones and excellent aromatic qualities, which have quickly made it a go-to hop for late and dry hop additions in varying styles of beer, including Matchless Brewing's Bonswa lager. The juicy hop forward notes are brought on by a generous dry hopping of Azacca hops. Expect light fruit notes of peach, pineapple, and lemon on the nose, followed by notes of peach rings, bready malt, lemon citrus and wildflower honey.
---