Peaks and Pints Tournament of Beer: NW Double IPAs April 19
JUSTIN: Beginning tomorrow, we'll cut the field of 64 South Sound burger joints to the Sweet 16. Deep runs in the 2021 Peaks & Pints Tournament of Beer: NW Double IPAs can provide national exposure to double IPAs that casual fans may have overlooked during the regular season. Often, these beers have unique names that can stick with us for years. Who can forget Stackin' Hay from Farmstrong Brewing in 2017's Tournament of Washington IPAs? Or how about Buzz Buzz Coffee out of Salmon River Brewery in the 2018 Tournament of Porters.   Sunriver Brewing's Meowit beat Rogue Good Chit then Crux Pilz in the 2019 Tournament of Pilsners. There's another one of those names making its mark on the 2021 Tournament of NW Double IPAs, Two Flights Up from Wet Coast Brewing. Hello, I'm Peaks bartender Justin and welcome to the last Second Round games of this year's Tournament of Double IPAs. With me, as always, is bartender Shayne.
SHAYNE: Hello, everyone! Let's dive into today's last Second Round action. Please vote for one beer per game. Voting for today's double IPA battles ends at 11:45 p.m. We'll announce the winners tomorrow morning around 10 a.m., as well as the first four games in the Sweet 16.
JUSTIN: Ladies and gentlemen, please join in the singing of our national anthem.
SHAYNE: Thank you Zendaya! OK, let's get to voting!
Monday, April 19, Second Round Northwest Double IPA Games
GAME 1, NORTHERN WASHINGTON
Old Schoolhouse Kief Box (#11 seed) vs. Sumerian Hopruption (#14 seed)
JUSTIN: Both of these double IPAs had huge wins in the First Round: Old Schoolhouse Kief Box knocking out Reuben's Bitsier & Bobsier and Sumerian Hopruption disrupting Stoup's Neck Tats journey to the trophy. Kief Box and Hopruption have big hop flavor. They both prefer to chill on the basement couch rather than go clubbing.
SHAYNE: Yes, but we know it's about the beer, and both of these double IPAs have the right stuff.
SCROLL DOWN TO VOTE >>>>>>>>>>>>>>>>>>>>>>>>>>>>>>>>>>>>>>>>>>>>>>>>>>>>>>>>>>>>>>>>>>>>>>>>>>>>>>
GAME 2, SOUTHERN WASHINGTON
Single Hill Public Knowledge (#12 seed) vs. Everybody's Velvet Tiger (#13 seed)
JUSTIN: Will there be a lucky No. 13 in the 2021 Tournament of Double IPAs? The track record of 13 seeds in the NCAA tournaments isn't great. A total of six No. 13 seeds have advanced to the Sweet 16 — and none made it to the Elite Eight.
SHAYNE: How many of those six were Velvet Tiger double IPAs? This is the Tournament of Beer and a 12 seed and 13 seed game is going to be damn exciting, especially since only the Yakima Indian Reservation separates these two breweries.
SCROLL DOWN TO VOTE >>>>>>>>>>>>>>>>>>>>>>>>>>>>>>>>>>>>>>>>>>>>>>>>>>>>>>>>>>>>>>>>>>>>>>>>>>>>>>
GAME 3, NORTHERN OREGON
Hair of the Dog Green Dot (#7 seed) vs. Breakside India Golden Ale (#2 seed)
JUSTIN: Green Dot isn't green, but it does have orange marmalade and pineapple flavors mingling with hop resins and an intriguing bitterness. India Golden Ale isn't a golden ale, but is does have candied pineapple, tropical fruit and berry flavors. Both have pineapple notes and light bodies. Hair of the Dog has history back to 1993. Breakside might have opened 17 years after Hair of the Dog, but Breakside has three locations with 30, 60, and 210 bbl tanks, barrel rooms for wild and non-wild/sour fermentations, and a high-speed bottling line.
SHAYNE: All your facts, Justin, spells out a high voter count for this game. I'm a bit worried since we have a complicated computer program stolen from cavemen.
SCROLL DOWN TO VOTE >>>>>>>>>>>>>>>>>>>>>>>>>>>>>>>>>>>>>>>>>>>>>>>>>>>>>>>>>>>>>>>>>>>>>>>>>>>>>>
GAME 4, SOUTHERN OREGON
Boneyard Hop Venom (#1 seed) vs. Deschutes Royal Fresh (#8 seed)
JUSTIN: Bend is Boneyard Beer, and the Commonwealth of Lawrence. Bend is Deschutes Brewery, and the Republic of Fish. At 33.32 square miles, Bend, Oregon is hardly big enough for both Hop Venom and Royal Fresh, and that includes a Monday in the Second Round of the Tournament of Beer. Boneyard vs. Deschutes. Few sentences in Tournament of Beer come with more buzz.
SHAYNE: This game might actually stop all Deschutes River activity, including surfing, for the day.
VOTE BELOW >>>>>>>>>>>>>>>>>>>>>>>>>>>>>>>>>>>>>>>>>>>>>>>>>>>>>>>>>>>>>>>>>>>>>>>>>>>>>>>>>>>>>>

Tuesday, April 20 Peaks and Pints Tournament of Beer: NW Double IPAs action …
GAME 1: Holy Mountain Astral Projection (#1 seed) vs. Structures Double IPA (#4 seed)
GAME 2: Wet Coast Two Flights Up (#6 seed) vs. 7 Seas Double IPA (#7 seed)
GAME 3: Great Notion Juice Box (#1 seed) vs. pFriem Double IPA
GAME 4: Barley Browns Forklift (#6 seed) vs. Block 15 Sticky Hands (#2 seed)
LINK: Peaks and Pinks Tournament of Beer: NW Double IPAs previous games
LINK: Tournament of Beers: NW Double IPAs explanation
LINK: Hot Damn! Yes, I want to subscribe to Peaks & Pints 6-Pack of Things To Do newsletter and be hip to local happenings!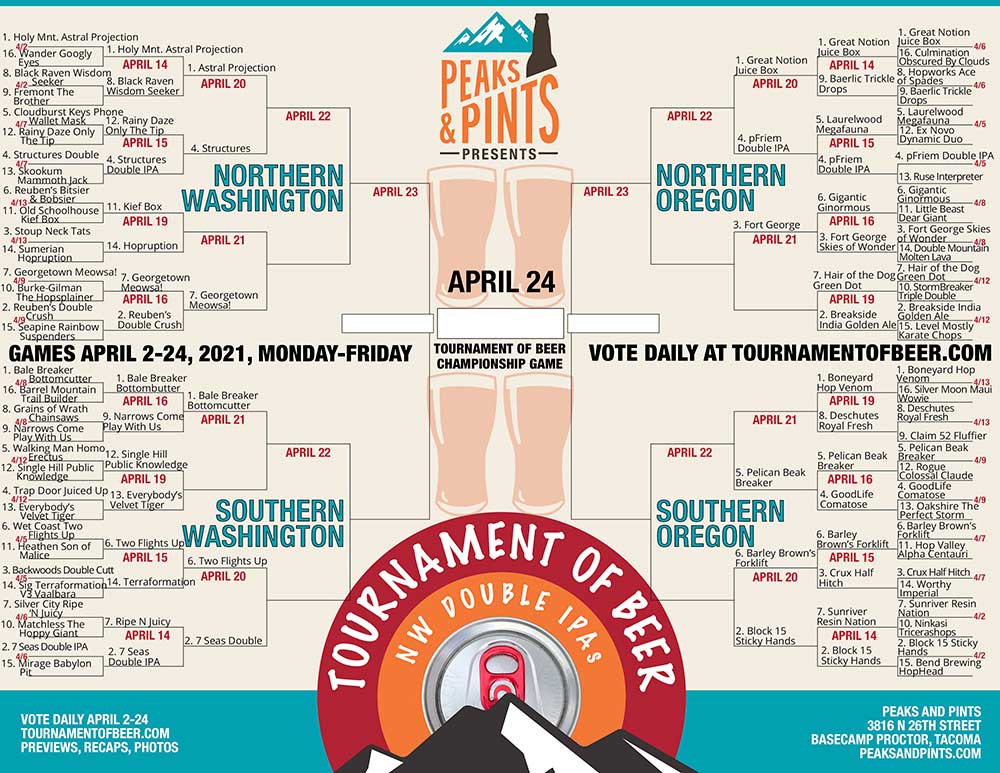 ---