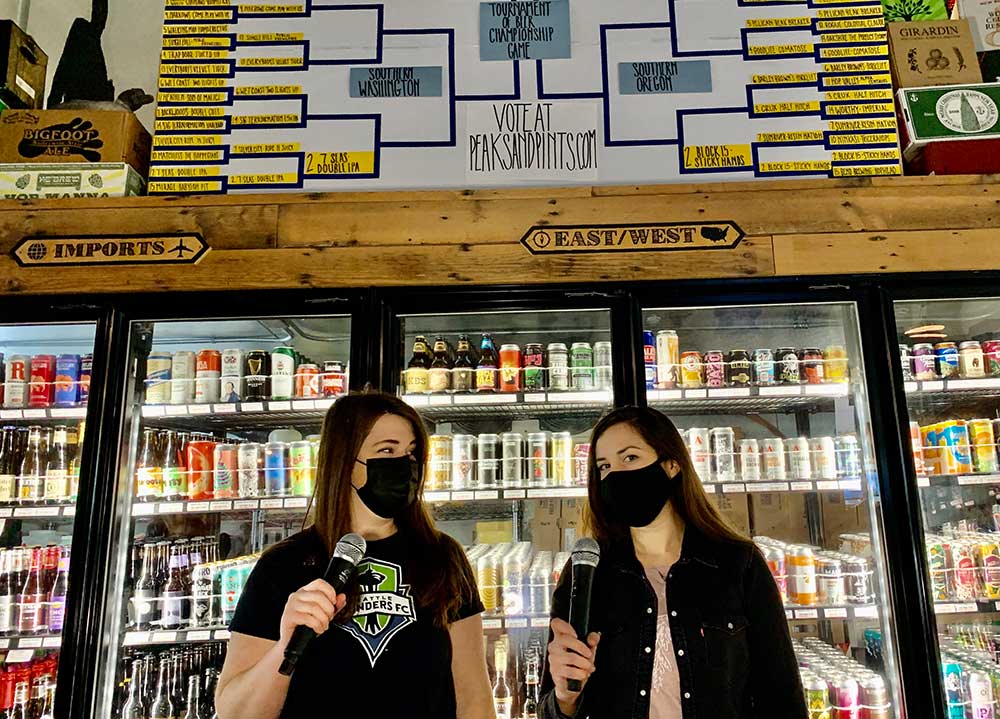 Peaks and Pints Tournament of Beer: NW Double IPAs April 17
SARAH JANE: Four years ago, Peaks & Pints challenged 64 Washington state IPAs to enter tournament-style beer battle, hops versus hops, the deserving winner crowned best IPA in the state. Four years later, and top porters, pilsners and flagships consecutively awarded, the tradition continues. It's Double IPAs, baby!
ERIN: Such a basic recipe: hop-centric and assertive both in aroma and flavor with a higher alcohol content than a standard IPA. But, as with Peaks' beer tournaments of years past, double IPA success is more elusive than that simple formula would indicate. And finding the savants of this art is no easy task, since the best of these hand-held treats often come from the back corners of a brewer's mind, or off a pilot system, uncharted territory far from the comfort of grandma's Google searches.
SARAH JANE: Beginning April 20, we'll cut the field of 64 Northwest brewed double IPAs to the sweet 16. Two days later, the Great Eight, then the Final Four and April 24 we'll announced the winner of Peaks and Pints Tournament of Beer: NW Double IPAs — picked by you, of course, through online voting. Because of COVID, we're not handing out paper ballots at the Championship Party; instead, we'll cut online voting at 8 p.m. and announced the winner soon after. Be sure to reserve your table Saturday, April 24, as the remaining two double IPAs will be flowing from our Western red cedar tap log.
ERIN: It's Saturday. You have things to buy. Coffee mugs. Razors. Windowpanes. Tires and doorbells and diapers, lipstick and yoga mats, water bottles and blenders and flashlights, hammers and refrigerators and vanity mirrors and planters and dashboards and sunglasses and kettles and, of course, a six-pack of beer and cider at your friendly neighborhood bottle shop, yo. You don't have time for my list of things to buy. You need to know yesterday's Tournament results right now so you can buy scissors. Picture frame. Doorknob. Camper van. OK, OK, here are yesterday's results. The action will continue Monday, April 19, with eight Second Round double IPAs doing battle.
Friday, April 16, Second Round NW Double IPAs Games Results
GAME 1, NORTHERN WASHINGTON REGION
Georgetown Meowsa (#7 seed) vs. Reuben's Double Crush (#2 seed)
ERIN: I love animals. All animals, especially dogs. And zebras. And elephants. And deer. Dolphins. Birds. Raúl Ruidíaz. Fredy Montero. Even cats. It's true. Cats are one of Goddess' little creatures and some are even friendly and funny and adorable and absolutely not always the aloof indifferent uncaring soul-sucking demons they often claw your face off to let you know they so very are. Yesterday, the Tournament of Beer: NW Double IPAs' only cat shoved aside its lint and string and tricked-out toys and played with Reuben's Brews' beloved Double Crush.
SARAH JANE: More like Georgetown Meowsa sharpened its claws and went crazy on Double Crush grabbing 56 percent of the votes then finding a cozy nook in the Sweet 16 for a nap.
GAME 2, NORTHERN WASHINGTON REGION
Bale Breaker Bottomcutter (#1 seed) vs. Narrows Come Play With Us (#9 seed)
ERIN: Even a seasonal double IPA named after dead twin girls couldn't beat number one seed Bale Breaker Bottomcutter. The Yakima-born beer cut a whopping 68 percent of the vote out of the Tournament and awaits the winner between Single Hill Public Knowledge and Everybody's Velvet Tiger in the Sweet 16.
SARAH JANE: I bet it wants to change its name to Middlecutter.
GAME 3, NORTHERN OREGON REGION
Gigantic Ginormous (#6 seed) vs. Fort George Skies of Wonder (#3 seed)
SARAH JANE: Homebrewer Chris Nemlowill apprenticed under brewer Jack Harris at Bill's Tavern in Cannon Beach, Oregon. Together, they took a beat-up empty building on the east side of Astoria, Oregon, installed a brew system and a kitchen, and then opened the doors of the Fort George Brewery + Public House in March 2007. The rest is history … well, Fort George actually shows no signs of slowing down, including a 21-point win over Ginormous.
GAME 4, SOUTHERN OREGON REGION
Pelican Beak Breaker (#5 seed) vs. GoodLife Comatose (#4 seed)
ERIN: In a game with such names as "Breaker" and "Comatose," you'd think I would have endless funny things to say. Frankly, I'm still a bit dazed after the Seattle Sounders win last night. Simply, Pelican beat GoodLife by 28 votes and advances to the Sweet 16.
SARAH JANE: Let's weed through the hops. The following are advancing to the Sweet 16:
Georgetown Meowsa
Bale Breaker Bottomcutter
Fort George Skies of Wonder
Pelican Beak Breaker
ERIN: See everyone back here Monday morning for more Tournament of Beer: NW Double IPAs Second Round action. Cheers!
Monday, April 19, Peaks and Pints Tournament of Beer: NW Double IPAs action …
Game 1: Old Schoolhouse Kief Box (#11 seed) vs. Sumerian Hopruption (#14 seed)
Game 2: Single Hill Public Knowledge (#12 seed) vs. Everybody's Velvet Tiger (#13 seed)
Game 3: Hair of the Dog Green Dot (#7 seed) vs. Breakside India Golden Ale (#2 seed)
Game 4: Boneyard Hop Venom (#1 seed) vs. Deschutes Royal Fresh (#8 seed)
LINK: Peaks and Pinks Tournament of Beer: NW Double IPAs previous games
LINK: Tournament of Beers: NW Double IPAs explanation
LINK: Hot Damn! Yes, I want to subscribe to Peaks & Pints 6-Pack of Things To Do newsletter and be hip to local happenings!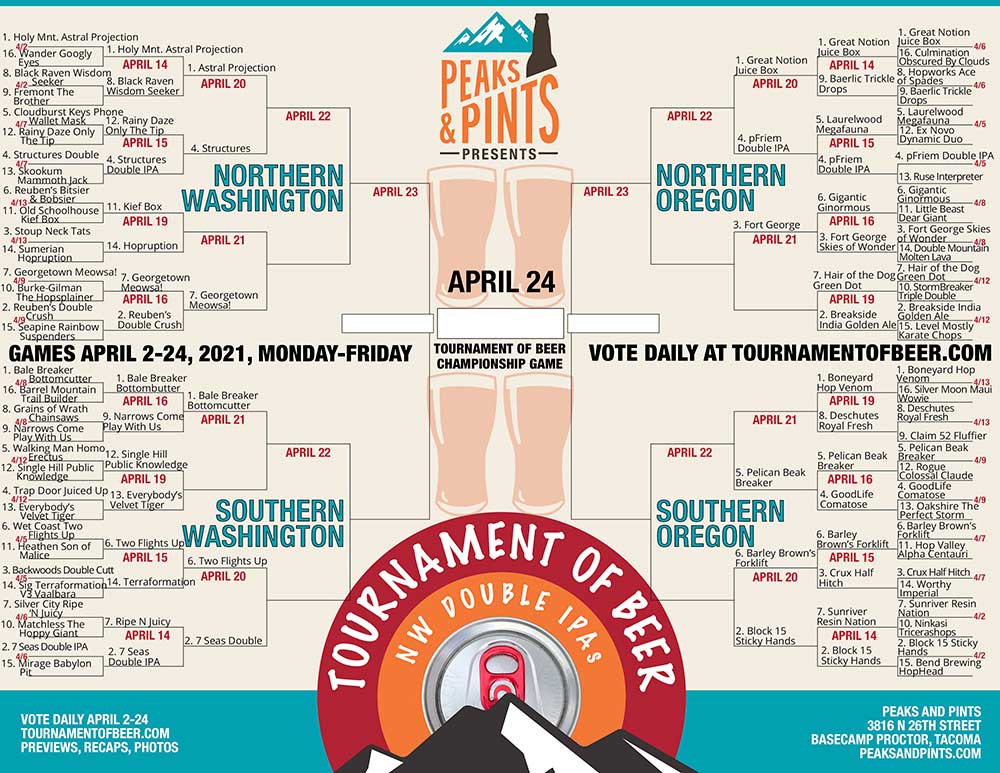 ---