Peaks and Pints Tournament of Beer: Northwest Pale Ales bracket released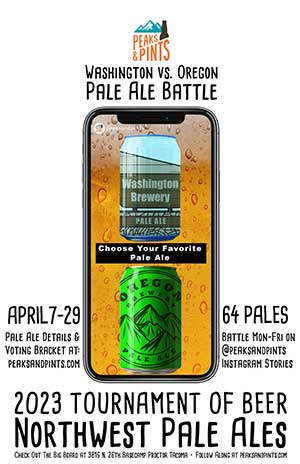 Peaks & Pints has unveiled the official bracket for its Tournament of Beer: Northwest Pale Ales, a voter-based public tournament seeking to crown the best pale ale brewed in the Pacific Northwest. Patterned after the NCAA Division I Men's Basketball Tournament, the Tournament of Beer features 64 pales from Oregon and Washington, all seeded by public vote, and separated into four geographical regions: Northern Washington, Southern Washington, Northern Oregon, and Southern Oregon with only one pale per brewery seeded.
The Tournament of Beer: Northwest Pale Ales nomination process produced a few surprises. Peaks & Pints discovered many Oregon and Washington breweries don't brew a pale ale or haven't brewed one in several years. Georgetown Brewing Johnny Utah received enough nominations to seed it number one in Northern Washington region, and even though the brewery's Manny's Pale Ale received more nominations than many other Northern Washington breweries, Tournament of Beer Officials had to eliminate Manny's due to the one pale per brewery bylaw. The other top seeded pale ales are E9 Brewing Don of Time in Southern Washington, Fort George Brewery City of Dreams in Northern Oregon, and Boneyard Beer Bone-A-Fide in Southern Oregon. Also, a fresh hop pale ale — Three Creeks Brewing Cone Lick'r Fresh Hop Pale — received enough nomination to make the Southern Oregon bracket.
The top 64 vote getters — the cream of the hops — will compete Monday through Friday at tournamentofbeer.com, April 7-29. Through Peaks & Pints Instagram Stories voting, Northwest pale drinkers will pick winners until the best pale in the region is crowned. It's just like March Madness, only with way more 2-row malts.
The Tournament of Beer: Northwest Pale Ales grand champion will be announced at the Tournament of Beer Party, April 29, at Peaks and Pints, 3816 N. 26th St., in Tacoma's Proctor District. The final two pales will battle live pouring from the bottle shop, taproom and restaurant's Western red cedar tap log with the champion brewery receiving a permanent handle through the spring and summer 2023. The Tournament of Beer Party in-house ballots will also function as a raffle ticket for a Yeti Cooler plastered with as many pale ales participating brewery stickers as possible.
Look for the first round of Northwest pales battles beginning Friday, April 7.
LINK: Tournament of Beer archives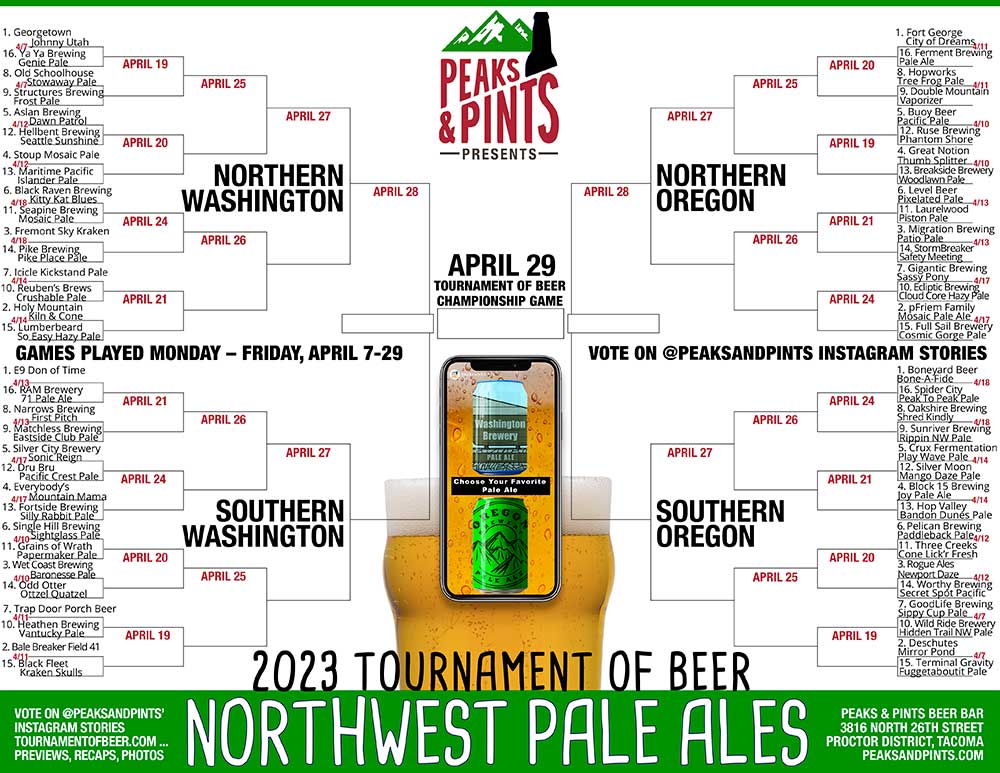 ---