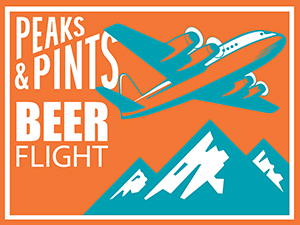 In ancient Europe, brewing was almost exclusively a woman's role. The medieval times, however, brought about the frequency of brewing in monasteries to accommodate travelers, and as time passed, the number of female brewers dwindled, brewing in the home became rare, and commercial taverns became a predominantly male domain. Today, while women have since shed the label of "alewives," they are continuing to infiltrate what has since become an XY-dominated scene by owning and running breweries. Women leading craft beer businesses certainly isn't unusual. You likely know the names of the women in beer pioneers, such as New Belgium's Kim Jordan, Odell's Wynne Odell, Jennifer Glanville from Boston Beer, Lost Abbey's Gwen Conoley, Brewmaster Veronica Vega at Deschutes, Whitney Burnside of 10 Barrel Brewing, and Lisa Allen of Heater Allen Brewing. Today, Peaks and Pints celebrates International Women's Day with craft beer's other female brewers in our to-go beer flight, Peaks and Pints Pilot Program: International Women's Day.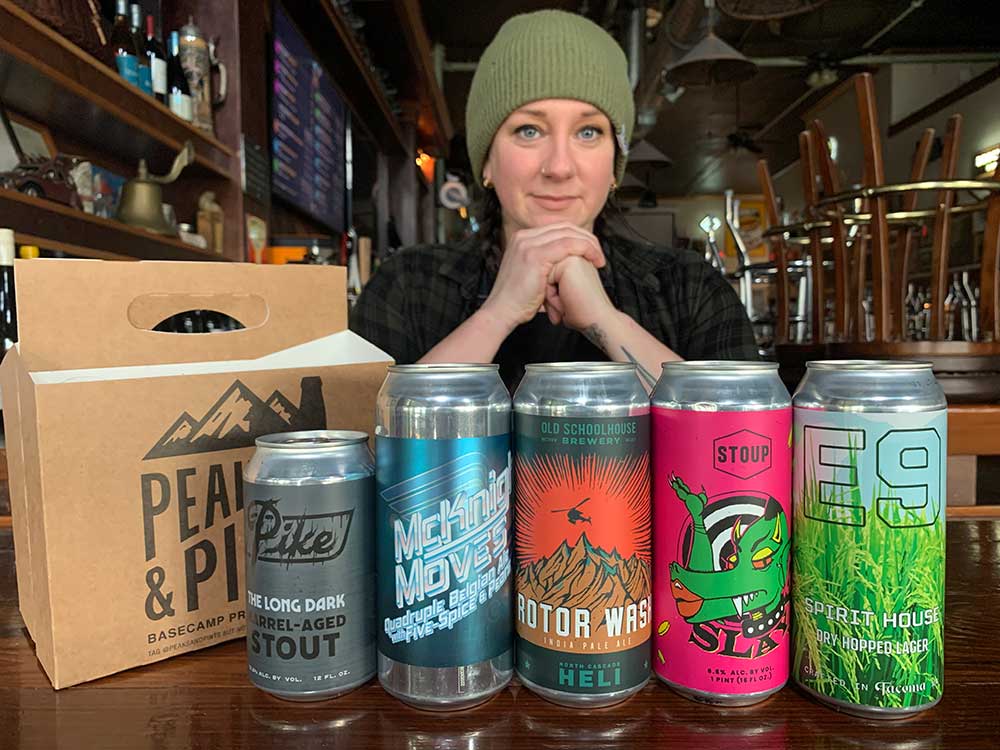 Peaks and Pints Pilot Program: International Women's Day
E9 Spirit House
4.5% ABV
Amber Joy's love of the craft industry started in Bellingham while attending Western Washington University. During the pandemic, she moved to Tacoma to become a brewer at E9 Brewing where the outdoor adventurist loves to brew and drink lagers, such as their Spirit House Rice Lager. Brewed with New Zealand hops Nelson Sauvin and Nectaron, Spirit House offers notes of peach rings, stone fruit bellini, white wine and gooseberry.
Stoup Slayy IPA
6.6% ABV
Scientist Brad Benson and foodie Lara Zahaba opened Stoup Brewing in Seattle's Ballard neighborhood in 2013. Washington state's first female Cicerone, Robyn Schumacher, became Stoup's third partner, assisting Benson in the brewing room. Schumacher started her career as a high school biology teacher, but after 13 years in the classroom, her dreams of becoming a professional brewer — along with her lifelong passion for great beer and unstoppable homebrewing skills — came true with a huge smile when she helped open Stoup. Speaking of smiles, her Slayy IPA is a fabulous combination of Northwest flair and berry, passionfruit and orange flavors and aromas thanks to plentiful additions of Amarillo, Mosaic, and Vic Secret hops.
Old Schoolhouse Rotor Wash
7.6% ABV
Peaks & Pints met Old Schoolhouse Brewery brewer Kyra Yanny when she helped us brew our 2022-23 house IPA, Between Peaks. Yanny joined the Methow Valley brewery in January 2020; she collaborates with female brewers to brew Old Schoolhouse's annual Pink Boots Society beer, Zymurgirl, which Peaks & Pints has already blown through. We still have many Old Schoolhouse beers in our cooler, including Rotor Wash, a winter IPA collaboration with North Cascades Heli Skiing. Brewed with Azacca, Cascade, Simcoe, Amarillo, Chinook, and HBC 692 hops, this hazy IPA sports a rich malt flavor for washing down face-fulls of pow.
Urban Family McKnight Moves
8% ABV
New Belgium Brewery Lead R&D Brewer Kelly McKnight joined the Pink Boots Society to brew a Belgian-style quad with five-spice and a copious amount of pear at Urban Family Brewing. Five-spice powder is a spice mixture of five or more spices — Chinese cinnamon, fennel seed, star anise, and cloves — used predominantly in almost all branches of Chinese cuisine. The five flavors of the spices refer to the five traditional Chinese elements. McKnight would like to stress this name was not her idea.
Pike The Long Dark
13.3% ABV
In May 2021, portfolio holding company Seattle Hospitality Group, or SHG, invested in Pike Brewing, the Seattle Pike Place Market brewery Charles and Rose Ann Finkel opened Oct. 17, 1989. Conversations between Pike and SHG started in 2018, but COVID-19 and the passing of Pike Brewing co-founder Rose Ann Finkel, Charles Finkel's wife, delayed the deal until last spring. With the SHG investment comes a modern brand redesign, including can labels, and two new faces in the brewhouse: Head Brewer Leslie Shore and Brewery & Quality Manager Barbara Beaver. Shore and her team released The Long Dark Barrel-Aged Stout this winter. The big, rich, full-bodied stout is aged for 36 months for notes of port, baked dark fruit, molasses, brown sugar, raisins, figs, and vanilla.
LINK: Peaks & Pints cooler inventory
---