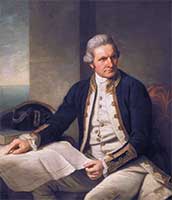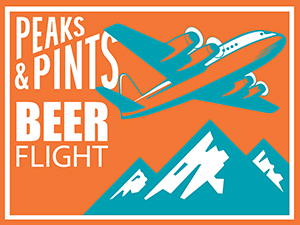 On This date in history, 1778, Yorkshireman Capt. James Cook wrote in his log, "The land appeared to be of a moderate height, diversified with hill and Valley and almost everywhere covered with wood. There was nothing remarkable about it except one hill. … At the northern extreme the land formed a point which I called Cape Foul Weather from the very bad weather we soon after met with. I judge it to lie in the latitude of 44° 55′ North, longitude 235° 54′ East". In the lower right-hand corner of his magnificent Chart of the NW Coast of America and NE Coast of Asia explored in the Years 1778 & 1779, James Cook set down the first notations of the Oregon Coast on an accurate modern map. He created the map during his third voyage to the Pacific, an exploration of the great ocean that, in part, probed the northwest coastal region of North America in search of a Northwest Passage, a hoped-for seaway through North America between the Atlantic and Pacific Oceans. In celebration of Cook's look, Peaks & Pints presents a to-go flight of beer brewed along the Oregon Coast, including Astoria. Stop by our craft beer bar, bottle shop, and restaurant in Tacoma's proctor District and grab Peaks and Pints Pilot Program: Capt. Cook Beer Flight.
Peaks and Pints Pilot Program: Capt. Cook Beer Flight
de Garde Vin Lee
7.4% ABV
Tillamook, Ore., is a sleepy, remote, and often damp coastal town 74 miles west of Portland. It smells of sea air and dairy farms. It's also home to founder and head brewer Trevor Rogers' de Garde Brewing, whose singular focus is spontaneously fermented, barrel-aged beers. The brewery, found near the Tillamook Air Museum's massive blimp hangar, lets their beer naturally ferment in an open-air cool ship, letting wild yeast descend from the Oregon Coast air. de Garde's Vin Lee is a spontaneous red ale with Syrah grapes aged in oak barrels for four years for a caramel, grape, funk, lemon, oak, and tannins nose, followed by wine grapes up front with some pleasant bitter barrel, lemon, oak, tannins, and plum with a lingering tartness.
Pelican Paddleback
5.7% ABV
Pelican Brewing serves craft beer at four beaches along the Oregon Coast — the flagship brewery in Pacific City, as well as Tillamook, Cannon Beach, and, most recently, Siletz Bay. Two years ago, Pelican released their Paddleback Oceanic Pale Ale brewed with Galaxy hops from Australia, and Nelson Sauvin hops from New Zealand for bright, zesty aromas reminiscent of gooseberries and white peach, followed by balanced hop character with flavors of Sauvignon Blanc grapes.
Buoy Dunkel
5.5% ABV, 20 IBU
Astoria, Oregon, arborist Luke Colvin coaxed client, longtime homebrewer, and lager specialist Dan Hamilton to open Buoy Beer Co. with his brother-in-law David Kroening, business advisor Jerry Kasinger and businessman Andrew Bornstein, who had a 90-year-old cannery building in Astoria. The rest, as they say, is history. Inspired by the original beer style of Bavarian villages, Buoy Dunkel yields flavors of chocolate, toffee, caramel, and fresh baked bread. A gentle kiss of hops brings a nice, crisp finish to this smooth, complex lager.
Fort George Fanzine IPA (2023)
7% ABV
In 2006, Chris Nemlowill and Jack Harris flew to Virginia Beach, Virginia to salvage an 8.5-barrel Saaz brewing system and drive it across the country to install it in their soon-to-open Fort George Brewery in Astoria, Oregon. They went on to specialized in seasonal stouts and IPAs, including their Fanzine IPA collaboration series. This year's version is brewed with Georgetown Brewing and packed with hundreds of pounds of the finest cryo hops for aromas of mandarin orange, gooseberry, papaya with whiffs of floral, slightly resinous and sweet aromatics. The flavor profile is slightly sweet and perfectly bitter with berry and orange zest plus a light, zingy finish.
Rogue Double Chocolate Stout
9% ABV
In May of 1989, John Maier arrived in the small Oregon coastal town of Newport just in time to create Rogue Ales brew #1. For 30-plus years, Maier brews hundreds of beers, including Rogue Double Chocolate Stout, before he retired. Rogue Double Chocolate Stout, which debuted for Valentine's Day in 2001, is an oatmeal chocolate chip cookie and a chocolate truffle together in a bed that had been strewn with hops. Now imagine the imperial version. Rogue's Double Chocolate smells like the inside of pain au chocolat thanks to ample bittersweet Dutch chocolate. This 2010 World Beer Championships gold medal winner offers intense chocolate and dark roasted malt notes.
LINK: Peaks & Pints cooler inventory
---