Everybody's Rebrand Launch Party at Peaks and Pints
Peaks and Pints will host Everybody's Brewing's Rebrand Launch Party Tuesday, March 14, showcasing the brewery's rebranded logo and cans, as well as introduce new beers on tap and in the cooler.
Rule No. 1 for a brewery's success is to offer an appealing product. But making a tasty beer isn't the only consideration in winning customers. With numerous artisan beers sold in Washington state and neighboring states, the packaging for bottles and cans as well as brewery logos must also catch a shopper's eye.
To stay competitive on the presentation side, Everybody's Brewing, White Salmon, Washington's oldest brewery, made a dramatic design change this month. Gone is the brewery's logo of people standing together with beers in hand, as well as the tractor, the logger, and Mountain Mama. In their place, Everybody's new look features fun line drawings, pastel colors, and plenty of white space.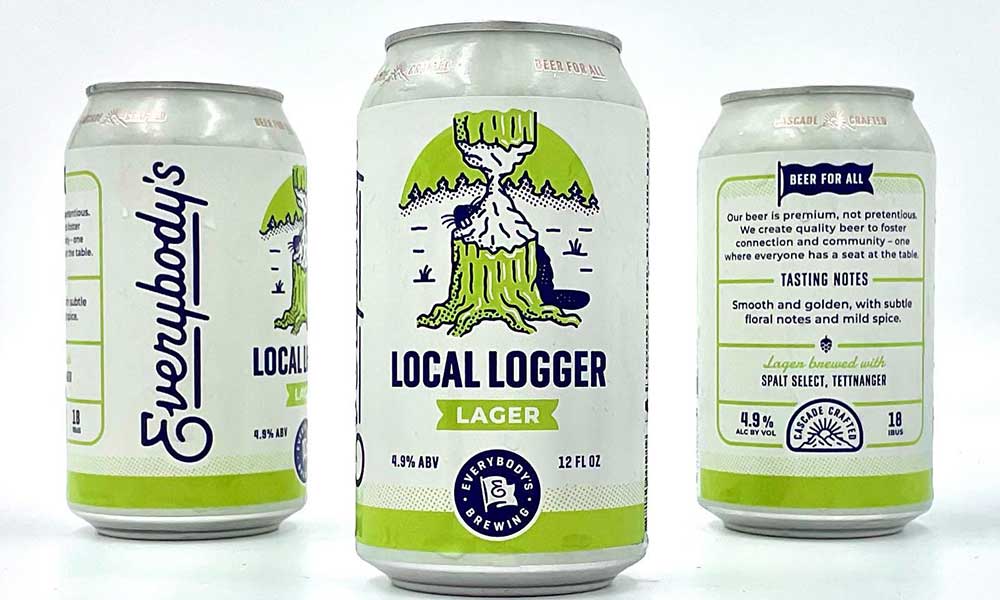 Christine and Doug Ellenberger opened Everybody's Brewing in 2008 after years of planning the craft brewery when they weren't working their shifts at Full Sail Brewing Company directly across the Columbia River. Doug's 20-plus years brewing and Christine's years in the restaurant industry melded into a popular brewpub with a killer view of Mt. Hood. In 2018, the brewery relocated to a brand-new building a few doors to the east on White Salmon's main drag.
Now five years after the relocation, Everybody's Brewing has spruced up its packaging and brand imaging. The full overhaul of their visual identity will be rolled out across all facets of the business, including packaged products, interior design, and online presence. The launch of the rebrand coincides with the release of four new year-round 12-ounce cans, and two new seasonal 16-ounce cans.
"We'll still be the same Everybody's," said Everybody's co-owner Doug Ellenberger, "but we recognize the importance of keeping our branding fun and relevant. The market has changed a lot in the 14 years since we opened, and we're keeping up with those changes. We feel the new branding will appeal both to our day-one customers, and folks that haven't yet thought to give us a try. We take a lot of pride in the quality of our beer, and we are also really proud of our new look."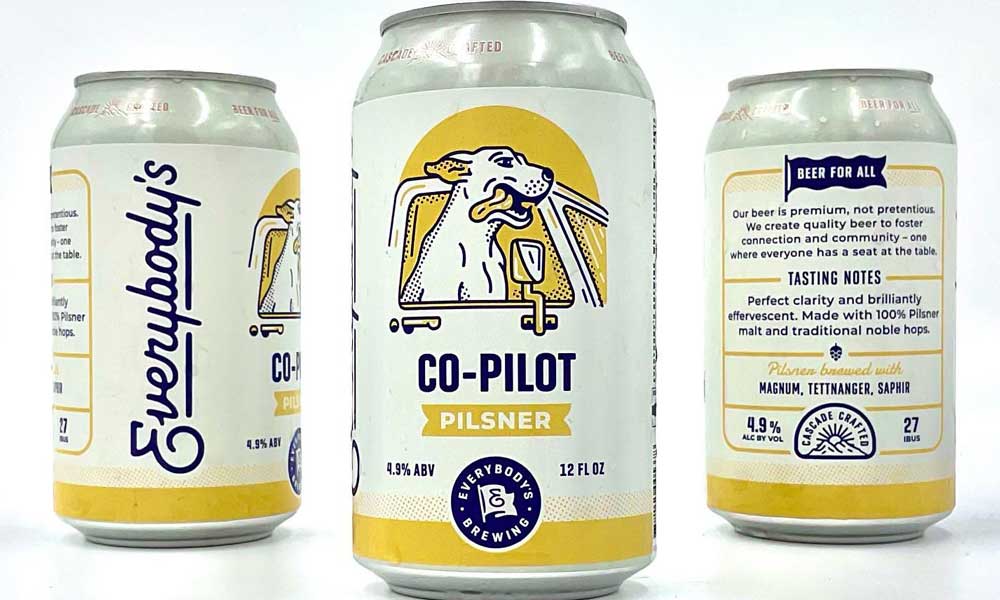 The former branding, designed in 2008, featured a logo of people standing together with beers in hand – a very literal interpretation of "Everybody's". Over the years, the logo remained the same while aspects of artwork on their cans slowly, continuously evolved. This slow evolution allowed the company to grow, but they found the products becoming less cohesive over time. The new branding is not only an effort to tighten up their look, but a chance for the company to define and re-iterate who "Everybody's Brewing" is, and what they stand for.
"We kicked off this project by exploring the mission and voice of our company, which was a really exciting aspect of the process for us," says co-owner Christine Ellenberger. "It was a chance to sit down and say 'Okay, we know who we are, but how do we better define that share it with people?' In the end, the most important thing was that we stay true to our core values: inclusivity, quality, fun, and community."
The new branding has a clean, but retro feel, and maintains the playful aspect that Everybody's is known for. This can be exemplified by 12-ounce cans of their new "Co-Pilot Pilsner", featuring a joyful, animated dog hanging out the side of a classic pickup truck window.
Their new logo is a flag with an emblazoned "E", and new slogan boldly states, "Beer For All." Ellenberger noted its importance, "The flag was kind of an ironic play; traditionally, they're used to stake claim or ownership someone or something specific, but our flag stakes claim for everybody. We truly believe that craft beer is a community staple, one that everyone should be able to enjoy. Our new slogan drives that home. We make beer for everybody."
Everybody's Rebrand Launch Party at Peaks and Pints will, er, launch at 5 p.m. Tuesday, March 14. It will be an opportunity to check out the new design and chat with co-owner Doug Ellenberger, as well as win some swag.
EVERYBODY'S REBRAND LAUNCH PARTY, 5-8 p.m. Tuesday, March 14, Peaks & Pints, 3816 N. 26th St., Basecamp Proctor, Tacoma, no cover
---