Peaks and Pints Tournament of Beer: Northwest Pale Ales April 8
PHAEDRA MILLER: Welcome to day two of the Peaks and Pints Tournament of Beer: Northwest Pale Ales from the historic Proctor District in beautiful Tacoma, Washington. I'm Peaks & Pints bartender Phaedra Miller. With me is Peaks' bartender Brandon Crespin.
BRANDON CRESPIN: What's up everybody! Sixty-four Washington and Oregon brewed pale ales were chosen by the public for the Tournament of Beer, which kicked off yesterday with two games in the Northern Washington region and two games in Southern Oregon. Brackets don refrigerators, break rooms, brewery hallways and accounting firms. IBU now means International Bitterness Units rather than International Boxing Union in conversations. Grandma now knows Bravo as a hop rather than the place to watch hardcore rich ladies yelling, "I'm going to Oklahoma you ass!" It was a fun opening day, man.
MILLER: Just as a reminder — don't think of pale ales as a kind of "scaled down" American IPA. It's hoppy, for sure, but its bittering isn't especially high. Malt plays an important role in brewing pale ales. By style, flavor and aroma hops are relatively high — and feature classic American citrus hops flavor — but should stop short of being excessively grassy and resiny. What I certainly want is a moderately strong, but light in flavor, malt character that provides enough bread and toast notes to prevent the beer's bitterness from scraping my tongue. Pales should be easy to drink and highlight its American hops flavors and aromas. I'd say the closest analog isn't IPA; it's British golden ales with an American twist!
CRESPIN: Blimey! OK, without further ado, let's take a gander at yesterday's results. Remember, the next Tournament of Beer: Northwest Pale Ales First Round action goes live at 12:01 a.m. Monday, April 10, right here on the Peaks & Pints website.
Friday, April 7, First Round Northwest Pale Ales Games Results
GAME 1, NORTHERN WASHINGTON REGION
1. Georgetown Johnny Utah vs. 16. YaYa Genie Pale
CRESPIN: When a pale ale beats another pale by 86 percent of the votes, it's called being "bye-hopped" in the craft beer world. No truly, look it up. Georgetown Brewing's Johnny Utah bye-hopped YaYa Brewing's Genie Pale Ale in yesterday's opening round action.
MILLER: The Tournament of Beer Bureau's projection had the Seattle brewery winning this game. They were proven right. Johnny Utah came out strong after the opening buzzer with 100 percent pure adrenaline. The Great American Beer Festival 2019 Gold medal winner Johnny Utah worked the Citra hop hard and it paid off.
CRESPIN: YaYa's Genie Pale Ale exhausted its Simcoe, Cascade, and Warrior hops early — so much so that Genie lost its magic power by early afternoon.
MILLER: It's rumored Georgetown Brewing founders Manny Chao and Roger Bialous were seen tossing a football outside their Georgetown brewery after the midnight closing. Anyway, Johnny Utah advances to the Second Round.
GAME 2, NORTHWEST WASHINGTON REGION
8. Old Schoolhouse Stowaway Pale vs. 9. Structures Frost Pale
CRESPIN: Structures Brewing's Frost Pale put an early freeze on Old Schoolhouse Brewery's Stowaway Pale Ale. The Bellingham brewery with its new fancy taproom grabbed an early lead, but then the Methow Valley residents rallied behind their favorite Stowaway pale closing the gap.
MILLER: Rumor is the Methow Valley folks called an emergency meeting at the Twisp Valley Grange Hall to rally the troops. It almost worked.
CRESPIN: Yeah, this game could have gone either way. And, the Grange meeting was a solid idea, but Bellingham has been packing Structures' new taproom and that excitement carried over to a 55 percent of the vote win for the Structures pale. Frost moves into the Second Round for a date with Georgetown Johnny Utah on April 19.
GAME 3, SOUTHERN OREGON REGION
7. GoodLife Sippy Cup Hazy Pale Ale vs. 10. Wild Ride Hidden Trail NW Pale Ale
MILLER: Sorry you didn't get to make jokes, Brandon.
CRESPIN: What?
MILLER: You know you would make baby sippy cup jokes if GoodLife Brewing lost this game.
CRESPIN: Yeah, would have been a hoot, but not the case here. Sippy Cup maintained a strong lead all day yesterday working those Galaxy, Mosaic, and El Dorado hops hard.
MILLER: That's the power of Galaxy hops. Both pale ales are brewed with Mosaic and El Dorado hops, but Sippy Cup also has Galaxy and the hop's fruity aroma could have been the deciding factor.
CRESPIN: Well, reach for the stars I always say. GoodLife Sippy Cup grabbed 77 percent of the vote and moves into the Second Round. It was a wild ride for Wild Ride Brewing but their Hidden Trail will remain hidden for the rest of the Tournament.
MILLER: Dude.
GAME 4, SOUTHERN OREGON REGION
2. Deschutes Mirror Pond vs. 15. Terminal Gravity Fuggetaboutit Pale Ale
MILLER: Celebrating its 35th birthday this July — an incredible milestone for just about any craft beer — Mirror Pond remains the unsung hero of Deschutes Brewery's, the country's 11th largest craft brewery by volume, at least by the Brewers Association definition. Mirror Pond played a huge role in bringing the company to where it is today.
CRESPIN: Fuggetaboutit.
MILLER: You all full of jokes today. Mirror Pond came out strong after the opening buzzer. But, then like previous Tournament of Beer years, the town of Enterprise, Oregon, rallied behind its brewery, Terminal Gravity Brewing. Founded in 1889, Enterprise sits in the northeast corner of Oregon as largest town in Wallowa County with 1,940 residents. Those folks rode in from the area's wide-open prairies and the Eagle Cap Wilderness to drink Terminal Gravity Fuggetaboutit Pale Ales and vote. And they voted hard.
CRESPIN: Just like this year's NCAA Men's Basketball Tournament, the Tournament of Beer has an early upset, at least according to the public seeding. Fuggetaboutit, with its Fuggle and Eureka hops dry hopping, moves into the Second Round with 55 percent of the vote.
MILLER: Let's weed through the hops. The following are advancing to the Second Round:
Georgetown Johnny Utah
Structures Frost
GoodLife Sippy Cup Hazy Pale
Terminal Gravity Fuggetaboutit
CRESPIN: See everyone back here early Monday morning for more Tournament of Beer: Northwest Pale Ales First Round action. Cheers!
Monday, April 10 Tournament of Northwest Pale Ales action …
Game 1: Single Hill Brewing Sightglass Pale (sixth seed) vs. Grains of Wrath Papermaker Pale (11th seed)
Game 2: Wet Coast Brewing Baronesse Pale (third seed) vs. Odd Otter Brewing Ottzel Quatzel (14th seed)
Game 3: Buoy Beer Pacific Pale (fifth seed) vs. Ruse Brewing Phantom Shore (12th seed)
Game 4: Great Notion Thumb Splitter (fourth seed) vs. Breakside Brewery Woodlawn Pale (13th seed)
LINK: Tournament of Beers: Northwest Pale Ales explained
LINK: Hot Damn! Yes, I want to subscribe to 6-Pack of Things To Do newsletter and be hip to local happenings!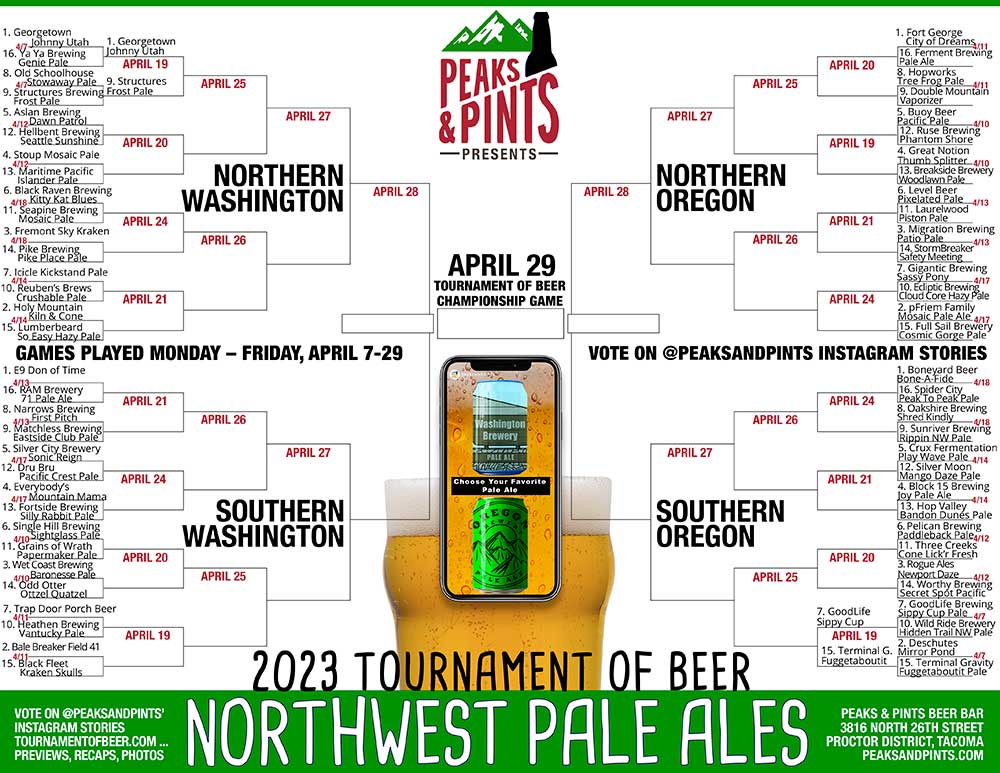 ---