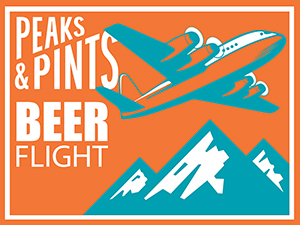 You know the story by now, but here it is anyway. … Founded by brewers Jack Harris and Chris Nemlowill, the two combined their brewing expertise from previous Oregon coast gigs at Bill's Tavern and Astoria Brewing Company to open Fort George Brewery in March 2007. Harris and Nemlowill drove their first 8.5-barrel brewhouse — nicknamed "Sweet Virginia" —from the East Coast and through a tornado to open a small pub in the Fort George Building on Duane Street in Astoria, Oregon. In 2009, they bought almost the entire city block, including the Lovell Building, where they installed a 20-barrel commercial brewhouse — "Little Miss Texas" — followed by a neighboring $12.5 million production facility. Today, in celebration of their new 3-Way IPA Beta 32.2 and Double Dry Hopped Vortex IPA arrivals, Peaks & Pints presents a to-go flight of Fort George beer — a flight we're calling Peaks and Pints Pilot Program: Fort George Beer Flight. Bonus: Add Peaks & Pints' house beer, Fort George Blue Mouse IPA, as a bonus.
Peaks and Pints Pilot Program: Fort George Beer Flight
Fort George Surging Waves
4.4% ABV
There are many varieties of waves on Oregon's northern coast: spilling waves, plunging waves, waves of industry, New Wave holdouts, waves of tourists, waves of corgis, and The Garden of Surging Waves, a city park in the center of downtown Astoria that was dedicated by the city as a bicentennial gift honoring the vital and lasting impact of Chinese American heritage in Astoria. At the Garden of Surging Waves, you'll find a tranquil square full of artwork, historical markers, and a timeline of important events in our region. In a can of Surging Waves Lager, you'll find crispness, a light body, mellow flavors of rice cracker, and low hop presence, dry finish.
Fort George Short Sands Lager
4.8% ABV
Short Sands Beach — just south of Cannon Beach on Oregon's northern coast — is one of the state's most popular beaches to hike, surf, and paddle. Lovingly called "Shorty's" by the locals, this beach is the inspiration for Fort George's Short Sands, a lager with an ideal balance of floral and fruity, malty, and toasty. Clean, crisp esters from a low and slow fermentation, classic German malts, and noble hops offer the barest touch of malt sweetness. Bonus: one percent of Short Sands Lager proceeds will benefit the Surfrider Foundation.
Fort George Java the Hop 2023
6.8% ABV, draft
Fort George brought back its Java the Hop coffee IPA for this year's May The 4th Be With You. Together with their friends at Coava Coffee in Portland they tweaked past Java the Hop recipes  carefully selecting hop varieties and beans whose complex aromatics and flavor profiles would work well together in an IPA. Success!
Fort George 3-Way Beta 32.2
7% ABV, draft
Fort George Brewery and their two partnering breweries are in beta test mode for their annual 3-Way IPA release, which typically happens in May. Joining the Astoria brewery this year are Anchorage Brewing from Anchorage, Alaska, and Cellarmaker Brewing in San Francisco, California. Over 6 months, this loving, consenting threesome will toil endlessly, laying the groundwork for the immaculate conception. Their 3-Way IPA Beta 32.2 is now on tap at Peaks & Pints.
Fort George Fanzine IPA (2023)
7% ABV
In 2006, Chris Nemlowill and Jack Harris flew to Virginia Beach, Virginia to salvage an 8.5-barrel Saaz brewing system and drive it across the country to install it in their soon-to-open Fort George Brewery in Astoria, Oregon. They went on to specialized in seasonal stouts and IPAs, including their Fanzine IPA collaboration series. This year's version is brewed with Georgetown Brewing and packed with hundreds of pounds of the finest cryo hops for aromas of mandarin orange, gooseberry, papaya with whiffs of floral, slightly resinous, and sweet aromatics. The flavor profile is slightly sweet and perfectly bitter with berry and orange zest plus a light, zingy finish.
Fort George Double Dry Hopped Vortex IPA
7.2% ABV
Caught in a tornado in the Midwest while hauling their original brew system cross country from Virginia, it made sense from Fort George Brewery to whip up Vortex IPA. With a hearty alcohol by volume and unfiltered, unpasteurized organic malt spine that makes way for Simcoe, Amarillo, and Centennial hops this IPA is medium bodied with a resinous mouthfeel, grapefruit more than pine and finishes with lingering hop bitterness. Fort George recently double dry hopped Vortex for a fiercer, bolder, wilder version of this Northwest classic.
Fort George Fields of Green (XANDER)
7.6% ABV
Deeply, darkly tropical, and as richly fruity as we imagined, Fields of Green Codename: XANDER is an essential addition to your early spring experience in the Pacific Northwest — the wet time when you're wet all the time. Triple dry hopped with four pounds per barrel of Waimea, Motueka, and Nectaron hops — with some Strata goo mixed in — this hazy IPA is an explosion of juicy, tropical flavor.
Fort George Feed The Beast
12% ABV
Fort George invited another huge fan of barrel-aged stouts, Reuben's Brews, to brew this barrel-aged imperial stout with Reuben's favorite grains and Fort George's favorite oats running through a double mash, plus a flavor profile and alcohol content boost with liquid malt extract. Don't expect adjuncts and extraneous additions, just roasty, toasty malt and heady barrel flavors of chocolate wine fading to vanilla, oak, and a hint of brandy.
LINK: Peaks & Pints cooler inventory
---