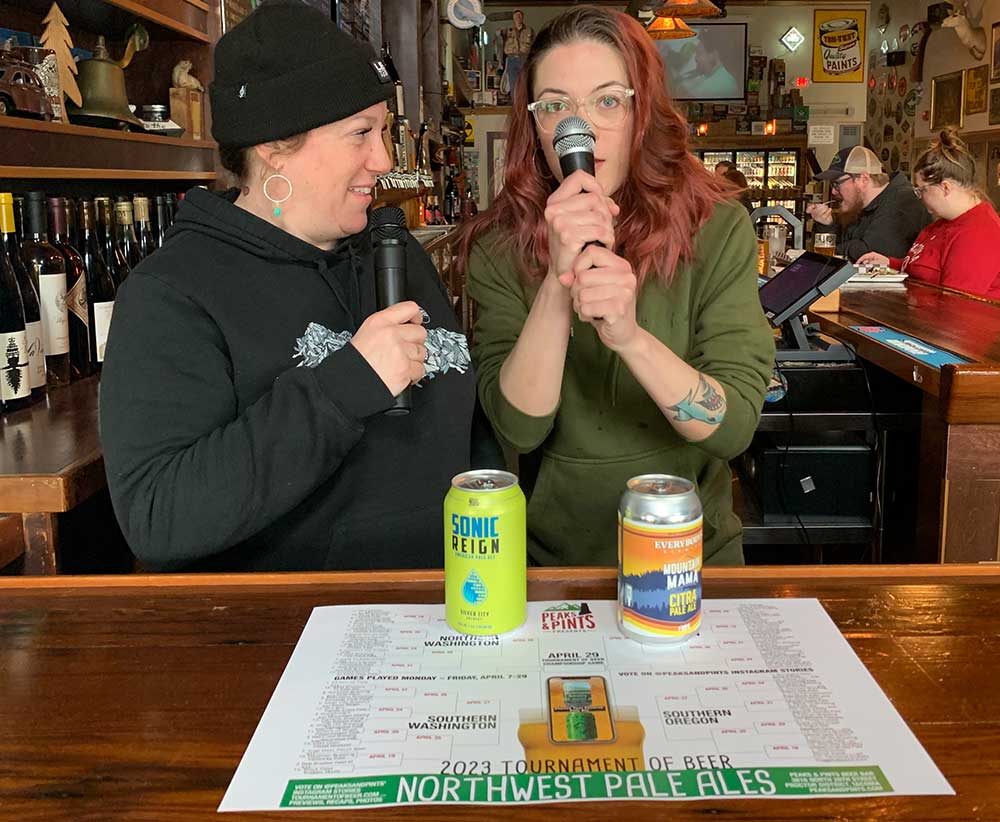 Peaks and Pints Tournament of Beer: Northwest Pale Ales April 18
AMY KIRK: Hello Peaks & Pints Pals! I'm Peaks bartender Amy Kirk. Low and behold, today marks the closing of the Peaks & Pints Tournament of Beer: Northwest Pale Ales First Round action. After today's battles the bracket will officially be down to 32 Washington and Oregon brewed pale ales, and brewers will start hiring cheerleaders. Honestly, if it gets any more exciting, we'll start to understand why Dick Vitale is always yelling.
NICOLE ALLEN: Hello everyone! I'm Peaks bartender Nicole Alen. Without wasting anyone's time with hop related basketball innuendo, on to a recap of yesterday's games and today's Tournament of Beer: Northwest Pale Ales Second Round action.
Monday, April 17, First Round Northwest Pale Ales Games Results
Game 1, Southern Washington
Silver City Sonic Reign (#5 seed) vs Dru Bru Pacific Crest Pale Ale (#12 seed)
KIRK: In the only game that saw a lead change yesterday, Dru Bru Pacific Crest Pale Ale had the morning lead. By noon, the votes began pouring in for Silver City Brewery's Sonic Reign where it remained until the final buzzer. Did Silver City Sales Executive Paul Whitcomb's recent appearance of the Grit & Grain Podcast affect the votes? Did Dru Bru's decision to play up their recycling efforts rather than focus on their delicious pale ale on Facebook yesterday help or hinder? Earth first, we say. The final buzzer says 59 percent of the vote for Sonic Reign.
Game 2, Southern Washington
Everybody's Mountain Mama (#4 seed) vs Fortside Silly Rabbit Pale (#13 seed)
ALLEN: Silly Rabbit, pales are for Mamas. The Tournament of Beer veteran Everybody's Brewing led by co-founder and pale namesake Christine "Mountain Mama" Ellenberger rallied her husband and business partner, Doug, the brewery staff, and quite frankly the entire town of White Salmon to maintain a giant lead from start to finish, finishing with an impressive 77 percent of the vote over the delicious Fortside Silly Rabbit, even though it's rumored Fortside had a sign that read, "Everybunny needs to drink a Silly Rabbit."
Game 3, Northern Oregon
Gigantic Sassy Pony (#7 seed) vs Ecliptic Cloud Core Hazy Pale (#10 seed)
KIRK: The Tournament of Beer Bureau predicted that Gigantic Brewing co-owner Ben Love didn't fully recover from hosting the recent Oregon Beer Awards and didn't have full strength to steer in his Sassy Pony hoppy pale in the right direction. And, unfortunate for Love, the Portland sky was a gray, rainy mess keeping Ecliptic Brewing Founder John Harris off his telescope and fully focused on his Cloud Core. The Ecliptic cloudy pale grabbed 62 percent of the vote and slot in the Second Round.
Game 4, Northern Oregon
pFriem Single Hop Mosaic Pale (#2 seed) vs Full Sail Cosmic Gorge (#15 seed)
ALLEN: Jump of pFriem Family Brewers website, then click "Awards," grab a pFriem Single Hop Mosaic Pale — grab two as it will take two full pints to read all the accolades this beautiful Hood River brewery along the Columbia River has been awarded. From the opening buzzer at 12:01 to the final buzzer at midnight, the pFriem pale held a massive lead and strolls into the Second Round with 83 percent of the votes.
Let's weed through the hops. The following are advancing to the Second Round:
Silver City Sonic Reign
Everybody's Mountain Mama
Ecliptic Cloud Core
pFriem Single Hop Mosaic
KIRK: Let's dive into the last of the First Round action featuring four pale ale battles. Please vote for one beer per game on Peaks & Pints' Instagram Stories. Voting for today's battles ends at midnight. We'll announce the winners tomorrow morning around 10 a.m., but today's games are live on Peaks & Pints' Instagram Stories.
ALLEN: OK, let's get to voting!
Tuesday, April 18, First Round Northwest Pale Ales Games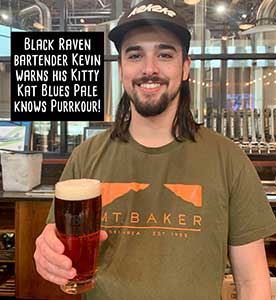 GAME 1, NORTHERN WASHINGTON
Player: Kitty Kat Blues (#6 seed)
Team: Black Raven Brewing, Woodinville
Stats: 5.5% ABV, 35 IBU
ALLEN: In 2000, Mississippi homebrewer Robert "Beaux" Bowman moved to Washington and landed at Mac and Jack's Brewing in Redmond. Next, he worked at Far West Ireland Brewing (now closed), The Ram, and Lazy Boy Brewing, and anywhere else that needed his services. In April 2009, Beaux and Kat Gillespie opened Black Raven Brewing Company on the southeast corner of Willows Road Northeast and Northeast 95th Street just blocks from downtown Redmond and the Sammamish River Trail. In June 2019, Black Raven opened a much larger brewhouse and taproom in Woodinville.
KIRK: From Woodinville, comes this Black Raven unassuming pale ale that has the screws turned a bit with additions of dried blueberries, vanilla bean and, originally, organic mountain-grown catnip, but has since been substituted with hibiscus. The result is an easy drinking pale ale that finishes like this morning's blueberry muffin with, of course, vanilla, dry bittering hops and hibiscus.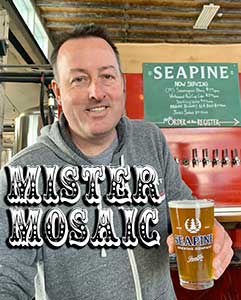 Player: Mosaic Pale Ale (#11 seed)
Team: Seapine Brewing, Seattle
Stats: 5.4% ABV, 35 IBU
KIRK: Seapine Brewing owner and brewmaster Drew Colpitts studied brewing sciences at University of California Davis and spent time working for Gordon Biersch Brewery Restaurant, among other breweries, before opening Seapine Brewing in 2011 on a 3.5-barrel system. The Seattle Georgetown neighborhood brewed moved to a 15-barrel in November 2015 and began hiring University of California Davis brewing science alumni.
ALLEN: One of several Mosaic hop driven pale ales in the Tournament, Seapine's version hits the nose with mango, gentle citrus, nectarines, orange, lemon, and some dank notes, which pretty much describes the taste, too.
VOTE ON PEAKS & PINTS' INSTAGRAM STORIES >>>>>>>>>>>>>>>>>>>>>>>>>>>>
GAME 2, NORTHERN WASHINGTON
Player: Sky Kraken (#3 seed)
Team: Fremont Brewing, Seattle
Stats: 5.5% ABV
KIRK: Long-time environmentalist, community organizer and homebrewer Matt Lincecum brought his bank statement to a well-known real estate developer to lease space to his startup craft brewery in the middle of a recession in the "center of the universe" aka Seattle's funky Fremont neighborhood. Apparently $10,000 and awesome homebrewed beers CAN get you somewhere. In August 2009, Lincecum kegged his first Fremont Brewing craft beer. Today, Fremont is regarded as one of the best craft breweries in the region. In addition to its reputation for consistent quality and innovation, Fremont Brewing is a recognized leader in sustainable brewing operations and community engagement.
ALLEN: The Kraken is perhaps the largest monster ever imagined by mankind. In Nordic folklore, it was said to haunt the seas from Norway through Iceland and all the way to Greenland. The Kraken had a knack for harassing ships and many pseudoscientific reports said it would attack vessels with its strong arms. If this strategy failed, the beast would start swimming in circles around the ship, creating a fierce maelstrom to drag the vessel down. Fremont's Sky Kraken is a hazy pale ale made with Strata, Mosaic and a touch of Citra hops and 2-Row Pale malt, malted oats, white wheat, and flaked wheat. It swims through the sky with ripe melon, juicy citrus, pineapple, and pepper flavors.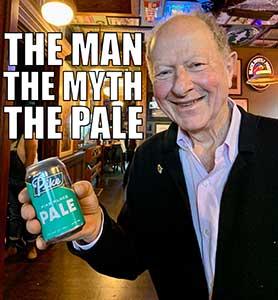 Player: Pike Place Pale (#14 seed)
Team: Pike Brewing, Seattle
Stats: 5.5% ABV, 28 IBU
ALLEN: On Oct. 17, 1989, Charles and Rose Ann Finkel opened the Pike Place Brewery, as it was then known, in the old Liberty Malt Supply space under the Pike Place Market on Western Avenue in downtown Seattle. In May, 2021, Portfolio holding company Seattle Hospitality Group, or SHG, announced it invested in Pike Brewing. Conversations between Pike and SHG started in 2018, but COVID-19 and the passing of Pike Brewing co-founder Rose Ann Finkel, Charles Finkel's wife, delayed the deal until last spring. With the SHG investment comes a modern brand redesign, including can labels, and two new faces in the brewhouse: Head Brewer Leslie Shore and Brewery & Quality Manager Barbara Beaver.
KIRK: The Pike Place Pale that Leslie brews hits the nose with slight honey, cracker, citrus, tropical fruit, and pine followed by distinctive fruity hop flavors.
VOTE ON PEAKS & PINTS' INSTAGRAM STORIES >>>>>>>>>>>>>>>>>>>>>>>>>>>>>>>>>>>>>>>>>>>>>>>>>>
GAME 3, SOUTHERN OREGON
Player: Bone-A-Fide (#1 seed)
Team: Boneyard Beer, Bend
Stats: 5.5% ABV, 40 IBU
KIRK: In 2010, Boneyard Beer was started in an old auto shop tucked away in the backstreets of Bend, Oregon's historical district. Without any outside investors or major bank loans, Boneyard's inception was unconventional to say the least. After decades in the brewing industry, owner Tony Lawrence built up a "boneyard" of old equipment he collected from 13 different breweries around the country. Alongside co-founders, Clay and Melodee Storey, this second-hand brewing equipment was pieced together to brew the first batch of Boneyard Beer in May 2010. In July 2018, Boneyard opened a new taproom at 1955 NE Division Street in Bend; the location was formerly a Chinese restaurant as well as a Texas Hold'em poker room and a short-lived taqueria.
ALLEN: Heavily influenced by Three Floyds, Boneyard's Bone-a-fide pale is hoppy like an IPA but without the bitterness. The malts used to create the beer balance nicely with some of the Yakima Valley's most bonafide dank hop varieties: Cascade, Centennial, and Chinook. This medium bodied pale blasts of juicy hops for a citrus/tropical fruit presence with lots of grapefruit, mango, pineapple, and orange peel sweetness that is countered by dry, bitter pine needle flavor.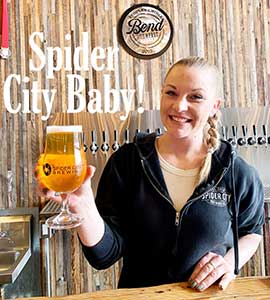 Player: Peak To Peak Pale (#16 seed)
Team: Spider City Brewing, Bend
Stats: 5.4% ABV, 32 IBU
ALLEN: Melanie Betti, her twin sister Michele Betti, and their friend Tammy Treat dreamed-up Spider City Brewing while attending California State University in Chico. In November 2019, they launched in southeast Bend, Oregon. The brewery's name from the trio's homebrewing days in a garage, which they nicknamed "Spider City" because of … you guessed it … spiders. Lots and lots of spiders.
KIRK: Peak To Peal Pale is a hoppy pale ale that is clean and fresh. I should please both the hop head and the traditional pale ale drinker.
VOTE ON PEAKS & PINTS' INSTAGRAM STORIES >>>>>>>>>>>>>>>>>>>>>>>>>>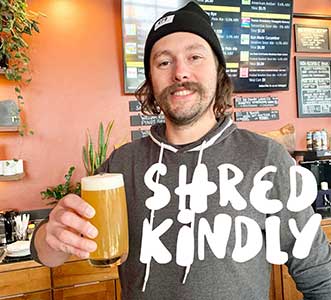 GAME 4, SOUTHERN OREGON
Player: Shred Kindly Hazy Pale (#8 seed)
Team: Oakshire Brewing, Eugene
Stats: 5.5% ABV
ALLEN: In 2006, Jeff and Chris Althouse were the only employees at their newly founded Willamette Brewery in Eugene, Oregon. The Althouses brewed 300 barrels that year, far short of what they'd eventually brew after 2008 when they converted Willamette Brewery into Oakshire Brewing. In 2017, Dan Russo became lead brewer managing Oakshire's collaborative production team of seven and overseeing the Pilot, Vintage and Core Seasonal programs. Russo remains Oakshire's longest-tenured employee of the 20-some people currently employed at the community-inspired, small-batch brewing company.
KIRK: Dude, Shred Kindly! This is right in my snowboarding self's wheelhouse. This hazy pale sees a three-stage dry-hop of Simcoe, Columbus, and Strata. Each of the hops comes together to create a joyfully hoppy beer to shred with any day. Shred Kindly reminds me to embrace our passions while demonstrating awareness and respect for the world around us, yo.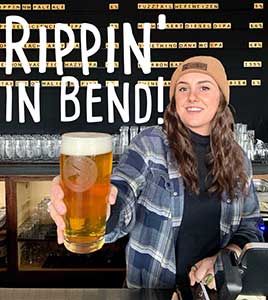 Player: Rippin – NW Pale Ale (#9 seed)
Team: Sunriver Brewing, Bend
Stats: 6% ABV, 50 IBU
ALLEN: When Brett Thomas became head brewer, he turned Sunriver Brewing Co. from a ski resort brewpub to a fast growing, award-winning brewery that even the beer geeks are now keeping their eyes on, including those who nominated Rippin – NW Pale Ale into the Peaks and Pints Tournament of Beer: Northwest Pale Ales. Thomas moved on to director of Brewery Operation, handing over the head brewer job to Patrick Raasch. Thomas has earned the brewery multiple GABF gold medals. He is a 2010 Falconer Foundation scholarship recipient and a 2011 graduate of the American Brewers Guild with a degree in Intensive Brewing Science and Engineering. If he and Raasch take this seriously, and why wouldn't they, Rippin could see Final Four action.
KIRK: He's another pale ale that fits my outdoorsy lifestyle. Hefty whirlpool and dry hop additions of Citra, Mosaic and Amarillo hops make this award winning strong pale ale burst with ripe tropical fruit, freshly squeezed citrus and resinous pine. The finish is distinctly clean, crisp, and hoppy with a restrained bitterness.
ALLEN: I said this two years ago during the Tournament of Beer: NW Double IPAs and it still stands. If Sunriver Brewing wins it all, maybe they can hook us up with a sweet vacation at Sunriver Resort.
VOTE ON PEAKS & PINTS' INSTAGRAM STORIES >>>>>>>>>>>>>>>>>>>>>>>>>>>>>>>>>>>>>>>>>>>>>>>>>>
Wednesday, April 19 Tournament of Northwest Pale Ales Second Round …
Game 1: Georgetown Johnny Utah (first seed) vs. Structures Frost (ninth seed)
Game 2: Trap Door Porch Beer (seventh seed) vs. Bale Breaker Field 41 (second seed)
Game 3: Buoy Pacific Pale (fifth seed) vs. Breakside Woodlawn Pale (13th seed)
Game 4: GoodLife Sippy Cup Pale (seventh seed) vs. Terminal Gravity Fuggetaboutit Pale (15th seed)
LINK: Tournament of Beers: Northwest Pale Ales explained
LINK: Hot Damn! Yes, I want to subscribe to 6-Pack of Things To Do newsletter and be hip to local happenings!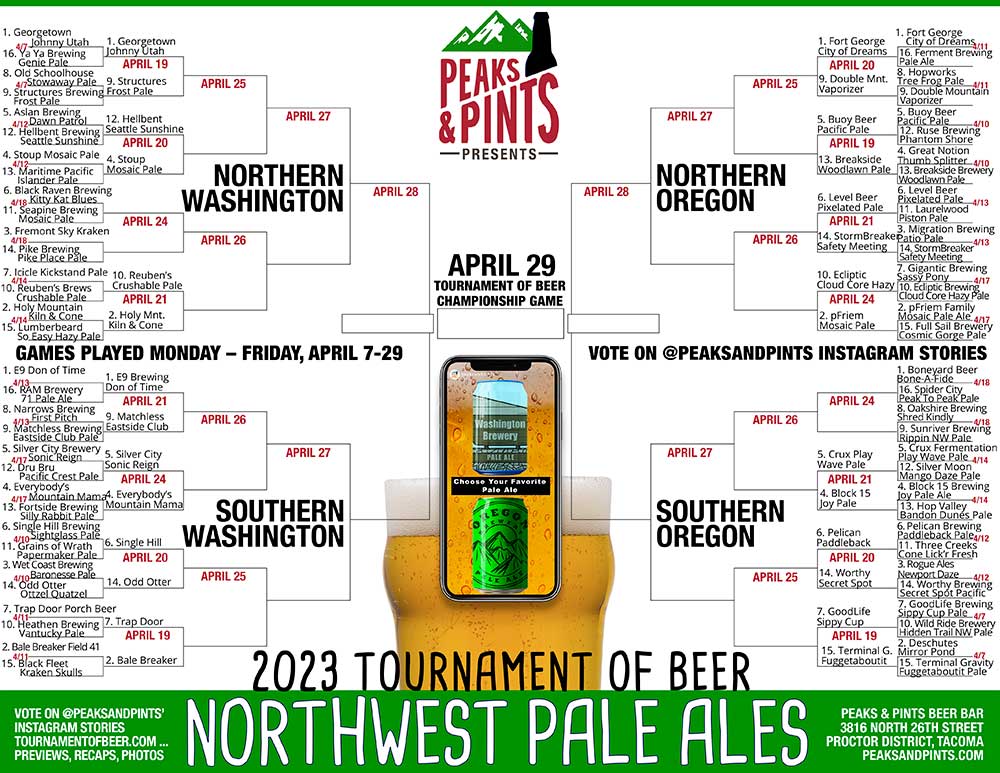 ---