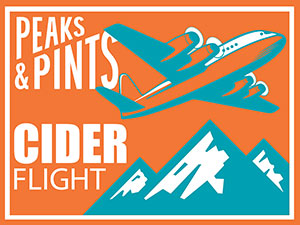 In the rolling farmland of Chimacum Valley along a salmon stream just south of Port Townsend, the Finnriver orchards stretch across 80 acres using more than 20 different varieties of apple tree. Their mission is to reconnect people to the land that sustains us and to grow community. They seek to create deep-rooted and fruitful connections at their farm-based taproom and rural gathering space. Finnriver's farm and orchard is Certified Organic and Salmon Safe, and the company is a Certified B Corporation, seeking to make business a force for good. Finnriver also makes exceptional cider, thanks to head cidermaker Andrew Byers. This week's Peaks and Pints Monday Cider Flight is Finnriver Farm & Cidery. Stop by our craft beer and cider bar, bottle shop and restaurant in Tacoma's Proctor District and grab our to-go cider flight, Peaks and Pints Monday Cider Flight: Finnriver Cidery.
Peaks and Pints Monday Cider Flight: Finnriver Cidery
Finnriver Solstice Saffron
6.5% ABV
Each year at the winter solstice, Finnriver begins the fermentation of their late winter botanical craft cider — Solstice Saffron. This bright seasonal release features organically grown apples infused with toasted fennel and organic anise pods and saffron from Portland-area saffron grower, Tanya Golden. This lightly carbonated cider, one of five in Finnriver's seasonal botanical series, is released in late winter. Flavor is medium sweet with green apples, with only subdued saffron notes. It's an unusual adjunct for a cider, but it works well.
Finnriver Honey Meadow
6.5% ABV
Finnriver Farm & Cidery produces a line of botanical ciders that share the earthly essence of life in the fields and forests of the Olympic Peninsula. They feature local ingredients that are iconic or flourishing in that region and each seeks to capture the essence of the season. Honey Meadow speaks directly to the roots, shoots, and blooms of spring on the Olympic Peninsula. Locally harvested burdock and dandelion roots are dried and roasted in the farm's wood-fired oven and then boiled into a house-made syrup. The roots balance the acidity of certified organic Washington apples with their earthy depth and nutty notes and then the cidery adds Sequim Bee Farm blackberry honey to add the floral and herbs to honor the season.
Finnriver Cranberry Rosehip
6.5% ABV
Finnriver's Cranberry Rosehip version is a small batch seasonal cider fermented to dry and then blended with the juice of transitional and organic cranberries from the Washington coast's Starvation Alley Farm. Head Cidermaker Andrew Byers then adds an infusion of wild rosehips gathered from woods and hedges around the Olympic Peninsula. Sweetened with unrefined organic cane sugar for added depth and balance, this holiday cider is lightly carbonated.
Finnriver Black Currant
6.5% ABV
Finnriver makes small batches of Black Currant cider year-round, featuring cider fermented on the farm using 100 percent organic apple juice pressed from Washington apples. They ferment the apple juice in stainless steel tanks, and then blend with black currant and unrefined organic cane sugar for additional depth, sweetness, and flavor. Expect bright apple fruit balanced by berry complexity, sweet and sour notes, with a light sparkle and purple blush.
Finnriver Oak & Apple
6.5% ABV
A select blend of Certified Organic Washington apples from the Yakima Valley is fermented in stainless steel tanks at low temperatures to capture the full ester profile of the apples. Once fermentation is complete, this cider is then aged for 12 to 16 weeks in rye whiskey barrels from High West Distillery in Park City, Utah. The 2017 Good Food Awards winning Finnriver Oak & Apple has bright citrus with a smooth whiskey depth and spicy rye spirit. Woody astringency balances the acidity, and then finishes with lovely, toasted oak and vanilla notes.
Finnriver Black Oak
9.5% ABV
Finnriver's Black Oak is a combination of high acid and aromatic heirloom apples with aged black currant wine — all of which comes through a friendly network of local farms, orchards, and distilleries (for the barrels). Fresh-pressed black currant wine made from organic currants grown in Agnew, Washington, at Tahlequah Farms and Methow Wild Fruits in Winthrop, then aged in American oak brandy barrels for nine months and blended back with the cider. It hits the nose with black currants, dark fruit, and wine-like notes. Piercing acidity zings through delivering the fruity notes along with complicated rolling bitters, green, sharp apple, notes of vanilla and smooth out breath of wooded caramel to the finish.
LINK: Peaks & Pints cooler inventory
---