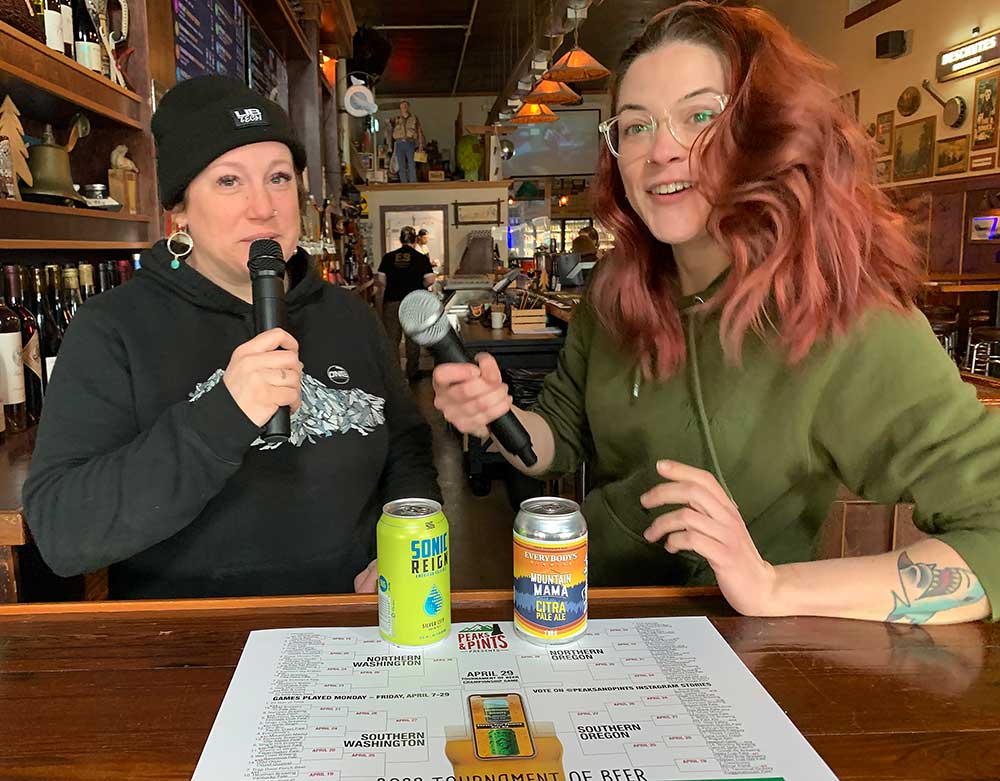 Peaks and Pints Tournament of Beer: Northwest Pale Ales April 17
NICOLE ALLEN: More than a week ago we pitted 64 of the Northwest's best — voted in by the public — in a head-to-head battle of pale ales. Today marks the second to last day of First Round action. Tuesday, the last eight Washington and Oregon brewed pale ales will enter the arena bright eyed and fresh. At the end of that day, four pale ales will join the other 28 pales in the Second Round, four will pick up the spent grains and go home. This is a tournament, folks, not a playoff. Each match is do or die — one misstep and you're out of the dance. Allow the pH to be driven too high or too many grains in the "harsh zone," and you're packing in your paddles and headed home. Hello, I'm Peaks & Pints bartender Nicole Allen, and welcome to another eight Northwest pales ales battle in the Peaks and Pints Tournament of Beer: Northwest Pale Ales First Round. With me as always is Peaks bartender Amy Kirk.
AMY KIRK: Thanks Nicole. That's right, folks. We're back from a weekend of rest and ready for more sweet, sweet First Round Action — four pales from the Southern Washington region and four more battling in the Northern Oregon region.
ALLEN: Let's do it! Please vote for one beer per game on Peaks & Pints' Instagram Stories. Voting for today's battles ends at midnight. We'll announce the winners tomorrow morning around 10 a.m., but today's games are live on Peaks & Pints' Instagram Stories.
Monday, April 17, First Round Northwest Pale Ales Games
GAME 1, SOUTHERN WASHINGTON
Player: Sonic Reign (#5 seed)
Team: Silver City Brewery, Bremerton
Stats: 5.5% ABV, 25 IBU
KIRK: In September 1996, restaurateurs and brothers Steve and Scott Houmes added craft beer to their lives when they teamed up with Brewmaster "Big Daddy" Don Spencer and opened Silver City Brewery in Silverdale, Washington. The Houmes' mission was to create happy, community-oriented restaurant and craft brewery. In 2004, the Silverdale Chamber of Commerce named Silver City Business of the Year. However, those living outside Kitsap County donned sad faces as MacFarlane's Scotch Ale and the other Silver City brews kept a close distance to the Silverdale brewery. In 2008, smiles appeared when the Houmes began distributing their beer around the Puget Sound. Demand for Silver City grew rapidly. In May of 2010, Scott Houmes opened a new, 7,600 square foot production facility and taproom in Bremerton. The Silverdale flagship brewpub became a larger, restaurant-only operation run by Steve Houmes. Today, the brewery is a beer medal earning machine.
ALLEN: Nice job, Amy. Sounded like you felt right at Houmes with the explanation. An exercise in supreme refreshment, Sonic Reign is an American pale ale for modern times. Featuring Amarillo hops for vibrant fruit character with Cascade hops bringing the classic, piney, Pacific Northwest hop experience.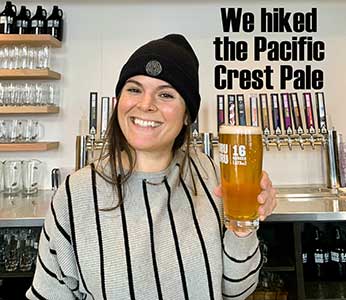 Player: Pacific Crest Hazy Pale Ale (#12 seed)
Team: Dru Bru, Snoqualmie
Stats: 5% ABV, 56 IBU
KIRK: The Pacific Crest Trail is a 2,650-mile-long hiking path spanning the border of California and Mexico to just over the border of Washington into Canada. The Pacific Crest through-hikers often stop at Dru Bru brewery and taproom at Snoqualmie Pass because they're exhausted and love delicious Pacific Crest Hazy Pale Ale. For the uninitiated, the Pacific Crest Trail is the 2,650-mile-long transcontinental trail that stretches from the Mexican border to the Canadian border and happens to cross Interstate 90 near Dru Bru. The trail takes most people five months to walk. Those gutsy few number in the low hundreds each year.
ALLEN: Pacific Crest Hazy Pale Ale is brewed with Ekuanot and Mosaic hops, as well as malt and oats from the Skagit Valley for a smooth malt backbone that combines with berry, melon, and citrus hop aromas to create a lovely hiking refreshment.
VOTE ON PEAKS & PINTS' INSTAGRAM STORIES >>>>>>>>>>>>>>>>>>>>>>>>>>>>>>>
GAME 2, SOUTHERN WASHINGTON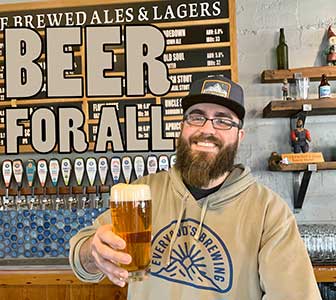 Player: Mountain Mama (#4 seed)
Team: Everybody's Brewing, White Salmon
Stats: 5.6% ABV, 55 IBU
ALLEN: Christine and Doug Ellenberger opened Everybody's Brewing in 2008 after years of planning the craft brewery when they weren't working their shifts at Full Sail Brewing Company directly across the Columbia River. Doug's 20-plus years brewing and Christine's years in the restaurant industry melded into a popular brewpub with a killer view of Mt. Hood. In 2018, the brewery relocated to a brand-new building a few doors to the east on White Salmon's main drag. Now five years after the relocation, Everybody's Brewing has spruced up its packaging and brand imaging. The full overhaul of their visual identity will be rolled out across all facets of the business, including packaged products, interior design, and online presence. I just love them.
KIRK: Everybody loves Everybody's and it shows with their Mountain Mama Pale Ale seeded number four in the Southern Washington region. This pale ale is named in honor of co-founder Christine Ellenberger, who graduated from West Virginia University, where she was a white-water rafting guide and kayaker. A true outdoorswoman, her love of snowboarding and rivers brought her to the Northwest, and inspired her husband and co-founder, Doug Ellenberger, to give her the nickname Mountain Mama. Doug says she's the heart and soul behind this brewery, and she deserves a beer named after her. He wanted the tap handle to represent what a strong and amazing woman she is. Brewed with Citra and Cascade, with CTZ used for bittering, this pale sports a big, juicy fruit, citrus aroma, and easy drinking due to oats and low bitterness.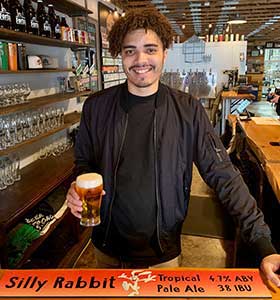 Player: Silly Rabbit Pale (#4 seed)
Team: Fortside Brewing, Vancouver
Stats: 4.7% ABV, 24 IBU
ALLEN: In the spring of 2015, Michael Difabio and Mark Doleski opened Fortside Brewing Company, a 3,900-square-foot brewery and taproom, in Vancouver, Washington. Named after Fort Vancouver and its Washington-side-of-the-Columbia-River roots, the two longtime homebrewers left behind a career in sales and marketing to help launch Fortside.
KIRK: Well, that sure worked out. Their juicy, tropical, smooth, and seriously crisp Silly Rabbit Pale utilizes a fermentationally-neutral yet thiol expressive yeast strain alongside Cascade mash hops and a mellow whirlpool addition of Saaz for bright passionfruit, guava, white tea, and mango notes.
VOTE ON PEAKS & PINTS' INSTAGRAM STORIES >>>>>>>>>>>>>>>>>>>>>>>>>>>>>>>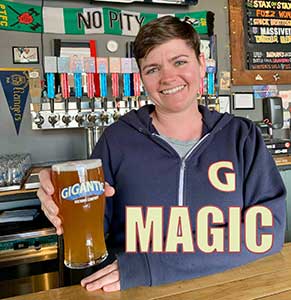 GAME 3, NORTHERN OREGON
Player: Sassy Pony (#7 seed)
Team: Gigantic Brewing, Portland
Stats: 5.6% ABV
KIRK: Van Havig, former brewmaster at Rock Bottom Brewery in Portland, and Ben Love, previously a brewer at Pelican Brewery and head brewer at Hopworks Urban Brewery, added to Portland's Beervana opening Gigantic Brewing May 9, 2012. The two brewers figured out how to have two head brewers then proceeded to make delicious beer. Their taproom has a college clubhouse vibe. They brew amazing one-offs. Their label art, signed by the artists, could hang in museums. And they would brew with the coolest rock stars.
ALLEN: Sassy Pony's vibrant caricature label is a riot of color and contrast. On the nose, expect scents of citrus oils and hops. The flavor has an upfront mildness of classic Citra and Cascade hops, but unfolds with layers of faint tropical fruits, fresh cut grass, and even a slight farmhouse ale hay finish.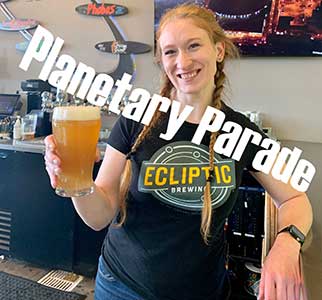 Player: Cloud Core Hazy Pale (#10 seed)
Team: Ecliptic Brewing, Portland
Stats: 5.5% ABV, 40 IBU
ALLEN: John Harris' background in one steeped in Oregon's rich craft brewing history. After beginning as a brewer at McMenamins' breweries, he moved to Deschutes where he created the recipes for Mirror Pond, Black Butte Porter, Jubelale, and Obsidian Stout. He spent the next 20 years of his career as a brewmaster at Full Sail in charge of creating the Brewmaster Reserve line of beers. In 2013, Harris founded Ecliptic Brewing purchasing the brewhouse from friend and Dogfish Head founder Sam Calagione. Harris' love for brewing and astronomy shines as he pushes the limits of creativity rotating Ecliptic's offerings every six weeks in accordance with the Old-World calendar, producing seasonal favorites such as Cloud Core Hazy Pale.
KIRK: That's exactly right. Cloud Core Hazy Pale is a seasonal — an autumn seasonal. If this tropical fruit salad full of ridiculously ripe fruit makes the Final Four and the subsequent Championship Game, I'm not sure what happens. If Ecliptic wins with this hazy pale ale, then it won't be tapped during the Championship Party, but Ecliptic would still receive a permanent handle though the summer.
VOTE ON PEAKS & PINTS' INSTAGRAM STORIES >>>>>>>>>>>>>>>>>>>>>>>>>>>>>>>
GAME 4, NORTHERN OREGON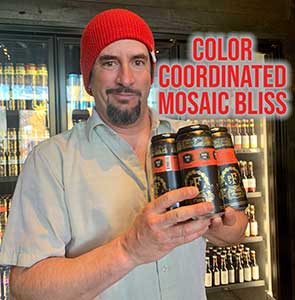 Player: Mosaic Single-Hop Pale (#2 seed)
Team: pFriem Family Brewers, Hood River
Stats: 5.9% ABV, 45 IBU
ALLEN: Seattle native Josh Pfriem began homebrewing while at Western Washington University in his early 20s then moved to Utah as a ski bum. He worked at Utah Brewers Cooperative for a few years before moving back to his old college town of Bellingham to brew at Chuckanut Brewery, where he helped win the Great American Beer Festival Small Brewpub of the Year in 2009. He moved to Hood River, Oregon, to work at Full Sail but left in December 2011 to open pFriem Family Brewers — across the highway from Full Sail along the banks of the Columbia River — in August 2012. The brewery prides itself on its strong family focus and community involvement, as well as its ingredients — while many craft brewery websites list the notable spices and hops used in their brews, none we've encountered boast the encyclopedic cataloging of every ingredient the way pFriem does.
KIRK: This was the first beer in pFriem's single hop pale series, an experimental series in which it accentuates and showcases the individual character of each hop. Floral and fruity, it smells like a glass of unwashed peaches, and the flavors are of subtly stacked lemon, pine, and a slight tinge of blueberry.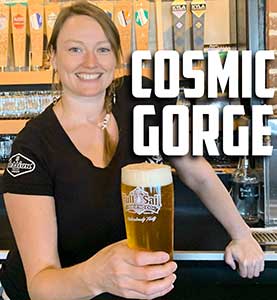 Player: Cosmic Gorge Hazy Pale (#15 seed)
Team: Full Sail Brewing, Hood River
Stats: 5.9% ABV, 20 IBU
KIRK: Perched on a bluff in Hood River, Oregon, overlooking the mighty Columbia River's epic wind and kite surfing, Full Sail turned on the mash tun in 1987. The brewery's sustainable practices have garnered more than 300 national and international awards, including more than 200 gold medals and Beverage World's "Craft Brewer of the Year" distinction. Full Sail is also on many brewery owner's resumes including John Harris and Kyle Larsen who worked under Harris.
ALLEN: Cosmic Gorge Hazy Pale is brewed with pale and wheat malt along with a generous addition of oats for a hazy golden canvas for the hops to shine. Full Sail adds a huge hit of Triumph and Mosaic hops along with their juicy yeast strain to deliver bright notes of green melon, berry, and stone fruit.
VOTE ON PEAKS & PINTS' INSTAGRAM STORIES >>>>>>>>>>>>>>>>>>>>>>>>>>>>>>>
Tuesday, April 18 Tournament of Northwest Pale Ales action …
Game 1: Black Raven Kitty Kat Blues (sixth seed) vs. Seapine Mosaic Pale (11th seed)
Game 2: Fremont Sky Kraken (third seed) vs. Pike Brewing Pike Place Pale (14th seed)
Game 3: Boneyard Bone-A-Fide (first seed) vs. Spider City Peak To Peak Pale (16th seed)
Game 4: Oakshire Shred Kindly (eighth seed) vs. Sunriver Rippin NW Pale (ninth seed)
LINK: Tournament of Beers: Northwest Pale Ales explained
LINK: Hot Damn! Yes, I want to subscribe to 6-Pack of Things To Do newsletter and be hip to local happenings!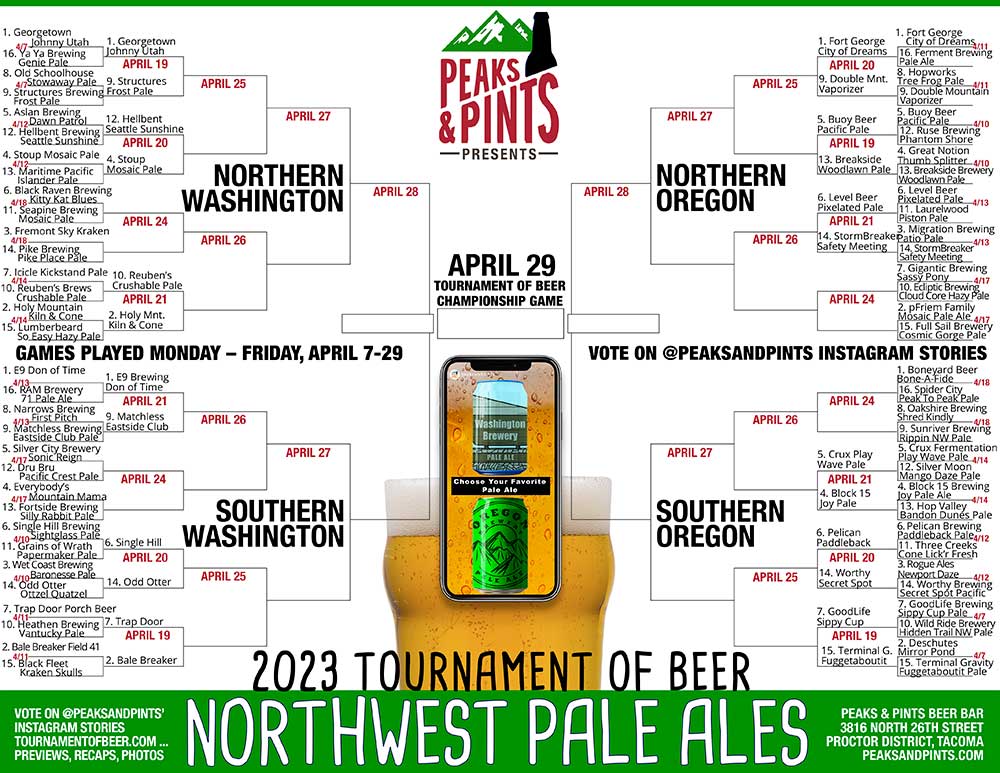 ---