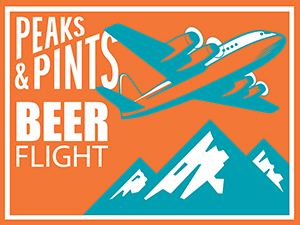 Tomorrow is May 4 — which may not mean a lot to a lot of people, but it's a special date for serious Star Wars fans. May the 4th (as in "May the Force be with you") is the day on which we celebrate all things Star Wars-related. And what better way to celebrate the date than by drinking space-themed craft beer while watching Star Wars films from your couch. Where in the universe can you find such beer, padawan? Peaks and Pints: The Beer Cooler Awakens. Embrace your inner Jabba (or related Hutt) and stop by our little craft beer lodge to prepare for May 4. Normally, Peaks & Pints would have the Death Star-sized cojones to compare ourselves to Mos Eisley Cantina, but COVID-19 forces us to keep Gonk Droids, Qui-Gon, and Grand Moff Tarkin at bay, and for you to grab the beer, give a Wookie howl and jet away in your Millennium PT Cruiser so you can yub-nub it up tomorrow. Below are some space-themed beer suggestions from our cooler. Just leave the droids at home; we don't serve their kind.
Peaks and Pints: The Beer Cooler Awakens
Fremont Dark Star Imperial Oatmeal Stout
8% ABV, 50 IBU
The Dark Star is the flagship for the 77th Task Force, which is dedicated to cleaning up the corruption in the Empire. At the advent of the Xen'Chi War, the Dark Star also became one of the lead ships in the Rogue Fleet. The Dark Star is also the base ship for Midnight Squadron, an elite squadron of TIE pilots who are always the first to head into battle and the last to leave. Fremont Brewing's Dark Star is an imperial oatmeal stout with hints of coffee and chocolate in the silky-smooth beer. It's uncommon that such a robust beer finds its way into a 12-ounce can, but Fremont Brewing is always first to head into battle and the last to leave.
Boulevard Phantom Haze
7.5% ABV, 30 IBU
The year was 1999. Sixteen years after Return of the Jedi brought to a close the most influential and highest grossing film trilogy of all time, Lucas was reviving the Star Wars saga and all that went with it. Jedi knights! The Force! Lightsaber duels and dynasties torn between good and evil! The Phantom Menace had those things. But, it also had a pair of Jedi knights doing battle with a treacherous gaggle of Trade Federation fish faces, the worst character of all time, Jar-Jar, and horrible reviews. Thankfully, Boulevard Brewing's Phantom Haze earned much higher praise, thanks to 10 different hops with an oat and wheat malt bill to give this beer a juicy, hop-forward taste with a pillowy mouthfeel.
Level Classic Styles And Ancient Techniques
6.8% ABV
Every Jedi and Sith in the galaxy must be skilled in lightsaber combat to survive.  Although the Jedi are known to rely on peaceful negotiations, that does not mean they do not understand the importance of lightsaber combat. As the weapons technology of the lightsaber was developed, the need for a form of combat arose. The art of dueling with them developed into seven "classic" forms and numerous other styles. All seven traditional lightsaber forms included the same basic techniques as ancient sword-fighting styles, such as defensive postures, overhand strikes, parries, and counters. Level Beer Co. had the lightsaber in mind when they brewed this Star Wars-themed hazy IPA, Level Classic Styles And Ancient Techniques. When Han Solo said, "There's no mystical energy field controls my destiny! It's all a lot of simple tricks and nonsense," he obviously hadn't tried this delicious beer.
Modern Times Star Cloud
6.8% ABV, 50 IBU
Remember in The Empire Strikes Back when Han Solo and Princess Leia seemed a little spaced out after they first arrived in the Cloud City, it's not just because they had spent time occupying the stomach of a giant asteroid-dwelling space worm only a few scenes prior. Nope, it's because they were high. The two partied with the Rolling Stones at Monty Python member Eric Idle's house the night before and arrived on the set without sleep and still high. Modern Times Star Cloud, brewed with Citra, Cashmere, and Motueka, is an insanely tasty crusher that will have you floating as high at Cloud City — and Leia and Han — with juicy, tropical bliss.
New Belgium Voodoo Ranger Starship IPA
7.7% ABV, 50 IBU
A starship, also known as a starcruiser, spaceship, spacecraft, or simply just craft or ship, was a vessel designed for interstellar travel, specifically between star systems. Darth Vader's nearly 5,250-foot-long starship, the Imperial-class Star Destroyer, teaming with 40,000 crew, delivers the first jaw-dropping moment in the first Star Wars film as its massive self swoops over us in pursuit of the comparatively puny Tantive IV. New Belgium Brewing's Voodoo Ranger Starship IPA is a highly drinkable American IPA brewed with Galaxy hops (natch). With a light to moderate sweetness, Starship IPA is brewed with unique mid-fermentation dry hopping techniques. When combined with Galaxy, Starship IPA gives fan's palates notes of fresh grapefruit and citrus.
Narrows 2020: A Hop Odyssey
6.2% ABV, 60 IBU
Narrows Brewing's 2020: A Hop Odyssey hazy IPA is a nod to 2001: A Space Odyssey, a sci-fi film George Lucas himself stated was the ultimate sci-fi film, and that Lucas used it as a model for his sci-fi world. Narrows head brewer Matt Rhodes opened the pod bay door to wheat and pilsner malts, as well as Simcoe, Bruce, and Motueka hops, for soft haziness with notes of cotton candy and lemon/lime.
Ecliptic Starburst
7.8% ABV, 75 IBU
From the beginning of A New Hope, we are told that Star Wars occurred "A long time ago in a galaxy far, far away …" Despite it being a long time ago, the galaxy displays signs of being very mature. It has billions of stars that have already formed. It has hundreds of intelligent species with interstellar transportation capabilities. But when is "a long time ago" in the history of the universe? Could the Star Wars universe be a starburst galaxy? A starburst galaxy produces an exceptionally high amount of stars, similar to how Ecliptic Brewing Starburst IPA produces a soaring amount of hop flavor. Brewed with Amarillo, Azacca, Centennial, Citra, Mosaic and Simcoe hops for fresh flavors of citrus, fruit and pine. It's dry hopped to the end of the universe.
Single Hill Star Platinum
6.4% ABV
Set in 1987, JoJo's Bizarre Adventures: Stardust Crusaders follows Jotaro Kujo and his comrades who have developed mysterious powers known as Stands. Jotaro, his grandfather Joseph Joestar and their allies, travel to Egypt in search of the evil and immortal vampire Dio Brando, now known solely as "DIO" to save Jotaro's mother Holly, whose Stand has awakened and threatens to consume her in 50 days. Meanwhile, DIO has commissioned a number of assassins with various types of deadly Stands to destroy them before they can reach him. Star Platinum is one of the most human in appearance of humanoid Stands, resembling a tall, well-built man of similar proportions to Jotaro, if not more muscular and lightning fast. Like one thousand muscular punches of hop flavor in the blink of an eye, Single Hill Brewing's Star Platinum hazy IPA is a formidable rush of candied orange peel and ripe mango, thanks to heavy loads of Strata, Galaxy and Idaho 7. This has nothing to do with Star Wars. There's nothing to see here. Move along.
---