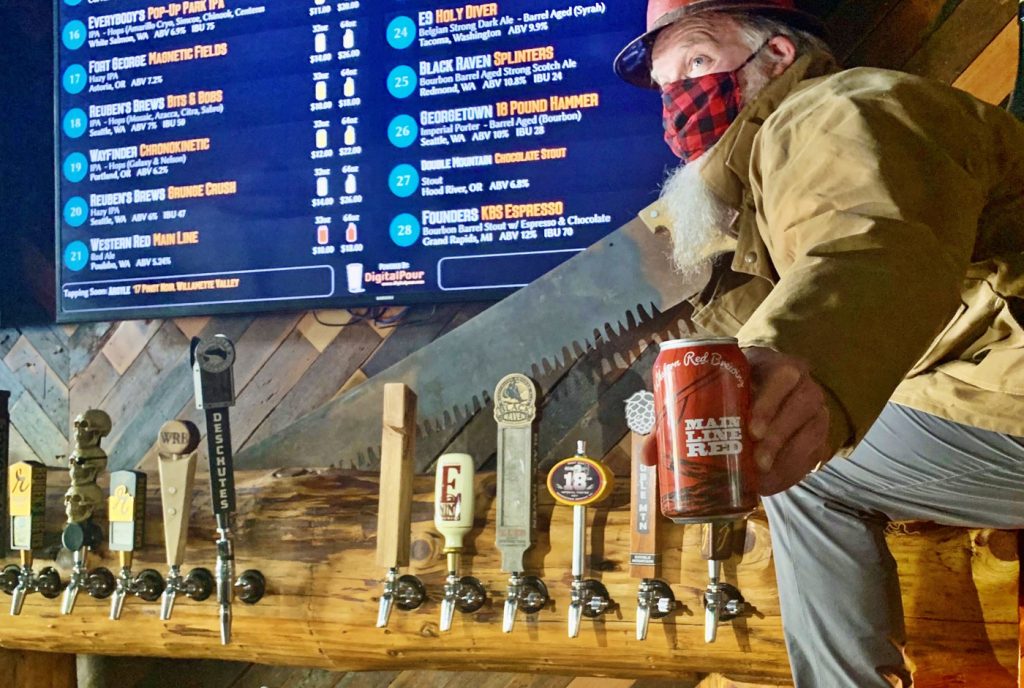 Peaks and Pints Tap List: Western Red Main Line Red
Peaks and Pints houses a mind-boggling array of suds: 800-plus bottled and canned in our cooler, with another 28 on tap for Campfire Crowler fills (until pints return). While craft beer remains our foundation, you don't have to be embarrassed for ordering artisan craft cider, wine, cold brewed coffee and kombucha as those delights are on tap too at Peaks and Pints. To follow our tap list live from your phone, click here for iPhone and here for Android. Peaks and Pints has tapped Western Red Brewing's Main Line Red on our Western red cedar tap log. We're riding the lumber-themed brewery's amber with notes of caramel, biscuit, and earthy hops through the weekend so stop by for Campfire Crowler fills or grab cans from our cooler. Cheers!
Safety Is Priority Number One
One of the most fulfilling aspects of our craft beer and cider bar, bottle shop and restaurant is being a gathering place for the community. It's a role we do not take for granted, and there are many responsibilities that come along with it — the health and safety of our guests and staff being at the top of the list. …
Face masks must be worn at all times.
Please maintain a social distance of 6 feet while waiting for take-out food and/or Campfire Crowler and growler fills.
We're continuing with two people at a time in the cooler with the line forming up the back stairs.
We're open 11 a.m. to 8 p.m. each day for now, but we hope to return to "before times" hours as soon as possible.
Hope to see you soon.
1

Argyle

Pinot Noir

Sonoma, CA

13.5%

Just Tapped

2

Cantine Povero

Bello Barnera

Italy

Piedmont

Barbera IGT

12.5%

Just Tapped

3

Proletariat

Rose

USA

Walla Walla, WA

11.8%

Just Tapped

4

Sierra Nevada

Strainge Beast

Hard Seltzer Ginger Lemon

Chico, Calif.

7%

Just Tapped

5

Vahalla Coffee Roasters

Viking Nitro Cold Brew

Nitro Cold Brew

Just Tapped

6

Living Häus

Dolores

Unfiltered Pilsner

Portland, OR

4.8%

45 IBU

Just Tapped

7

Tieton

Fresh Hop Cider

Fresh Hop Cider

Yakima, WA

6.9%

Just Tapped

8

Empyrical Cidery

La Raison

Heritage

Snohomish, WA

8.5%

Just Tapped

9

Finnriver

Fresh Hop

Cider

Chimacum, WA

6.5%

Just Tapped

10

Block 15

Cassidy

Barrel Aged - Blend

Corvallis, OR

6.5%

IBU

Just Tapped

11

Stillwater/Fast Fashion

Goldfish

Farmhouse Pale Ale Tribute To Orval Trappist Pale

Grand Mound, WA

6.4%

IBU

Just Tapped

12

Rainier

Mountain Fresh Beer

Lager

Seattle, WA

4.6%

IBU

Just Tapped

13

Torch & Crown

High Brau

Oktoberfest

New York, NY

5.5%

IBU

Just Tapped

14

Old Stove

Oktoberfest

Festbier

Seattle, WA

5.8%

IBU

Just Tapped

16

Fort George

Blue Mouse

IPA

Astoria, OR

6.2%

IBU

Just Tapped

17

Matchless

Sabro Fresh

Fresh Hop IPA

Tumwater, WA

6.4%

IBU

Just Tapped

18

Everybody's

Head Stash: Fresh Hop

Simcoe Fresh Hop IPA

White Salmon, WA

6.7%

66 IBU

Just Tapped

19

Great Notion

Over Ripe

Hazy IPA w/ Mangosteen

Portland, OR

7%

IBU

Just Tapped

20

Gigantic

Pipe Wrench Gin Barrel Aged IPA

Gin Barrel-Aged Imperial IPA

Portland, OR

8%

85 IBU

Just Tapped

21

ForeLand

Wooden Castle

English Dark Mild

McMinnville, OR

3.5%

IBU

Just Tapped

22

North Coast

Old Rasputin

Russian Imperial Stout

Fort Bragg, CA

9%

75 IBU

Just Tapped

23

Holy Mountain

Column of Dust

Brown Ale

Seattle, WA

4.6%

IBU

Just Tapped

24

Westmalle

Dubbel

Dubbel

Malle, Belgium

7%

24 IBU

Just Tapped

25

Fort George/Fremont

Chordata Cuvee

Strong Ale -Bourbon Barrel Aged - Barrel Aged (Woodford Rye, Willet Whiskey)

Astoria, OR

13.2%

IBU

Just Tapped

26

Torch & Crown

Black Tie

Porter

New York, NY

5.5%

0 IBU

Just Tapped

27

Gigantic

Tierra Del Stout

Mexican Hot Chocolate Stout w/ Chocolate, Vanilla, Chiles & Cinnamon

Portland, OR

7.2%

IBU

Just Tapped

28

Sierra Nevada

Narwhal

Imperial Stout

Chico, CA

10.2%

60 IBU

Just Tapped
---