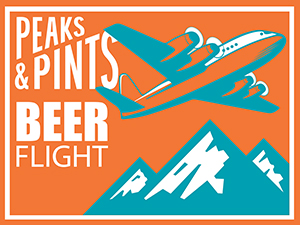 We celebrate just about every special occasion (i.e. birthdays, really good weeks and sometimes really bad weeks) with a cake. And while Tacoma dessert options are more than plentiful, we've somehow exhausted our local options (eating our way through Met Market's whole cake menu in a few short months) and began thirsting for something new — something worth celebrating, which meant it needed to have craft beer. Happy National Peanut Butter Day! Seriously, it's today. Skipping traditional desserts, we're celebrating with a to-go beer flight that combines our love of nuts and craft beer. Go nuts over our Peaks and Pints Pilot Program: Peanut Butter Day On The Fly.
Peaks and Pints Pilot Program: Peanut Butter Day On The Fly
Wild Ride Nut-Crusher Peanut Butter Porter
6% ABV, 18 IBU
Let's talk love. Peanut Butter. It transports us to a happier, simpler age. It's not a candy thing. It's a comfort thing. Redmond, Oregon's Wild Ride Brewing brings together two favorite flavors, peanut butter and porter, in this liquid chocolate truffle treat with a strong nuttiness. Nut Crusher is a beer that's almost as fun, if not more fun, to sniff for a while before actually drinking it.
Iron Horse PB & Death
6.53% ABV
Ellensburg, Washington's Iron Horse Brewery is an iconoclastic brewery. They're not ones to copy/paste a style into their profile just to compete with the Irish beer giants. Quilter's Irish Death was born of a reverence to the dry Irish stout. Created by the Iron Horse Brewery founder Jim Quilter, this craft beer has been called a sweet stout, strong ale and Scotch Ale. We call it delicious with a massive amount of chocolate malt that goes down easy. Then, Iron Horse added peanut butter to the Death for sweet toasted peanut butter goodness.
Left Hand Peanut Butter Milk Stout
6.2% ABV, 25 IBU
Rhythm and Blues. Batman and Robin. Peaks & Pints and the Proctor District. Peanut Butter and Chocolate. These classic duos never go out of style. Enter Left Hand Brewing Peanut Butter Milk Stout. The Longmont, Colorado brewery took the pure milk chocolate bliss of their classic Milk Stout with Chocolate malt, rolled oats and roasted barley, and added peanut buttery goodness. It's rich and decadent on the palate and lusciously lingers into a nutty, dry finish.
Belching Beaver Viva La Beaver
7.5% ABV, 28 IBU
Kick your peanut butter fix up a notch with Belching Beaver Brewery's Viva La Beaver. This award-winning milk stout dances with creamy peanut butter, cinnamon and cocoa nibs flavors. Peaks and Pints also picks up notes of roasted coffee, cookie dough, fudge, brownie batter, cappuccino, toffee and dark roasted malts upfront, as well as a little vanilla on the mid-palate. This decadent milk stout is the definition of pastry stout.
Artivem Red Tailed Hawk
12.5% ABV
Some call it honey wine, though the term is not endorsed by its makers. Mead is an alcoholic beverage made from honey, yeast, water, and often fruits, spices, and herbs. It ranges in alcoholic content but often settles between 14 and 20 percent. Artivem Mead Co., located in the Granary Building on Bellingham's waterfront, is the newest addition to the Western Washington mead scene. Their Red Tailed Hawk is perfect blend of raspberry and peanut butter. This smooth, semi-sweet mead is reminiscent of a simpler time.
---