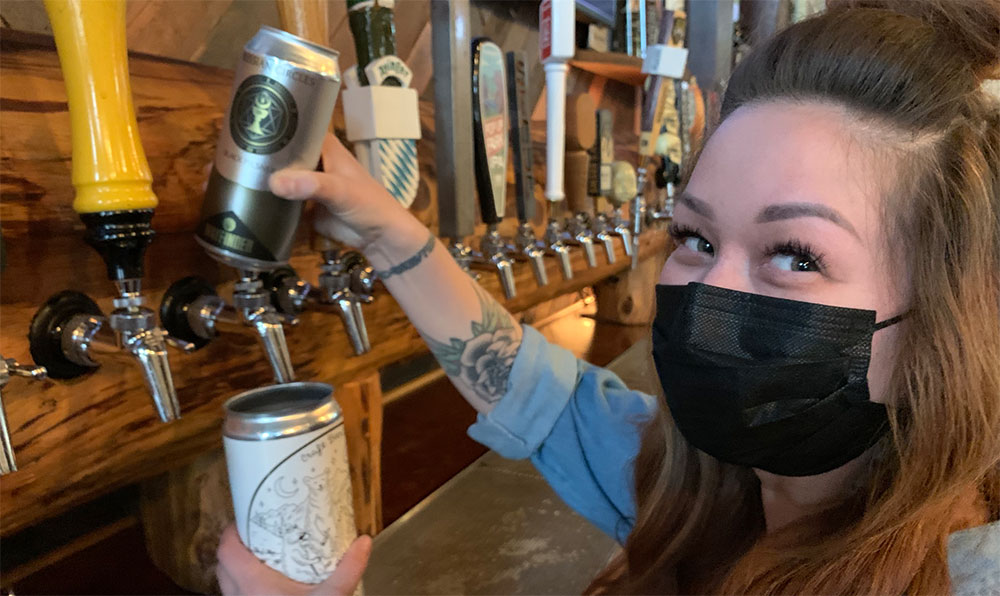 Peaks and Pints Tap List: Wayfinder Russian Circles
Peaks and Pints houses a mind-boggling array of suds: 800-plus bottled and canned in our cooler, with another 28 on tap for Campfire Crowler fills (until pints return). While craft beer remains our foundation, you don't have to be embarrassed for ordering artisan craft cider, wine, cold brewed coffee and kombucha as those delights are on tap too at Peaks and Pints. To follow our tap list live from your phone, click here for iPhone and here for Android. Peaks and Pints has tapped Wayfinder Russian Circles Black Pilsner on our Western red cedar tap log. Brewed in honor of one of Wayfinder's favorite bands, Russian Circles, this crisp, hop-forward pilsner is jet black. Stop by Peaks & Pints for Campfire Crowler fills or grab cans from our cooler. Cheers!
Safety Is Priority Number One
We've completed our safety preparations to add in-house hospitality to our fine-tuned take-out operation. So, you're officially welcome to enjoy a beer, cider or wine with our sandwiches and salads at an appropriately distance table next to a vintage forest artifact, most likely.
One of the most fulfilling aspects of our craft beer and cider bar, bottle shop and restaurant is being a gathering place for the community. It's a role we do not take for granted, and there are many responsibilities that come along with it — the health and safety of our guests and staff being at the top of the list. …
Face masks must be worn and social distancing maintained when not seated.
Each person needs to be seated at a table before consuming.
Each person must wear a mask when a Peaks & Pints staff member is at the table.
Seating has been spaced to distancing guidelines, so please do not move tables or chairs.
Limited seating is guaranteed via reservations on the Open Table app.
We're continuing with two people at a time in the cooler with the line forming up the back stairs.
Please don't form a line at the bathrooms.
We're open 11 a.m. to 9 p.m. weekdays, open to 10 p.m. on weekends for now, but we hope to return to "before times" hours as soon as possible.
Hope to see you soon.
1

Patterson

Cabernet Sauvignon

USA

Washington

Columbia Valley

Woodinville

%

Just Tapped

2

Proletariat

Sangiovese

USA

Walla Walla, WA

14%

Just Tapped

3

Proletariat

Sauvignon Blanc

USA

Walla Walla, WA

13%

Just Tapped

4

Craftwell

Hibiscus Lemonade

Apple-Wine Cocktail Imperial Hard Cider

Corvallis, Or

8.5%

Just Tapped

5

Vahalla Coffee Roasters

Viking Nitro Cold Brew

Nitro Cold Brew

Just Tapped

6

pFriem

Pilsner

German-style Pilsner

Hood River, OR

4.9%

35 IBU

Just Tapped

7

2 Towns

RiverBreaker

House Cider

Corvallis, OR

6.9%

Just Tapped

8

Union Hill

Barrel Aged Cider

Barrel Aged Farmhouse Cider

East Wenatchee

7.4%

Just Tapped

9

Whitewood Cider

Cranberry Douglas Fir

Winter Cider

Olympia, WA

6.3%

Just Tapped

10

Double Mountain

Peche Mode

Belgian Style Sour Ale w/ Peaches

Hood River, OR

8.7%

8 IBU

Just Tapped

11

Here Today

Good Dog Club

Saison Rye, Belgian Candi Sugar

Seattle, WA

6.7%

IBU

Just Tapped

12

Rainier

Mountain Fresh Beer

Lager

Seattle, WA

4.6%

IBU

Just Tapped

13

Gigantic

Pay Czech

Dark Czech-Style Lager

Portland, OR

5.6%

28 IBU

Just Tapped

14

Ayinger

Brauweisse

Hefeweizen

Aying, Germany

5.2%

12 IBU

Just Tapped

15

Sierra Nevada

Draught Style Pale Ale

Pale Ale

Chico, CA

5%

0 IBU

Just Tapped

16

Bale Breaker

TrailBreaker IPA

House IPA

Yakima, WA

6.8%

IBU

Just Tapped

17

Old Stove

Warming Hut IPA

Winter IPA

Seattle, WA

7.5%

53 IBU

Just Tapped

18

Living Häus

Sarah

IPA

Portland, OR

6.2%

IBU

Just Tapped

19

Fracture

Luncheon Time

Juicy IPA

Portland OR.

6.3%

IBU

Just Tapped

20

Varietal

Jangle

Winter IPA

Sunnyside, WA

7.4%

IBU

Just Tapped

21

21st Amendment

Fireside Chat

Winter Warmer

San Leandro, CA

7.9%

45 IBU

Just Tapped

22

Rogue

Chocolate Stout Nitro

American Stout Dutch Chocolate

Newport, Oregon

5.8%

IBU

Just Tapped

23

Maritime Pacific

Bourbon Barrel Jolly Roger

English Strong Ale - Barrel Aged (Bourbon Barrel)

Seattle, WA

9.5%

42 IBU

Just Tapped

24

Huyghe

Delirium Noel

Belgian Strong Dark Ale

Melle, Belgium

10%

20 IBU

Just Tapped

25

AleSmith

Barrel Aged Old Numbskull

Barleywine - Barrel Aged (Bourbon)

San Diego, CA

11%

96 IBU

Just Tapped

26

Heater Allen

Sandy Paws

Baltic Porter

McMinnville, OR

7.1%

IBU

Just Tapped

27

Stone

Xocoveza

Mexican Hot Chocolate Imperial Stout

Escondido, CA

8.1%

50 IBU

Just Tapped

28

Block 15

Imagine 23

Belgian-inspired Imperial Stout - Barrel Aged (Bourbon blend)

Corvallis, OR

14.5%

IBU

Just Tapped
---